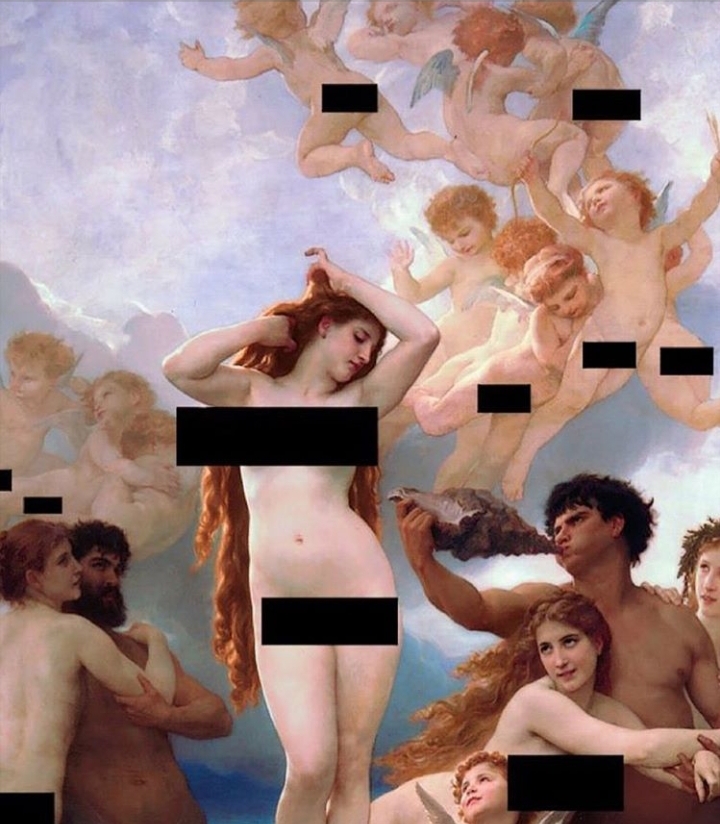 Before diving into art censorship, let's ask ourselves, what is censorship? According to the Oxford Living Dictionaries, censorship is: "The suppression or prohibition of any parts of books, films, news, etc. that are considered obscene, politically unacceptable, or a threat to security." Censorship can shelter citizens from reality and infringe on their rights. Below are some examples of art censorship.

In 2011, Facebook closed the account of Frédéric Durand without warning after he posted an image of Gustave Courbet's L'Origine du Monde (The Origin of the World). For those not familiar with the painting, it showed a woman's genitals. Durand took it to French court and sued Facebook for violating his freedom of expression. After a 7 year battle, a French court ruled that Facebook was wrong to censor Courbet's painting. However, the social media network did not pay the $25,000 in damages, due to the fact that he was using a pseudonym and opened up a new account on the same day his previous account was deleted.

Another example of art censorship involves low-level detainees at Guantánamo Bay and their artworks. 32 works of art by 8 detainees are now owned by the US government which were previously on exhibition at the John Jay College of Criminal Justice in New York City. The reason for this is that the US government suspects that their potential sale would go to supporting terrorist activities. This new policy is a no-win situation when ownership is taken away and barbaric, especially when the art poses no security threat.

As you can see, censoring art does more harm than good. It makes society less accessible and open for citizens. Finally, in the words of Ai Weiwei (artist and activist), "words can be deleted, but the facts won't be deleted with them."

Works Cited:

Rea, Naomi. (2018, March 15). A French Court Rules Facebook was Wrong to Censor Gustave Courbet's Provocative 'Origin of the World'. https://news.artnet.com/art-world/facebook-censorship-gustave-courbet-1245458

Thompson, Erin. (2017, November 27). Art Censorship at Guantánamo Bay. https://www.nytimes.com/2017/11/27/opinion/guantanamo-art-prisoners.html

Toor, Amar. (2015, March 3). 19th Century Vagina Sparks French Lawsuit against Facebook. https://www.theverge.com/2015/3/6/8160721/facebook-censorship-vagina-painting-france-lawsuit
Rosenberg, Carol. (2017, December 1). U.S. Military May Archive Guantánamo Prison Art Rather than Burn It. https://www.miamiherald.com/news/nation-world/world/americas/guantanamo/article186891663.html

(2018, February 1). Facebook to French Court: Nude Painting did not Prompt Account's Deletion.https://www.theguardian.com/technology/2018/feb/01/facebook-nude-painting-gustave-courbet

(2015, May 3). Court to Rule that Facebook can be Judged in France in Vagina Painting Case. http://en.rfi.fr/americas/20150305-court-rule-facebook-s-can-be-judged-france-vagina-painting-case