All events listed occur on the first Friday of the month and are free and open to all visitors unless otherwise specified.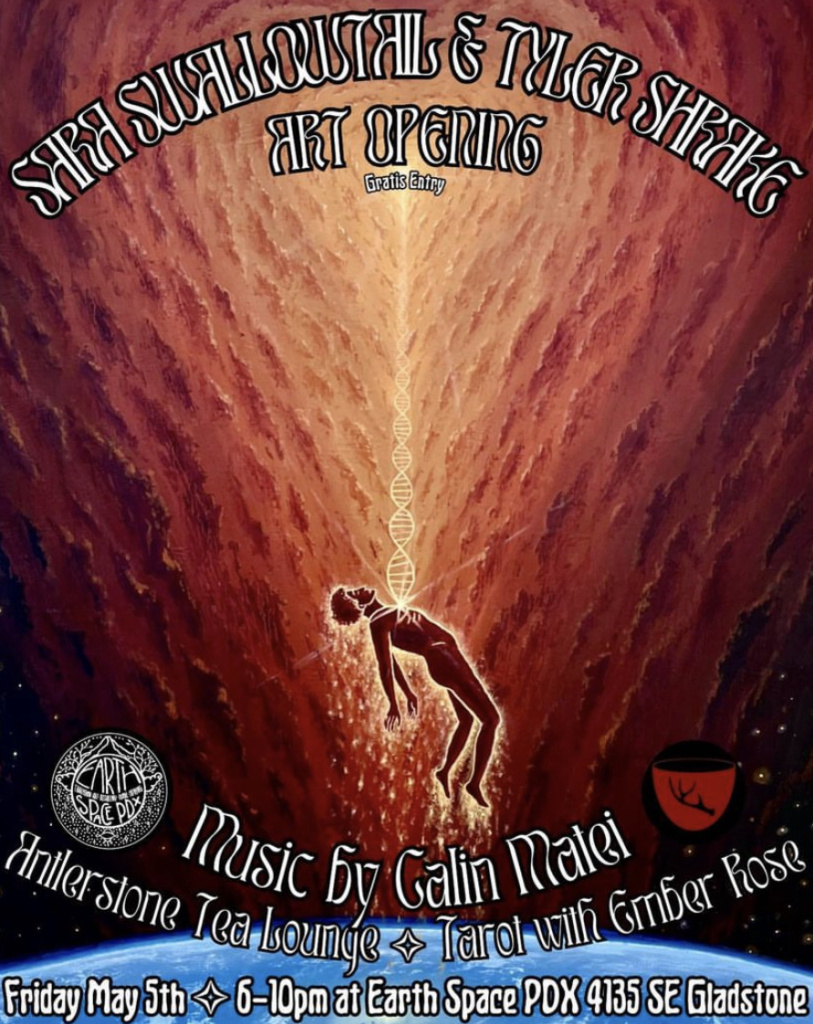 SARAH SWALLOWTAIL | TYLER SHRAKE | EARTH SPACE PDX
You are warmly welcomed to a duo art exhibition featuring the work of Sara Swallowtail @saraswallowtail and Tyler Shrake @tylershrakepaints at Earth Space PDX @earthspacepdx
The show opens Friday May 5th from 6-10pm! *
Gongfu Tea Service with @antlerstonetea aka @russell bohr
Tarot Readings with @the_magdalene_dragon
Jid Live music by Calin Matei @caravanredsmith
Curation by @rusenkoart
See you there!
6 PM – 10 PM @ 4135 SE Gladstone St., Portland, OR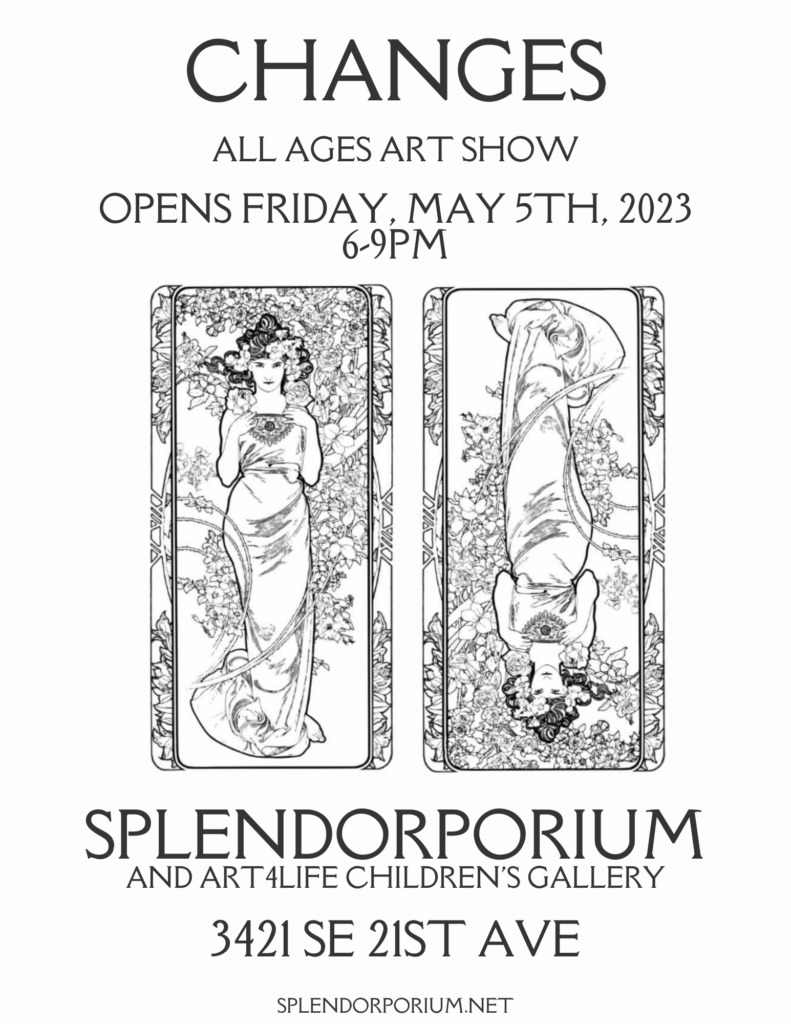 CHANGES | SPLENDORPORIUM
This unique exhibition showcases creations by elementary students in the Art4Life program alongside work by over 20 local artists exploring the themes of change and transformation in a variety of styles and media.
6 PM – 9 PM @ 3421 SE 21ST Ave., Portland, OR 97214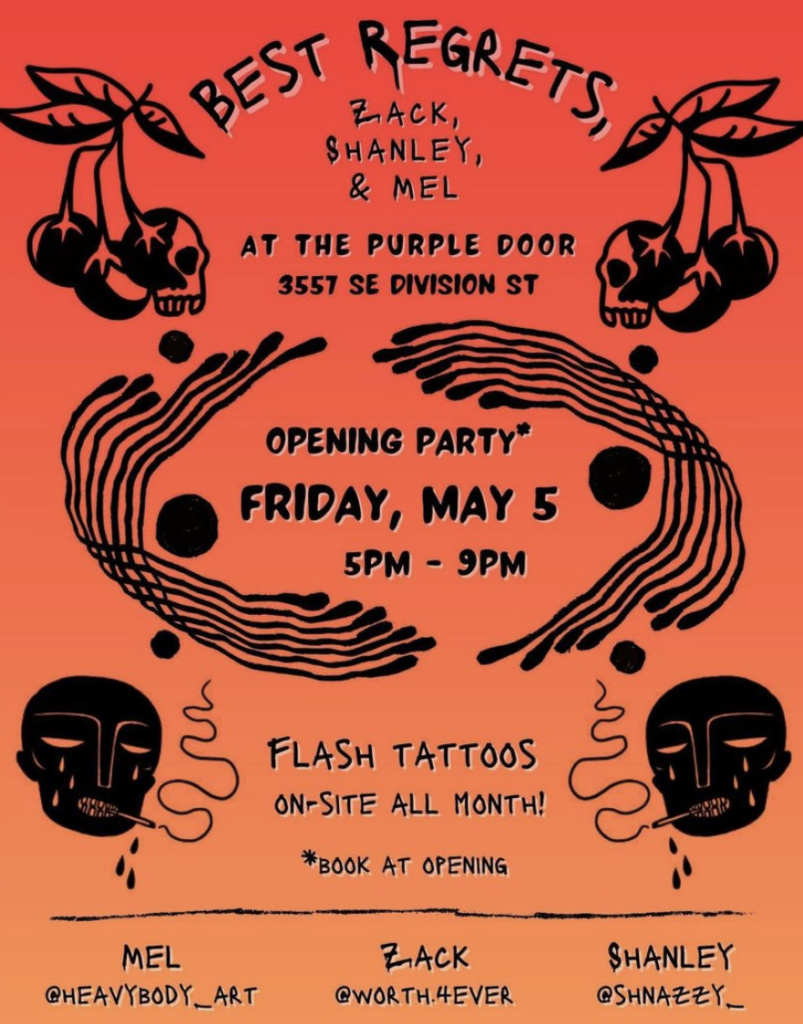 BEST REGRETS | THE PURPLE DOOR
Get ready for May!!!! BEST REGRETS, is more than an art show, and it's more than a tattoo show. It's a tattoo popup AND fine art showcase featuring three talented local (tattoo) artists!
Tattooing is one of those art forms that gives little to no room for mistakes and these artists have finelv honed their skills so that when they put their work on your body you walk away with a note of collaborative expression – their art, your personal taste. Their skill and confidence didn't come out of the ether… your tattoo artist likely toiled away for years painting, drawing, doodling and designing before then ever thought to pick up a tattoo gun. Whether tattooing for you is rebellion, a celebration, an expression or a whim,
BEST REGRETS will remind you that permanence is an illusion, everything changes and it's end point is unclear but it all starts with the best intentions and to hell with regrets.
•
This show will feature the art of @heavybody_art, @shnazzy_, and @worth. ever . They'll be booking tattoos for the month of May in the Purple Door which will also be home to their murals, paintings, prints and other merch. We'll be sharing more about each artist over the nex weeks as we get excited for the opening, Frist Friday, May 5th! See you there!
5 PM – 9 PM @ 3557 SE Division St., Portland, OR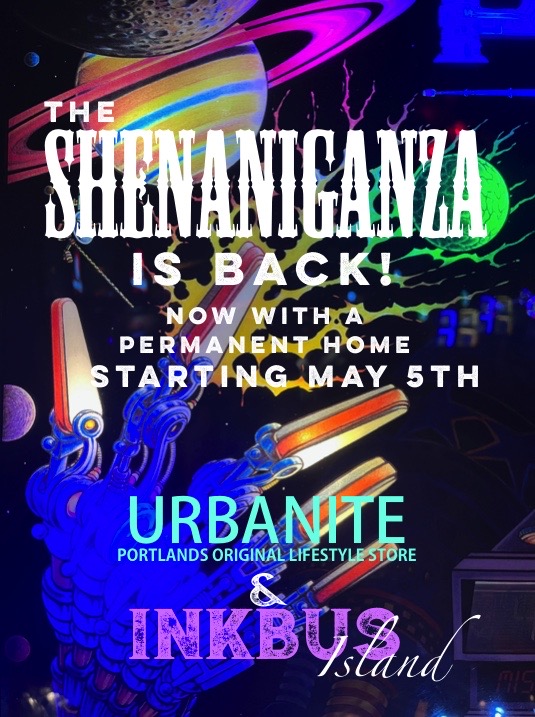 SHENANIGANZA | URBANITE
The Shenaniganza is about to make the streets of PDX WEIRDER!
What is the Shenaniganza? For starters, it's a bi-monthly party that happens on the first and third Friday of every month. The very first Shenaniganza is taking place May 5th 2023! In the Urbanite Parking Lot!
There will be bands, performers, art, food and libation vendors – along with an array of other fun things.
Come join in on the shenanigans May 5th, from 7:30pm – 1am in the @urbanitepdx parking lot!
$10 entry fee. See you there!
If you would like to participate either as a vendor or a volunteer- send us a message and we'll get you in the mix.
7:30 PM – 1 AM @ 1005 SE Grand Ave, Portland, OR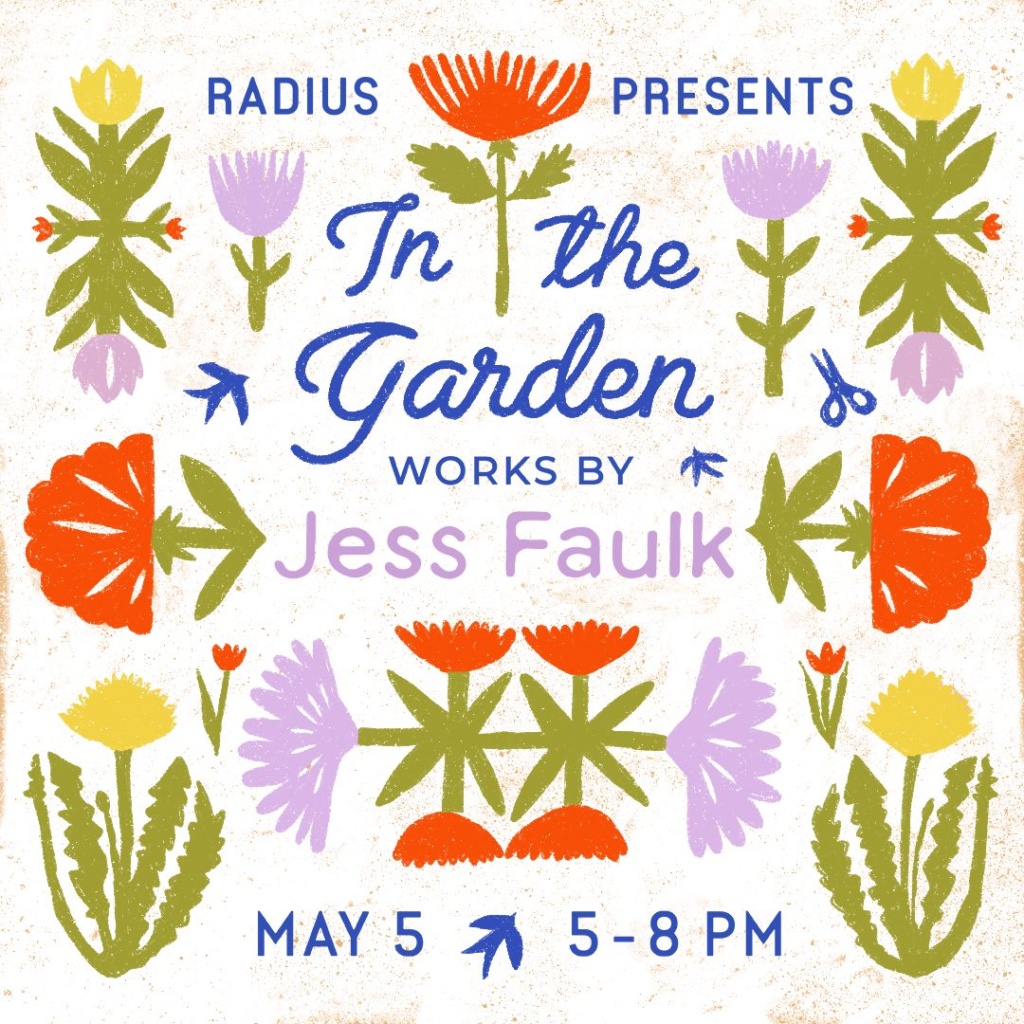 JESS FAULK: IN THE GARDEN | RADIUS ART STUDIO
🌼You are invited!🌼
Join us for the opening reception of May's gallery show 'In The Garden' celebrating the beauty of the season in functional ceramic forms! Artist Jess Faulk uses a brightly colored palate to display their unique expression on clay bodies! ⁠ ⁠
Stop to smell the flowers with us!⁠ ⁠
5 PM – 8 PM @ 2324 SE Belmont St., Portland, OR 97214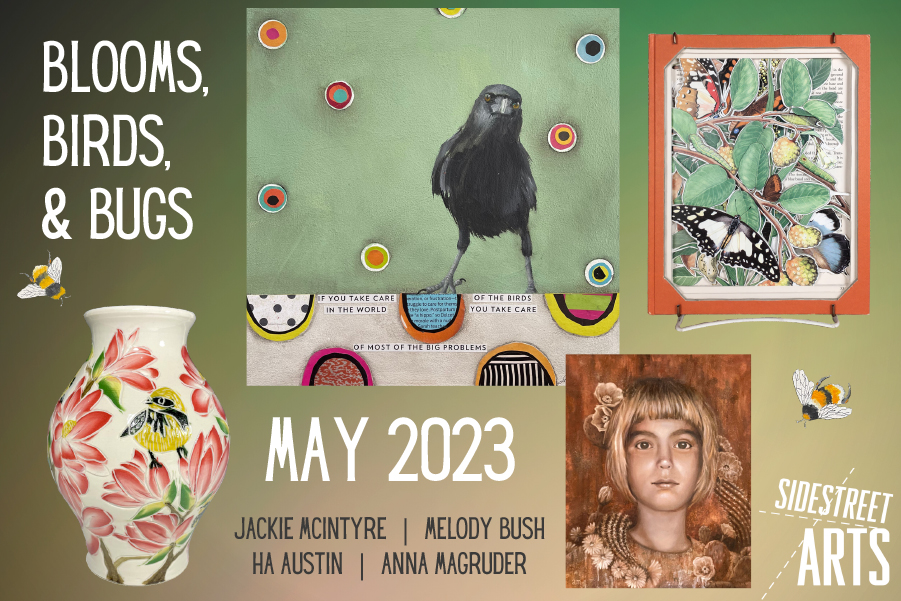 BLOOMS BIRDS AND BUGS | SIDESTREET ARTS
In the merry month of May, as the cold rains of April clear away, we experience new beginnings. Spring miraculously happens. In Sidestreet Arts' May Featured show, Blooms, Birds, & Bugs, four very different artists give us their interpretations of Spring. Like Spring, these artworks will hopefully leave each viewer feeling ebullient. Let the sunshine in!

Ha Austin: ceramics
Melody Bush: carved books
Ann Magruder: paintings
Jackie McIntyre: mixed media
This show runs May 4-28.
5 PM – 7 PM @ 140 SE 28th Ave., Portland, OR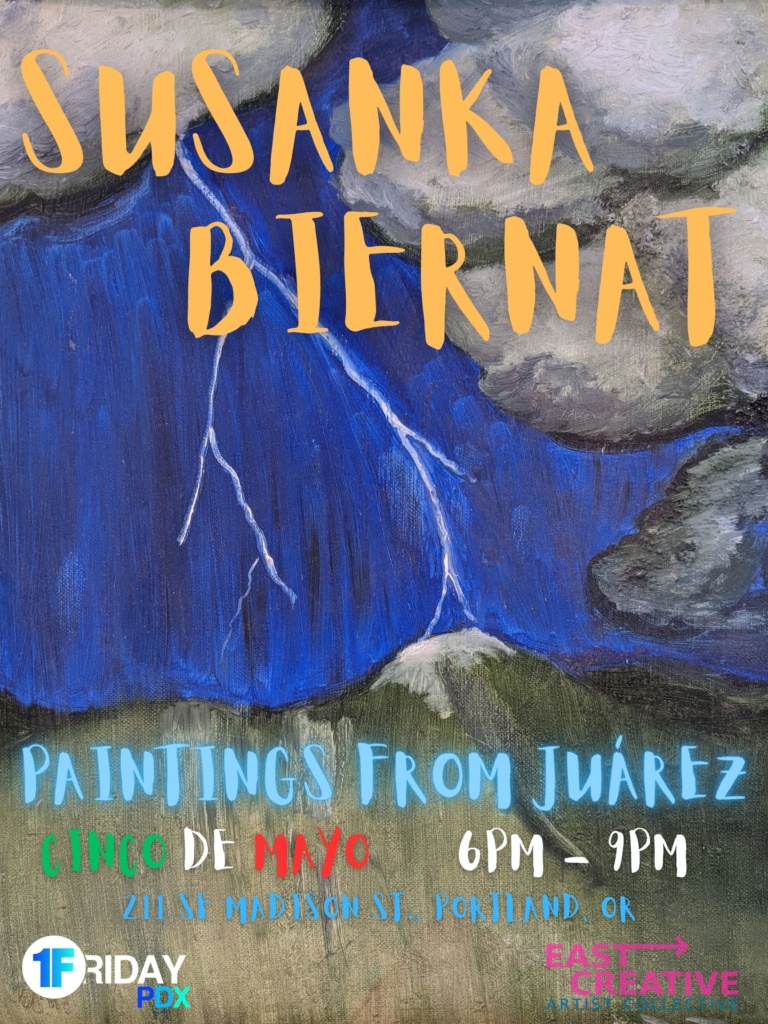 SUSANKA BIERNAT: PAINTINGS FROM JUÁREZ | EAST CREATIVE COLLECTIVE
Join the artists of the East Creative Collective for live music, tattoos, open artist studios, and a special Cinco de Mayo show featuring the work of Sunsanka Biernat.
"I spent a year in Juarez, Mexico in 2018 staying at a shelter working with abandoned street children. This Cinco de Mayo show exhibits paintings from Juarez that show the exuberance of the Mexican people, their lives and culture."
6 PM – 9 PM @ 211 SE Madison St., Portland, OR 97214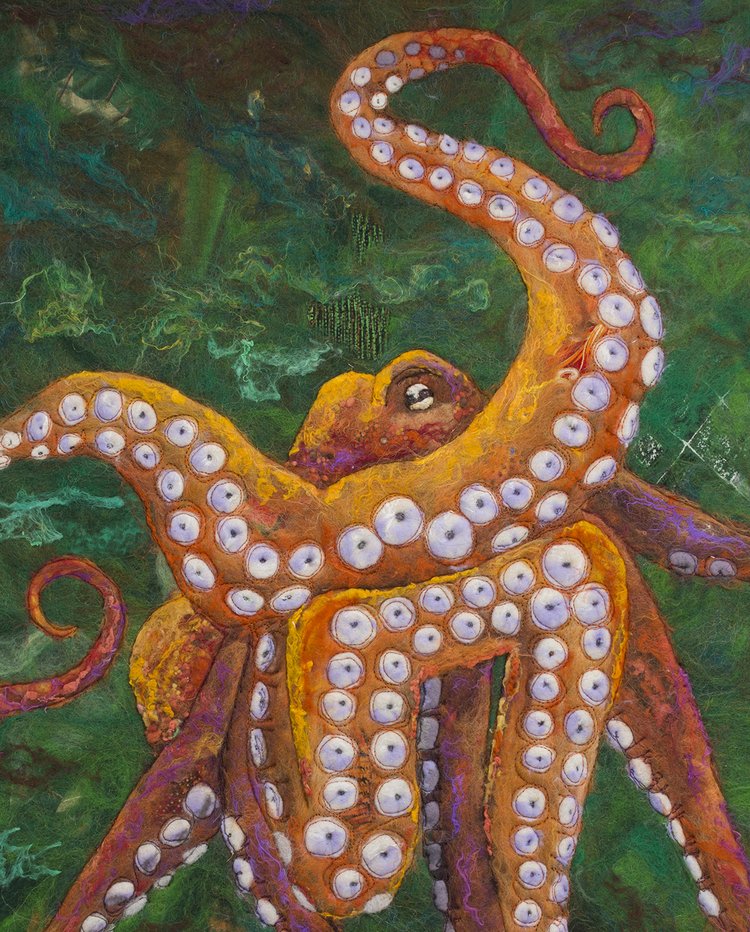 THE FEEL OF COLOR: KAREN KESSLET AND C.D. MOLAND | ART AT THE CAVE
The art of Karen Kessler and C.d. Moland will grace the walls of the Cave this May, bringing the feel of spring color into the gallery. Now retired from art-related careers, Karen explores her may interests including printmaking, painting and textiles. C.D. Moland is a fiber artist with a passion for nature and animals. Both artists express life and movement with their works; that which the viewer can feel, such as the feel of a ocean lapping at your sandy feet or the feel of the floor under your dancing boots. We invite you to the Feel of Color. Please join us on First Friday, May 5 from 4-8pm for the opening reception and on May 20 from 1-2pm for the artist talk.
4 PM – 8 PM @ 108 E Evergreen Blvd., Vancouver, WA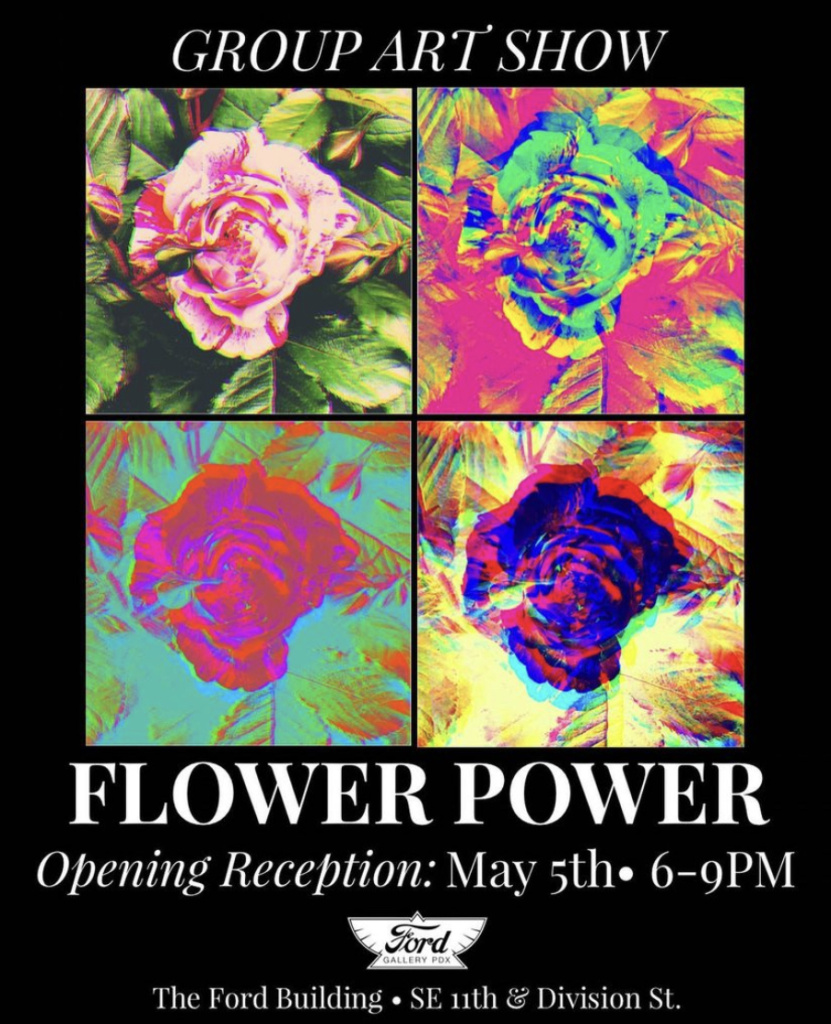 FLOWER POWER | FORD GALLERY PDX
"Sweet April showers do spring May flowers." – Thomas Tusser
•
April 2023 weather has proven itself accurate in regards to the well known quote. Ford Gallery PDX thought to help May a little with our next group show,
Flower Power. (
Friday, May 5th from 6-9PM, we unveil our largest show yet with new work from PNW artists and creatives, all centered around the theme of flora, war, healing and everything in between. You don't want to miss this! o
6 PM -9 PM @ 2505 SE 11th Ave. Portland, OR 97202 United States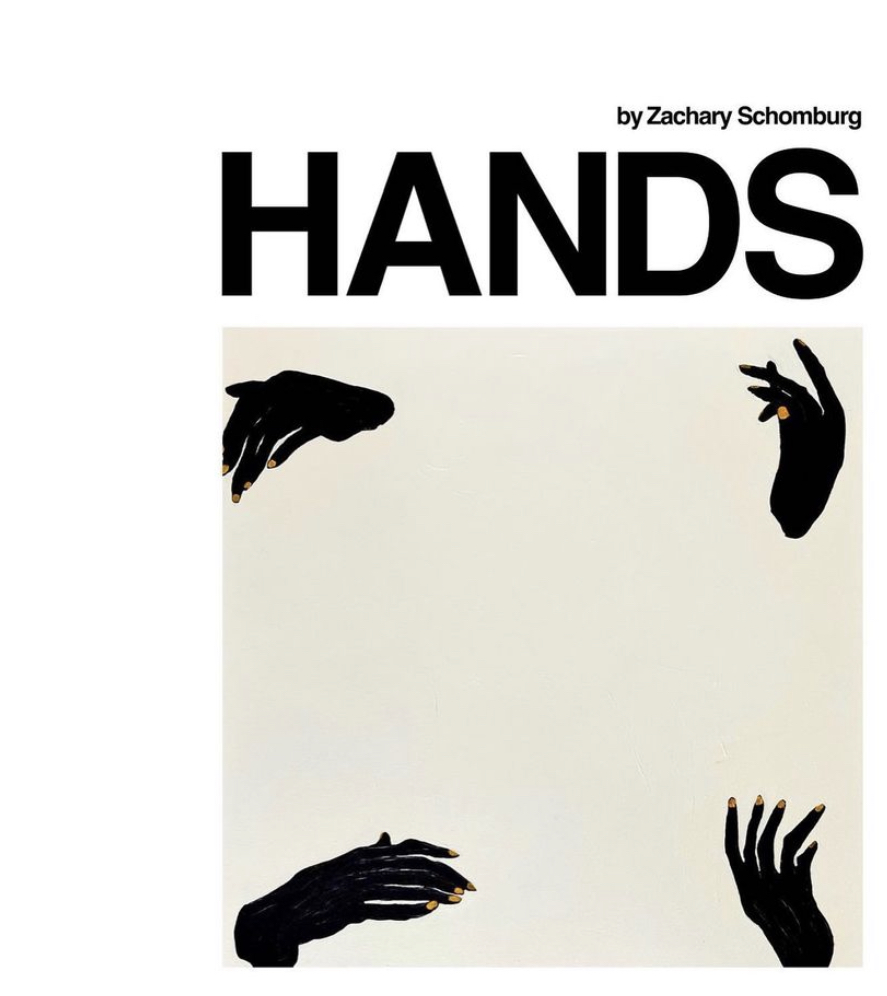 ZACKARY SCHOMBERG: HANDS | ADX GALLERY X
Guess what's shakin' on first Fridav in Mav? HANDS! Mark vour cals for my solo show @adxportland from 4:30-7. If you can't make it, check out the IG live tour at 4. @derekhunterwilson will be playing his music live, and I'll join him around 6 to read some poems with "hands" in them. Masks required. Good attitude suggested.
Sign up for my newsletter if you want early access to the show the night before! The 12 paintings are viewable on my website now, but won't be available for purchase until go time.
6 signed and numbered prints of "Arm with Yellow Sleeve" will be available, and signed prints of the poster (last slide here) designed by @cauenouer will also be available.
4 PM – 7 PM @ 417 SE 11th Ave, Portland, OR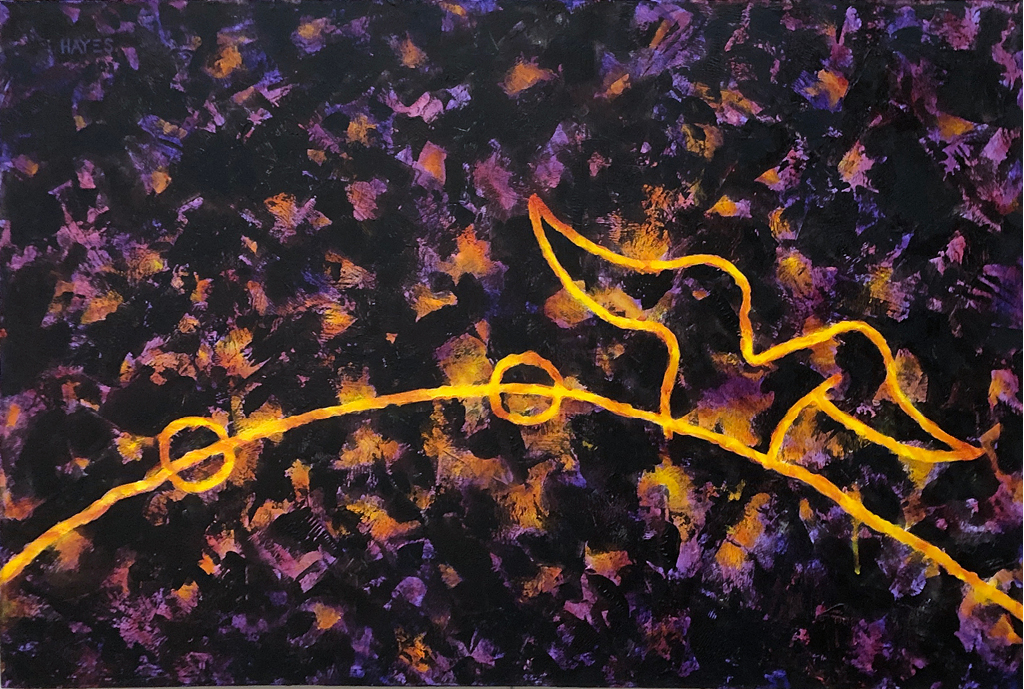 STEPHEN HAYES: THE LONG AND SHORT OF IT | CORRIDOR GALLERY
Stephen Hayes is exhibiting from his Rune Series and Pandemic Series. He describes the Rune Series as "…a symphony of lines, a world in a petri dish brimming with life, cave paintings from the future. But mostly, these paintings are an evocation of hope for a species that, hopefully, still deserves it."
There is an unmistakable signature to Stephen Hayes' work. It is confident, but also careful. The hard edges, layers and contrasting colors create a rock-like texture which the eye easily translates into a tactile sensation. Peek into the future of cave painting, and browse the gallery in person for the full experience.
5 PM – 8 PM @ 610 Esther St., Vancouver, WA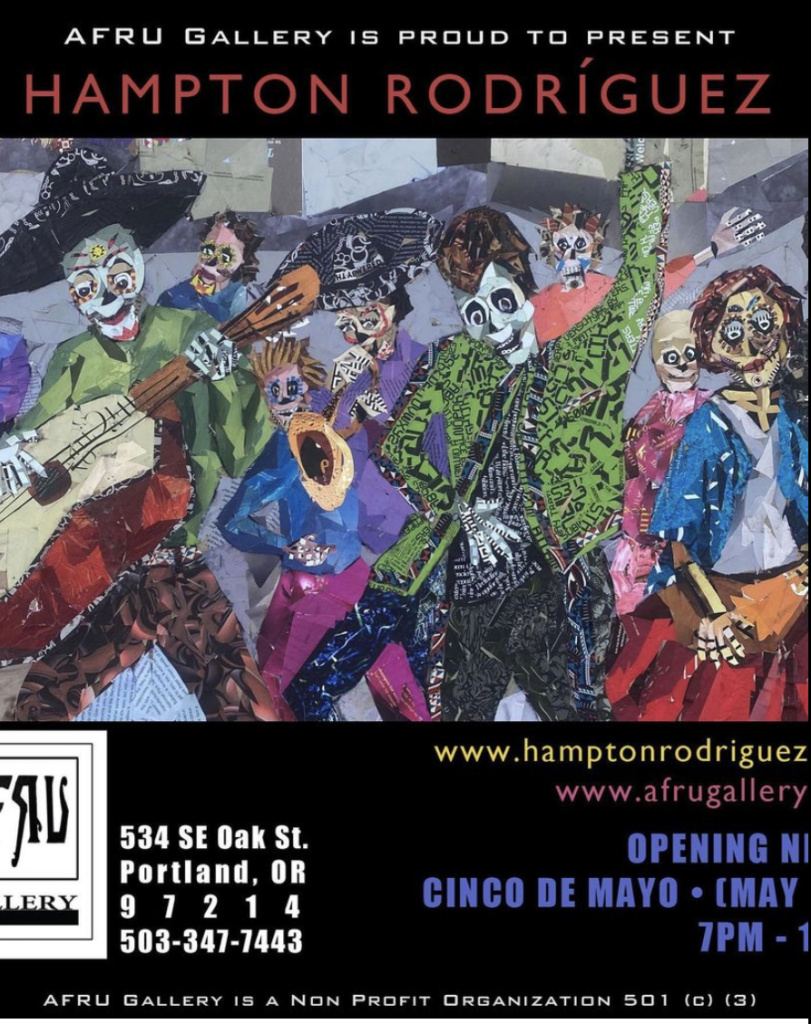 HAMPTON RODRIGUEZ | AFRU GALLERY
This show featuring Hampton's work from
1993-2023 will display the creative process in drawing, illustration, painting and collage.
It will give a greater understanding of the creative process and developing technique that Hampton has been producing locally in Portland, Oregon for the past 30 years
6 PM – 10 PM @ 534 SE Oak St., Portland, OR 97214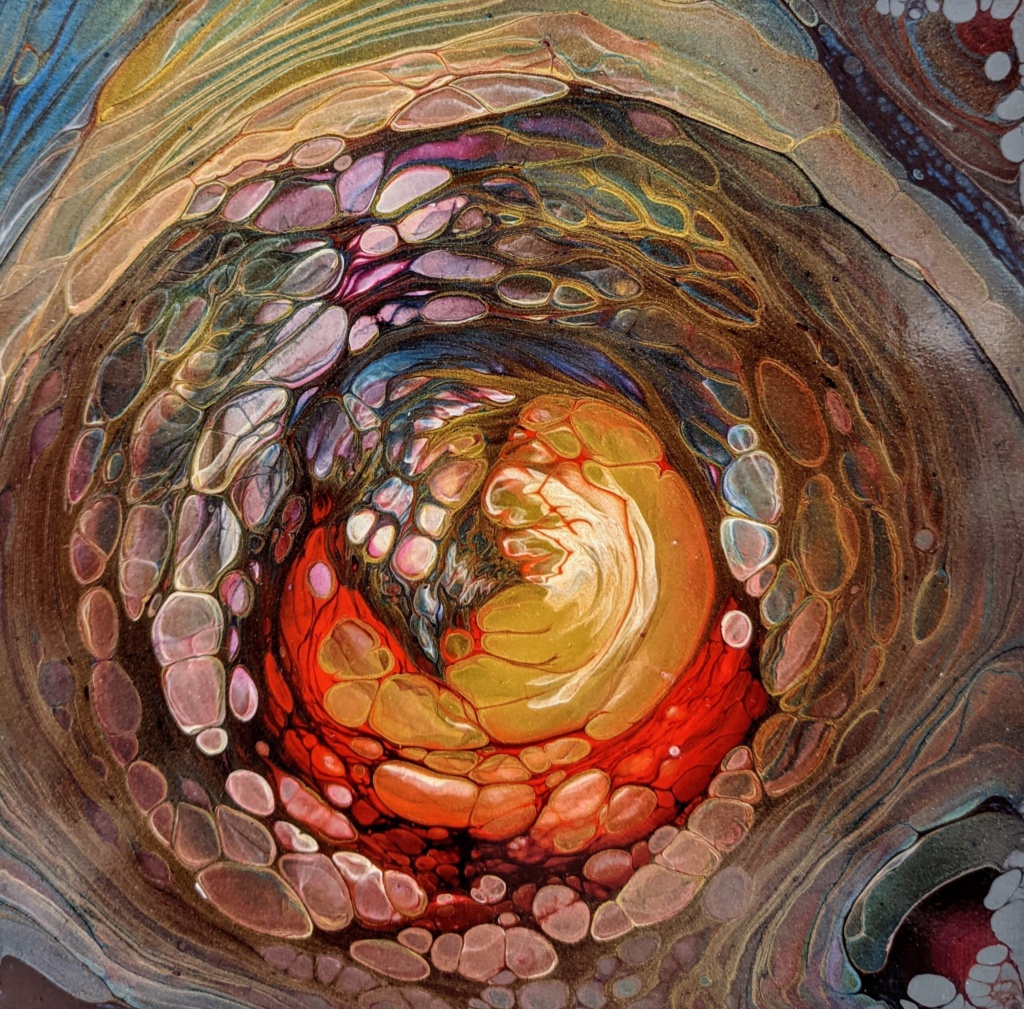 JOANNE CAVALLARO | MELLISA GANNON | AURORA GALLERY
This show featuring Hampton's work from
1993-2023 will display the creative process in drawing, illustration, painting and collage.
It will give a greater understanding of the creative process and developing technique that Hampton has been producing locally in Portland, Oregon for the past 30 years
5 PM – 8 PM @ 1004 Main St., Vancouver, WA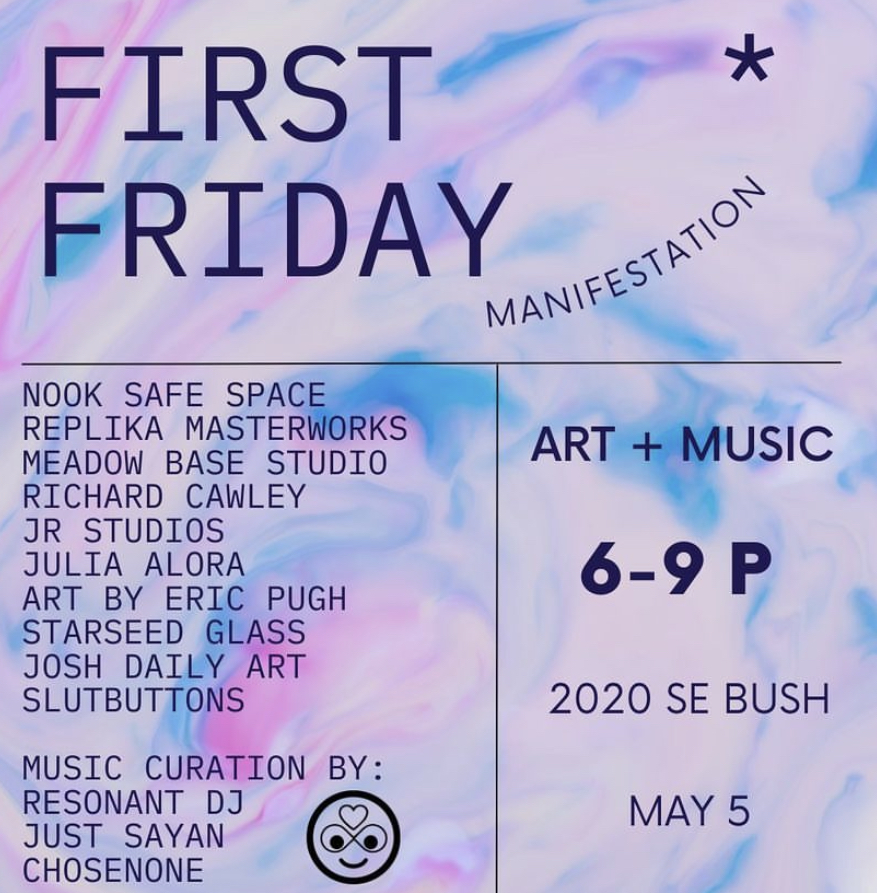 FIRST FRIDAY | MANIFESTATION
First Friday! Cinco de mavo edition
6 PM – 9 PM @ 2020 SE Bush St., Portland, OR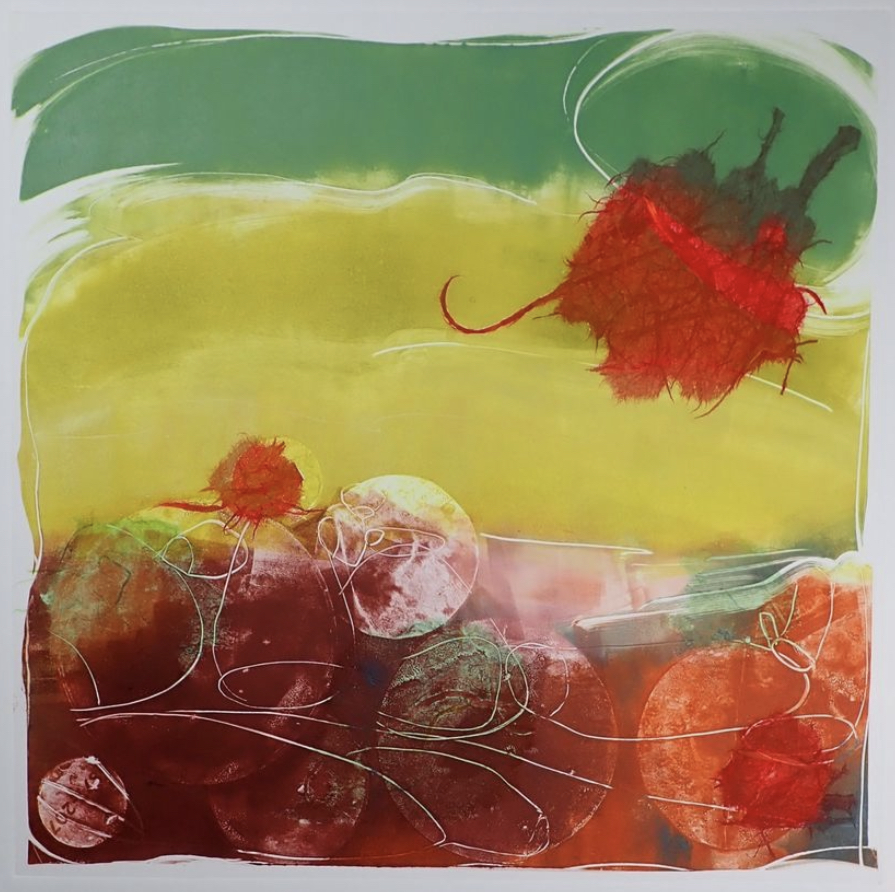 FIRST FRIDAY | BITE STUDIOS
2000 SE 7th Ave., Portland, OR
Contact Us
We do our best to make the list as complete as possible, if you have an event or correction you would like to see listed please send show details to Info@FirstFridayPDX.org or use our easy online event submission form.