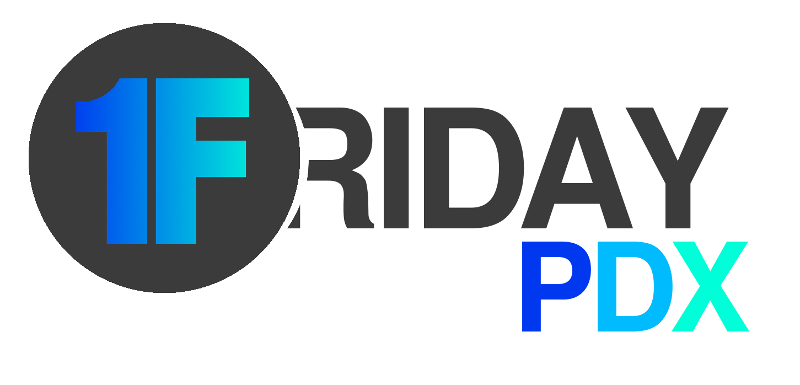 First Friday is here again! The subject of this months First Friday Newsletter is Exuviae, or the shell an insect leaves behind as it grows.
Just as the vibrant colors of fall mark the cyclical progression of the seasons, so too do our own personal transformations contain beauty despite the difficulties of change.
Festivals of fall often revel in morbidity for good reason. In many ways change and death can be regarded as two perspectives of the same event; one from the viewpoint of the new, and one from that of the discarded shell. For this October First Friday, we are basking in the spirit of the season, and highlighting festive shows that explore and celebrate autumn themes of change, exuvia, and our constant exodus towards transformation.
The October Street Exhibition and Harvest Festival at East Creative Collective
Repose: A special benefit show for The ALS Association of OR/WA at Redux Gallery
A celebration of Profusion at Eutectic Gallery
Tarot card readings and awesome art at the Tarot and Day of the Dead Show at Splendorporium
A new member joins the First Friday PDX team
See you tomorrow!
Noah Alexander Isaac Stein
First Friday PDX Co-Director
UPCOMING OPENINGS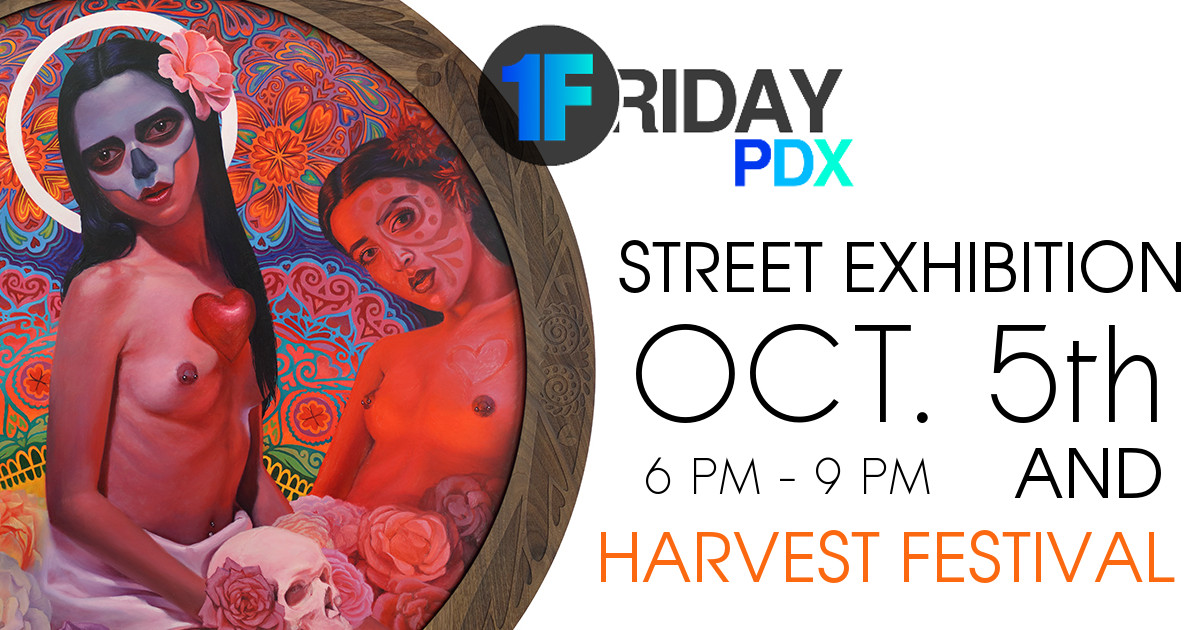 OCTOBER STREET EXHIBITION AND HARVEST SHOW
The Harvest show will explore how we personally confront or embrace change, and the ways in which the shades of our past either haunt us or fertilize new growth. Artists will showcase work on the themes of transformation, death, new growth, and the lingering ghosts of the past.
"Autumn is a season of change, marked in both nature and agriculture by processes of harvest, feasting, and preparation for the cool interim before new growth. Even though it is necessary for a tree to shed its leaves in preparation for the new spring, we often struggle to shed our own dead skin. How do prepare for transformation? What happens to the old when we don't move on?"
6 pm – 9 pm @ 211 SE Madison St.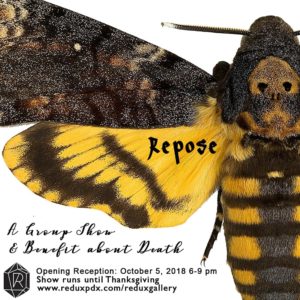 "REPOSE" @ REDUX GALLERY
1a : a state of resting after exertion or strain; especially : rest in sleep
b : eternal or heavenly rest
2a : a place of rest
b : peace, tranquility
c : a harmony in the arrangement of parts and colors that is restful to the eye
3a : lack of activity : quiescence
b : cessation or absence of activity, movement, or animation
4: composure of manner : poise
This fall, Redux Gallery is pleased to present a very special group show, with a portion of the proceeds to benefit The ALS Association of OR/WA.
We are asking invited artists to face their mortality and express thoughts on different ways that cultures and people grieve and think about death. It's about celebrating a life well lived, but also about rejecting the notion that these are negative or taboo topics to be avoided. We all deserve a "Good Death" and encourage others within this public forum to actively discuss the nature of grief, estate planning, ritualistic and commemorative celebration, traditions and burial practices popularized by both cultural norms and by the death industry as well as socially responsible alternative practices, and the importance of educating yourself about the options for you and your family when it's time.
6 pm – 9 pm @ 811 East Burnside St. #116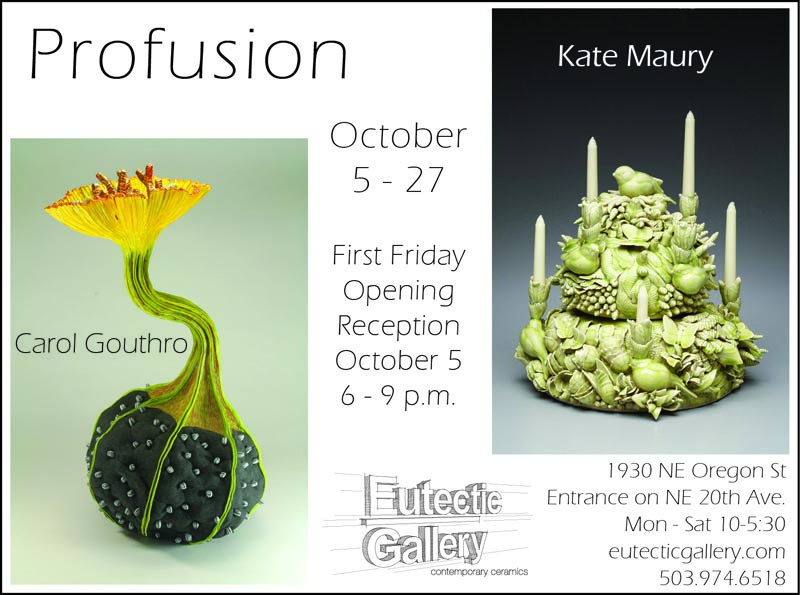 "PROFUSION" AT EUTECTIC GALLERY
Profusion features the sculptures of Carol Gouthro and Kate Maury, celebrating all that is lush in life. And in the back room we have local artist and long-time educator, Jan Edwards with Stumbling into the Narrative: Morning Drawings & Other Small Tales. Join us, along with Jan and Carol for our monthly opening celebration
6 pm – 9 pm @ 1930 NE Oregon St.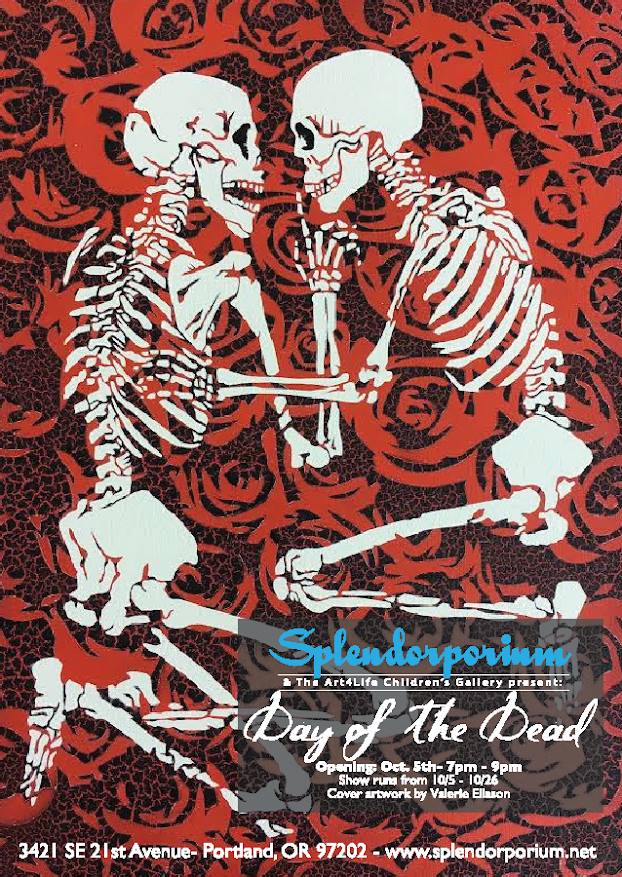 TAROT AND DAY OF THE DEAD SHOW @ SPLENDORPORIUM
Special Tarot and Day of the Dead show. Ophelia Darkly will be here reading Tarot cards with her haunted dolls.
7 pm – 9 pm @ 3421 SE 21 Ave.
FIRST FIRDAY PDX NEWS
We are excited to introduce new First Friday PDX team member Victoria Glanowski.
"Victoria is a writer who dabbles in painting and drawing. She's originally from New York State. You can occasionally find here people watching at either a tea or coffee shop."
Victoria will taking over the First Friday Blog, expect to hear more from her soon!