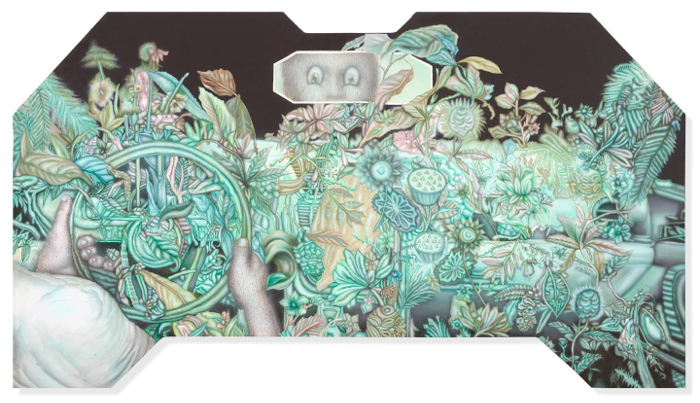 Summer is coming to an end, but First Friday is going strong! After some awesome group shows and anniversaries of last month, we are looking forward to equally great solo shows in September. We are also excited to continue the First Friday Street Exhibition for our second to last month of the season.
Here is a list of some Friday openings we are especially excited to see:
The First Friday Street Exhibition, with 5 new artists in September and live music by James Gardner and MED
Susan Thayer's Korean folk art inspired ceramics in About Water at Eutectic Gallery
Hirsute youth culture interpretations of L.A. artist Erik Mark Sandberg's Interlude at Stephanie Chefas Projects
Grocery: Felt sculptures by LeBrie Rich's at Wolff Gallery
See you on Friday!
The First Friday Team
UPCOMING NEWS
SEPTEMBER STREET EXHIBITION AND OPEN STUDIOS
Featuring the work of more than 20 artists and open studios, the street exhibition showcases artists of the South East Industrial Arts District and the East Creative Collective. Also featuring live music by James Gardner and MED. For a a full list of artists visit http://firstfridaypdx.org/streetexhibit/.
6 pm – 9 pm @ 211 SE Madison St.
SUSAN THAYER "ABOUT WATER" AT EUTECTIC GALLERY
About Water marks Susan Thayer's returns to the art world after an eight year hiatus, during which time she traveled extensively throughout South Korea studying Korean art and Korean folk art in particular. The exhibition comprises works from 2008 through 2018, united thematically and conceptually through references to water. The diverse assembly of ceramic vessels range from oversized terra-cotta amphora, classically inspired vases, and the narrative porcelain teapots for which Thayer has become known.
6 pm – 9 pm @ 1930 NE Oregon St.
ERIK MARK SANDBERG "INTERLUDE" @ STEPHANIE CHEFAS PROJECTS
This September, Stephanie Chefas Projects is delighted to present 'Interlude', a solo exhibition of new work from L.A. based artist Erik Mark Sandberg. Drawing from contemporary consumer culture and the relentless bombardment of mass marketing, Sandberg's paintings and sculptures create an uncanny portrait gallery of hairy adolescents. In addition to serving as a metaphor for the perversion and exploitation inherent in the consumer experience, the hirsutism of Sandberg's subjects furthermore signifies the double-edged promise of overnight fame epitomized by Los Angeles.
7 pm – 10 pm @ 305 SE 3rd Avenue on the second floor of the Urban Row building
LEBRIE RICH "GROCERY" AT WOLFF GALLERY
Grocery, LeBrie Rich's series of life-size branded food products, such as Fritos, Ritz Crackers, and Reese's, are lovingly felted and stitched with painstaking attention to detail. The almost irresistibly soft texture of wool felt and the many hours of labor clearly spent on each piece invite us to slow down and (re)consider our connection to these familiar products. This work is both a tribute to and a critique of not only the foods that have shaped our lives and our memories, but also their branding. Through Rich's careful rendering, each piece becomes a precious, tactile totem of our throwaway culture and an opportunity to reflect on our relationship to it.
6 pm – 8 pm @ 2804 SE Ankeny Street