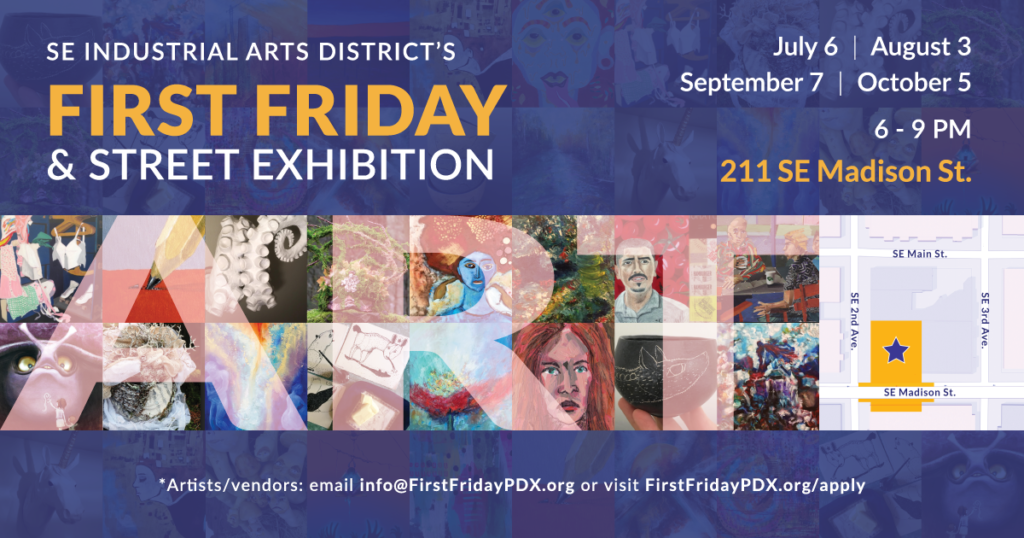 Between the kickoff of the First Friday Street Exhibition, and some exciting openings, we're looking forward to seeing some especially amazing art this Friday.  Here are a few highlights:
FIRST FRIDAY JULY STREET EXHIBITION
Featuring the work of 14 local artists, the July street exhibition is excited to showcase independent artists of the South East Industrial Arts District, as well as fire dancing, and live music by Twenty Three Suns and solo harpist Annette Pritchard.
6-9 pm at 211 SE Madison St.
BUTTERS GALLERY PRESENTS: "IN AVOIDANCE OF BEAUTY" BY BERND HAUSSMANN
"Beyond the aesthetics of commerce, culture and convention, beauty is what we find.
It is in us, a default setting in the evolution of our brains. Like greed, envy, hate, and love."
–Bernd Haussmann
6-8 pm at 157 NE Grand Ave
MERYL PATAKY AT STEPHANIE CHEFAS PROJECTS
Stephanie Chefas Projects is delighted to welcome Oakland-based artist Meryl Pataky back to the gallery for a stunning collection of new work. Breaking new ground while fortifying her devotion to light, Pataky continues to explore her aesthetic to mind-blowing effect. Flexing her experimental muscles for this exhibit, she adds a quick cast of resin and black pigment to the neon tubes, simulating the leak of a transformer.
7-10 pm at 305 SE 3rd Avenue, Suite 202
POETRY AND BRAD WINTER AT ROLL-UP PHOTO STUDIO AND GALLERY
Brad Winter's recent drawings are abstract and immediate, the result of process turned loose in an automatic/free manner—creating space/s made new with each successive adventure. He has worked in painting, drawing, collage and a variety of print disciplines. Involved in Portland's music, art and poetry scenes since the late 1970's, Winter has shown throughout the Pacific Northwest, including the Oregon Biennial at the Portland Art Museum.
5–9 PM at 1715 SE Spokane St.
Reception + Poetry Reading
7–8 PM
Readings by Portland poets: Casey Bush, Anatoly Molotkov, Dan Raphael, John Sibley Williams, Brad Winter and Laura Winter.
#CYBORGS AT SHOUT HOUSE
#cyborgs brings together artwork from across disciplinary divides for a multi-platformed art experience focused on Donna Haraway's concept of the cyborg as a queer political body. #cyborgs connects photography, digital images, video, score based performance, digital avatars, social media residencies, and potent fusions of them all.
6:30 – 9:30 pm at 210 SE Madison St.