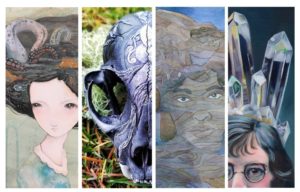 We are looking forward to an especially exciting First Friday this month, with some fantastic shows and opportunities to get involved. Here are a few highlights:
APPLICATIONS FOR THE FIRST FRIDAY STREET EXHIBITION NOW OPEN
Open to all artists and creators based in Portland, the Street Exhibition is located at SE Madison and SE 2nd Avenue. We especially encourage galleries and artists based in the SE Arts District to join us. For more information visit FirstFridayPDX.org/apply or email Info@FirstFirdayPDX.org
EMERGENCE GROUP SHOW AT REDUX GALLERY
As if our thoughts and ideas could be worn like a headdress, this show explores what it would be like if our ideas were visible visual narratives.
Emoting both ones personal identity and cultural heritage, here we see a variety of magical portraits which convey the complex inner workings of ones mind as if they were literally Emerging from within.
Marlana Stoddard-Hayes "Aequanimatas" at Butters Gallery
We present our fourth solo exhibition of paintings by Portland-based Stoddard-Hayes. Notably, each of her paintings begin with the application of fungi (from her garden) directly onto the surface, leaving imagery that guides the composition.
The artist posits regarding this body of work:
Over time I have developed a following by staying true to what my body has told me to make, and not only my mind. This exhibition traces a path through the entire garden year, as I found great solace and calm by living on and tending to an acre of land near the Willamette, in a time of great personal challenge
PORTLAND ROOTED AT EAST CREATIVE COLLECTIVE
East Creative in cooperation with The Portland Rose Festival is proud to host Portland Rooted. Portland Rooted will showcase local artists whose work celebrates Portland as the "City of Roses."
KARUNA CONTEMPORARY LIVING ANNIVERSARY SHOW
"Karuna is turning 3 years old! Please celebrate with us ~ Artist Lubosh Cech will be showing his artwork and we will collectively cultivate and contemplate an environment of warmth and inclusion at Portland's own "Boutique For The Mindfully-Minded."