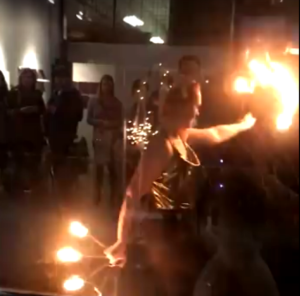 It's been a busy Spring, and we are excited to welcome the addition of 7 new galleries to the First Friday map since our last update. Be sure to check out our updated listing for the latest details! There are too many interesting shows this month to list everything here,  but a few highlights to check out this Friday include:
Fur and Feather
Brassworks Gallery presents a 14 artist habitat of Animalgamation. We are celebrating the animal kingdom this month, so if it walks, crawls, flies or burrows our artists will include them in our amalgamation of creatures.
East Creative and Photonica
In addition to a all new works by resident artists, including two new artists, East Creative Collective is excited to announce our May opening will feature live fire dancing by Isabel Platten of Photonica. Join us for a night of art, food, wine, and flame!
Alyson Provax "you I everything else"
In her solo exhibition, you I everything else, Alyson Provax highlights this phenomenon of inherited memories and behaviors, and particularly how it manifests in the language used by current and past contestants in the reality television series, The Bachelor. The artist's letterpress prints, light boxes, animations, and mirrors isolate words and phrases participants on the show often repeat from season to season, revealing a shared vernacular that helps to reinforce a particular experience of love and what "authentic" connection looks like. However, as Provax points out, "loneliness exists not in solitude but in concealment. The idea that we should be a consistent and watchable self is a form of this loneliness. We are all inconsistent, the individual self is neither static nor true."
Shop People Joins First Friday
"Shop People LLC was established in 2005 as the first members based makerspace in the Portland. Over the years, there have been almost five hundred members who have honed their crafts, skills and relationships within these old walls. Many were hobbyist, who became artists, who become business people and then grew to larger facilities. Some just liked to tinker DIY style and learn from experts. Regardless of their goal, all appreciated the low overhead, managed tools and space as well as community. "
Be sure to check out their opening this month, featuring work by 11 artists and live music by Josie Lisette.