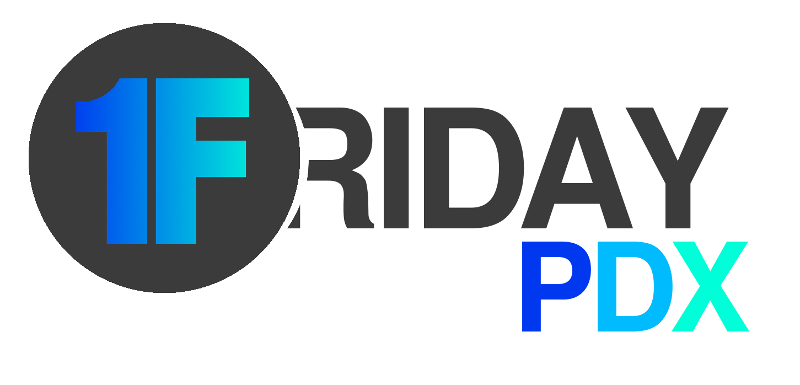 It's an exciting month for First Friday! In the height of the summer art season, First Friday is been busy growing and spreading new leaves. In addition to highlighting some amazing August art openings, the newsletter this month will be showcasing some of the new directions First Friday is moving.
New openings at Redux, Eutectic, AFRU, and Portland Craft Bar
45+ new artists at the First Friday Summer Art Party
Call for artists!
Welcoming new galleries to the art walk: Manifestation / Henderson Hackerspace
New blog by Victoria on the history of First Friday
Look forward to seeing you tomorrow!

Noah Alexander Isaac Stein
First Friday PDX President

UPCOMING SHOWS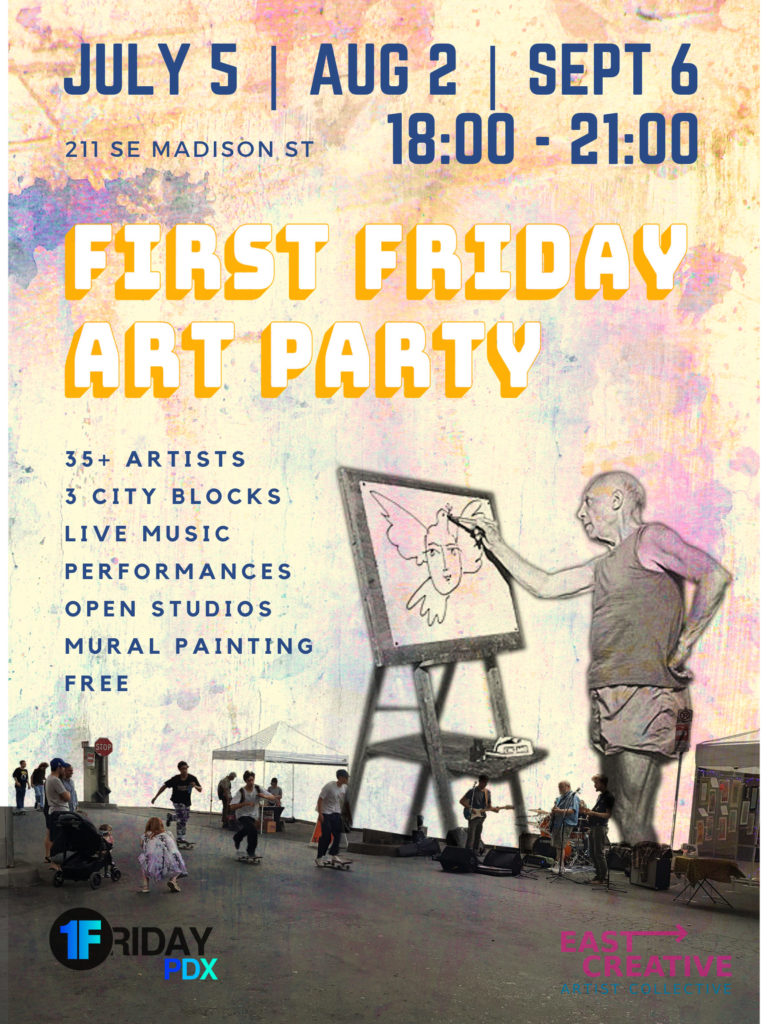 FIRST FRIDAY SUMMER ART PARTY | EAST CREATIVE COLLECTIVE
A collaboration between First Friday PDX and the East Creative Collective, join us for the first of First Friday PDX's summer Art Parties. Featuring the work of more than 45 local artists and vendors, the Summer Art Party takes place beneath the columns of the Hawthorne bridge, and features live music and performances.
6 pm – 9 pm @ 211 SE Madison St.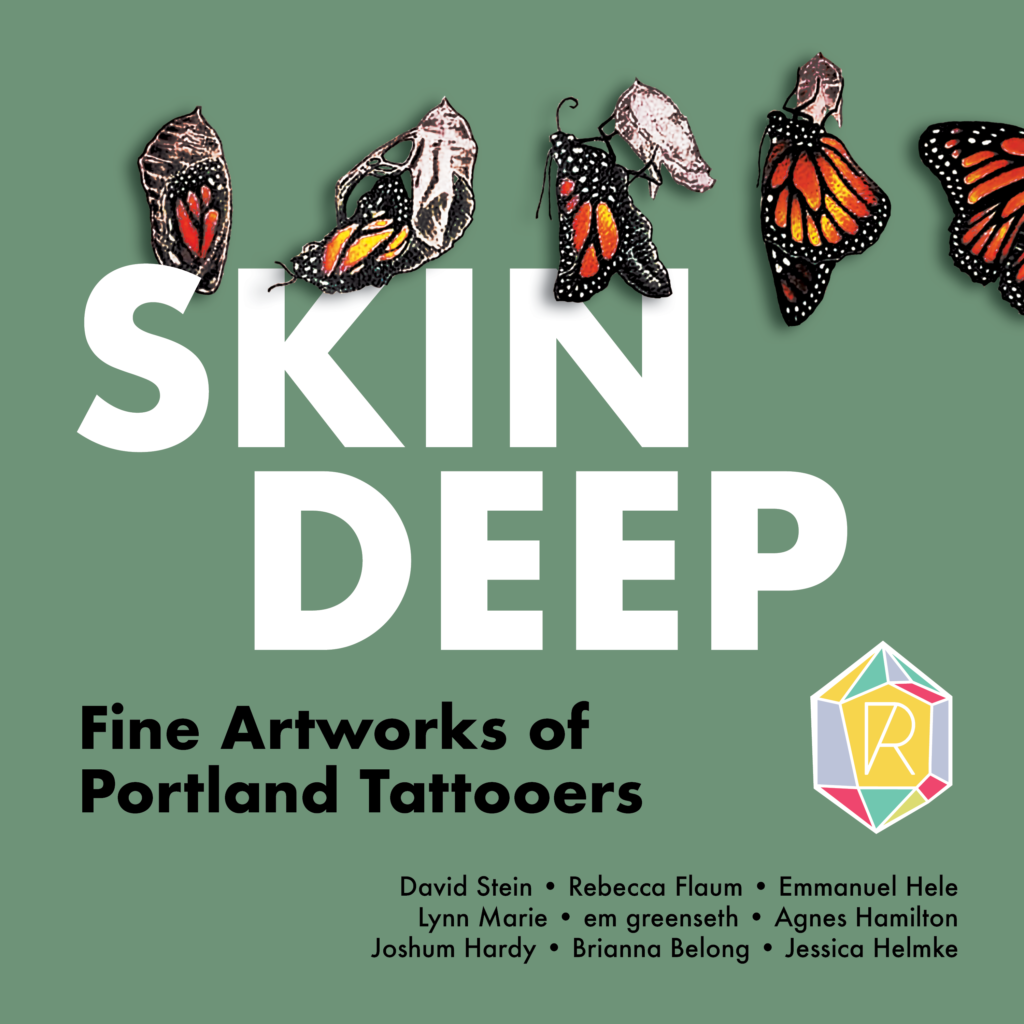 SKIN DEEP GROUP SHOW | REDUX GALLERY
SKIN DEEP GROUP SHOW featuring 9 amazing local tattoo artists. Celebrating the contemporary artistry of some of Portland's finest tattoo artists, we are stoked to bring you a show demonstrating Portland's continued knack for smashing conventions and elevating tattoo artistry to extraordinary heights.
6 pm – 9 pm @3022 E. Burnside St.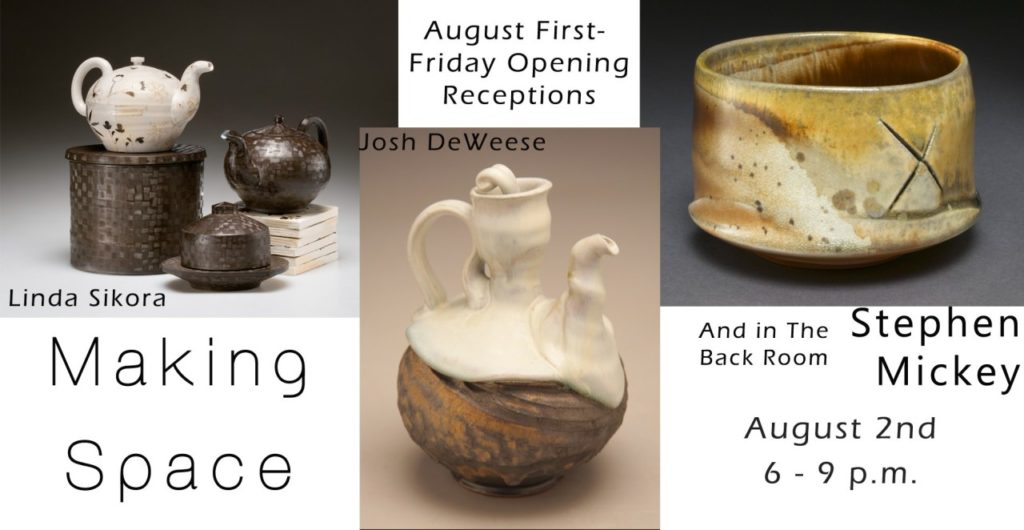 MAKING SPACE | YUNOMIS & MORE | EUTECTIC GALLERY
Celebrating the latest work from master potters, Josh DeWeese, Linda Sikora in Making Space, along with local legend Stephen Mickey with Yunomis & More in The Back Room. Join us, along with Josh and Stephen.
6 pm – 9 pm @ 1930 NE Oregon St.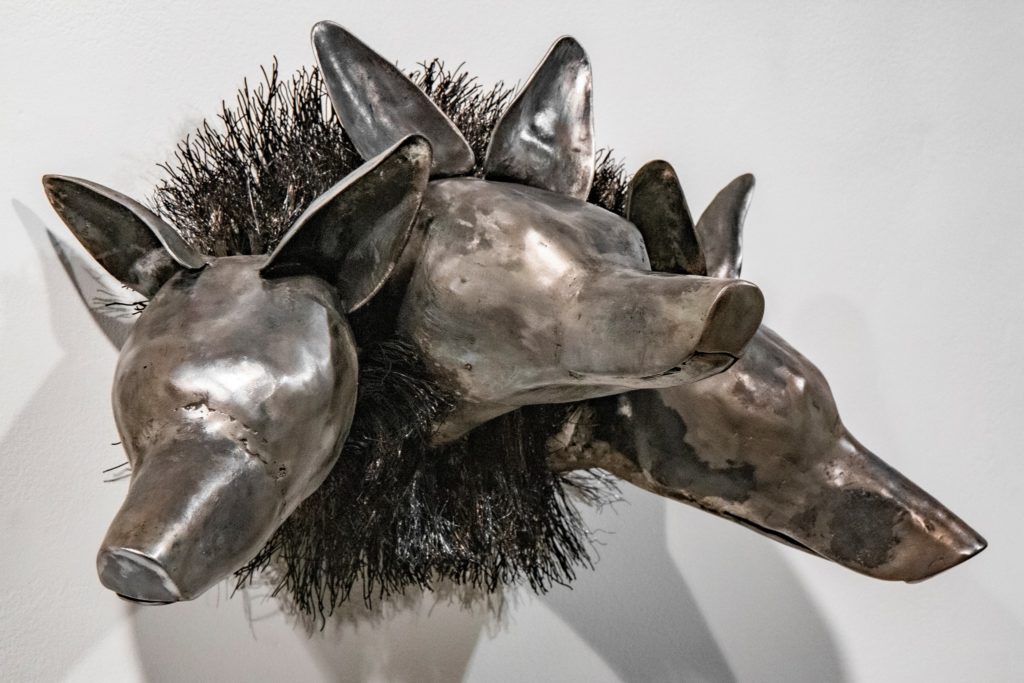 BEWILDER | AFRU GALLERY
To bewilder is to cause confusion; this series investigates boundaries and the disorientation of interstitial spaces. The show explores what happens inbetween, where the unexpected emerges.
Bewilder also implies being wilder – embracing nature in an attempt to navigate existence.
Anne Bujold combines metalsmithing and blacksmithing techniques with alternative materials such as felt, ribbon, and plastics. In her sculpture, animals are agents examining the spaces between definitions, that fertile ground where new forms emerge.
Previously based in Portland, Oregon, she operated Riveted Rabbit Studio, a custom metal fabrication business.
6 pm – 12 am @534 SE Oak St.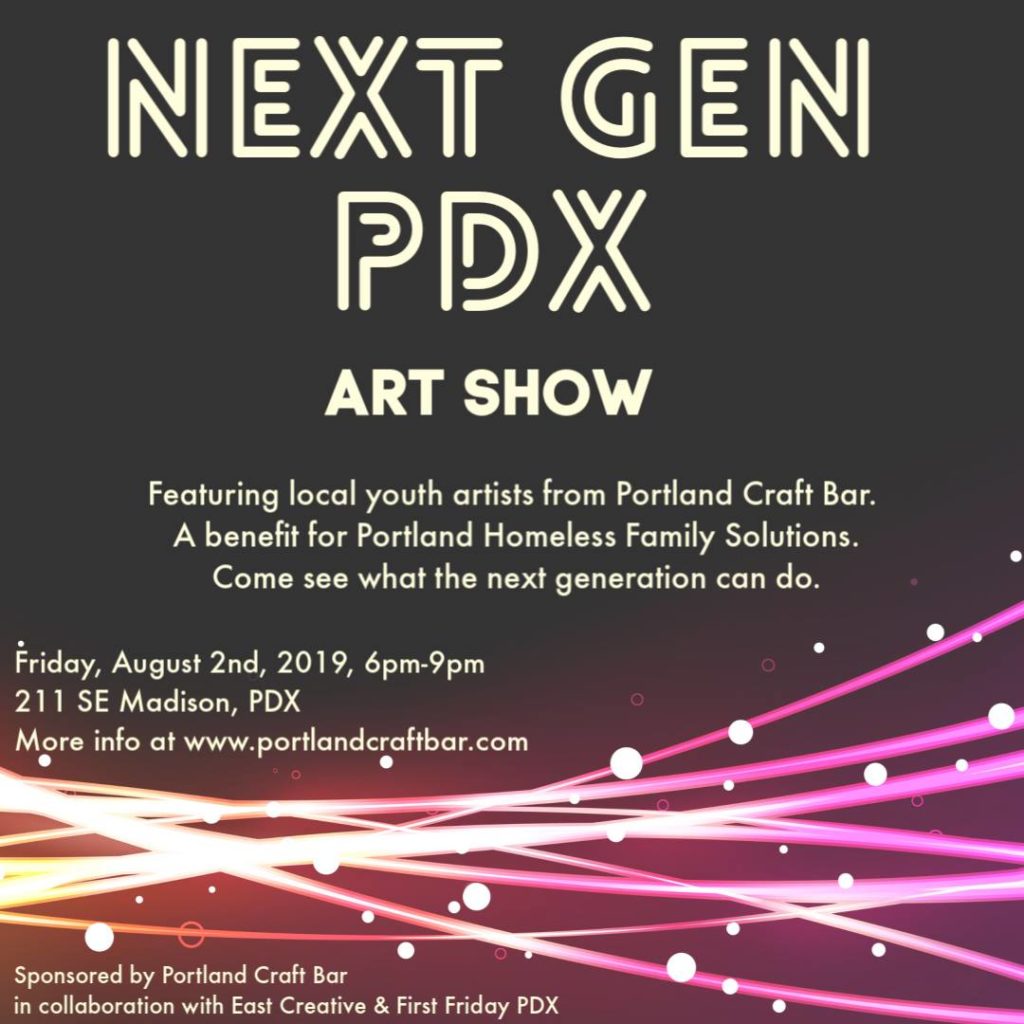 NEXT GEN PDX | PORTLAND CRAFT BAR
It's Summer Art Party time!! Come one, come all and join us for First Friday at Portland Craft Bar*! For First Friday August, we're celebrating our youth artists with an amazing art show for a good cause- all sales benefit Portland Homeless Family Solutions. The art show is the culmination of a week-long fine arts summer camp at PCB, where 10% of all tuition also benefits PHFS.
Come anytime between 6pm and 9pm to browse in the PCB studio and through the East Creative building. Stay for refreshments and visit the other open art studios in our building, enjoy live music, check out local makers, and take part in some fun art projects!
6 pm – 9 pm @ 211 SE Madison St., Studio #3
NEW TO FIRST FRIDAY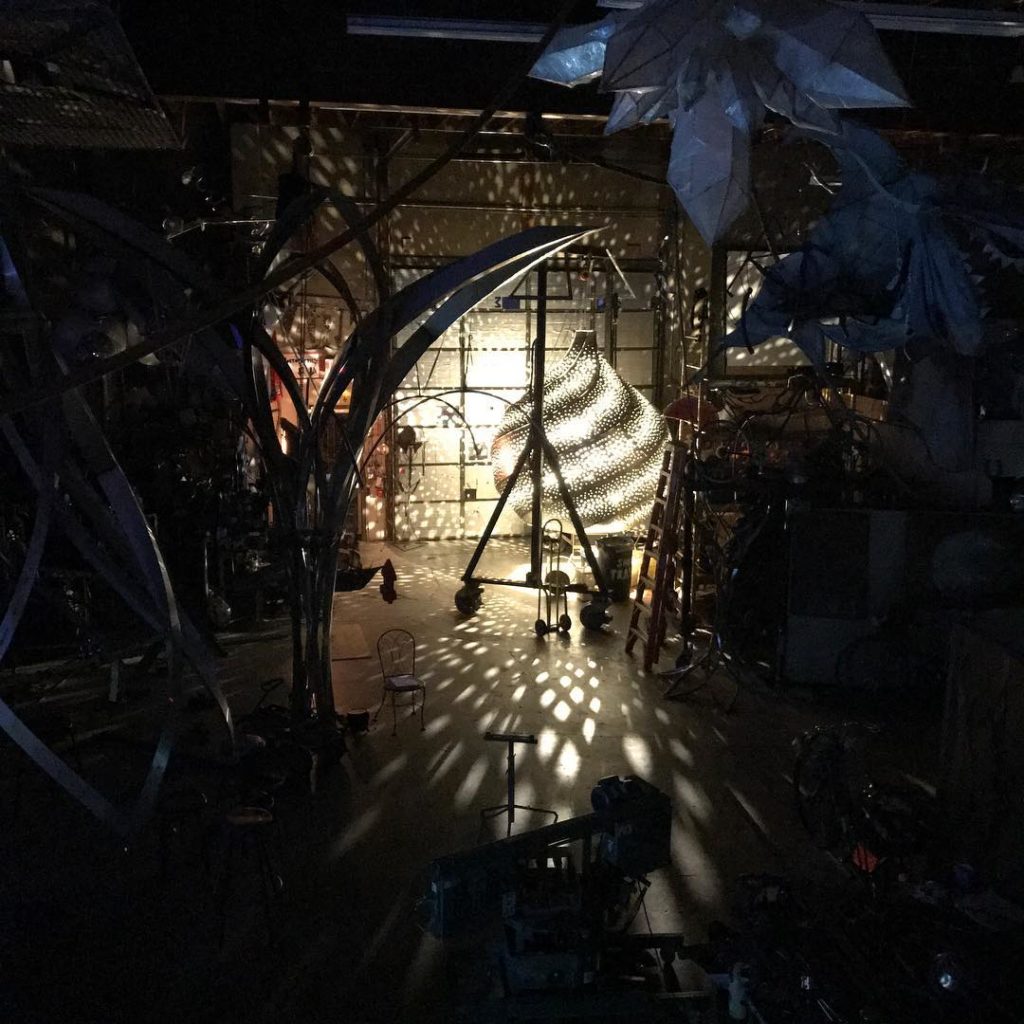 OPEN STUDIO | MANIFESTATION/H.H
About Hedron Hackerspace:
We're an inclusive bunch of hackers and artists, sharing space and equipment. h.h exists to foster community and creativity, with the accessibility of some modern tools such as 3D printers, a laser cutter, welders, etc.. We're a do-ocracy where members and volunteers are encouraged to put forth their energy where they see fit.
Open studio for the First Friday Art Walk. Come see what we've been working on at this collective creative space!
6 pm – 9 pm @ 2020 SE Bush St.
ART BLOG
THROUGH THE EYES OF ANNIE MEYER: GENTRIFICATION AND THE REEMERGENCE OF THE CENTRAL EASTSIDE ART SCENE| VICTORIA GLANOWSKI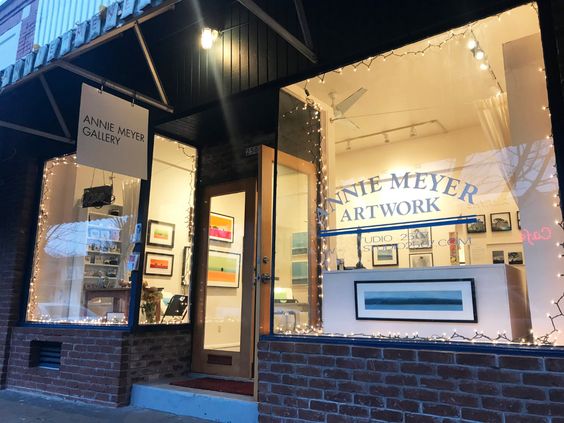 Recently, I interviewed Annie Meyer who is one of the leading figures in the Portland art scene. Long story short, Meyer came to Portland in the 1980's while driving up from California and oddly enough her car broke down in Portland. In 1995, she opened up her art gallery on Clinton Street and in 2010 opened up a successful art gallery in the Pearl District before closing it in 2018. In 2004, Meyer received a grant from the Regional Arts and Culture Council to create a map of First Friday Art Walk. Meyer is one of the few people that has witnessed the changes in the Portland art culture over the years. 
CALL FOR ARTISTS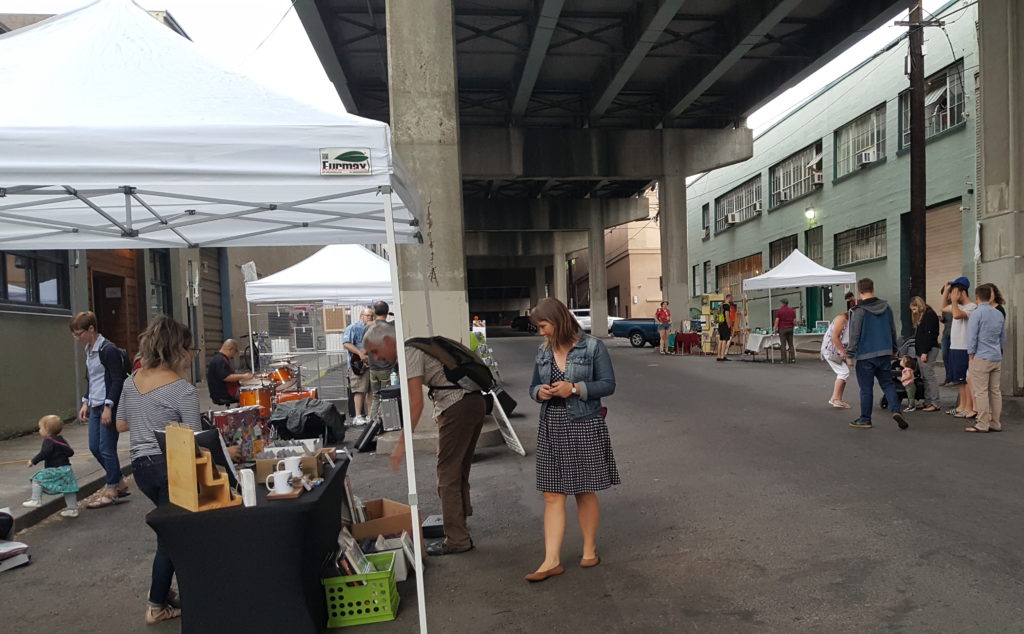 FIRST FRIDAY IS LOOKING FOR ARTISTS
The First Friday Summer Art Party takes place from July to September along SE Madison, between 2nd and 3rd Ave, outside the East Creative building. Open to all local artists and performers, the street exhibition provides visitors and patrons access to independent Portland artists interested in showcasing their creative output.
Participation in the First Friday Art Party is free, however artists are required to register and submit samples of their work.
How to Apply
Step one: Use our online form to submit 3 images of your art, a description or video of your performance or music, and any other information that will help us understand your work.
Step two: Wait for a conformation email from the First Friday team.
Step three: Arrive with enough time to set up and be ready to go by 6:00 PM on First Friday!
OTHER SHOW OPENINGS AND ART EVENTS
3 – 8 pm: GALLERY CLOSING PARTY @ ROLL-UP PHOTO STUDIO + GALLERY
6 – 8 pm: SHE WAS/IS @ WOLFF GALLERY
6 – 8 pm: POLLUTION OF NIGHT @ PUSHDOT STUDIO
6 – 9 pm: SHYAMA HELIN@ANNIE MEYER GALLERY / STUDIO 2507
6 – 9 pm: THE UNSEEN @ TABORSPACE
6 – 9 pm: LARA ROUSE @ JAILBREAK STUDIOS
6 – 9 pm: CLOSER TO HOME @ SIDESTREET ARTS
6 – 10 pm: GRITTY IN THE CITY @ BRASSWORKS GALLERY
7 – 9 pm: SPELLBOUND @ SPLENDORPORIUM
Contact Us
We love to promote art events involving our participating galleries and artists, please be sure to send your news and any feedback to: press@firstfridaypdx.org
Or use our online event submission form!
General inquires: info@firstfridaypdx.org
Copyright © 2019 First Friday PDX, All rights reserved.