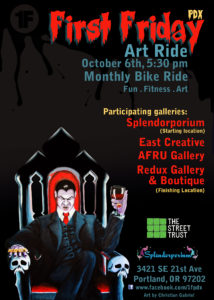 Come out this First Friday for festive fun
First Friday PDX – Portland's Eastside Artwalk and The Street Trust– Women Bike invite you to join us on a Night of the Living Dead Artist Art Ride. Ride participants are encouraged to come dressed as a dead artist. The event will take place on Friday, Oct. 6, 2017 at 5:30 p.m. The first gallery and meeting location will be at Splendorporium, 3421 SE 21st Ave., Portland, OR 97202.
The ride will commence from the starting location at 6:00 p.m. Participating locations include: Splendorporium, East Creative Collective, AFRU Gallery and Redux Gallery and Boutique.