This December we're excited to share holiday art shows at East Creative Collective, Afru Gallery and Sidestreet Arts, as well as amazing looking openings at EARTH Space PDX, Pushdot Studios, and Neighbors Taproom.

While its difficult to trace the origins of December holiday traditions, gift giving dates back at least as far as the ancient Roman festival of Saturnalia. While consumer culture gives us many choices of how to be part of this tradition, an art walk is a great opportunity to support local artists and to give a truly unique gift. By spending locally you directly contribute to communities you care about, and help keep Portland's vibrant art scene alive.

Look forward to seeing you on Friday!

Noah Alexander Isaac Stein
First Friday PDX President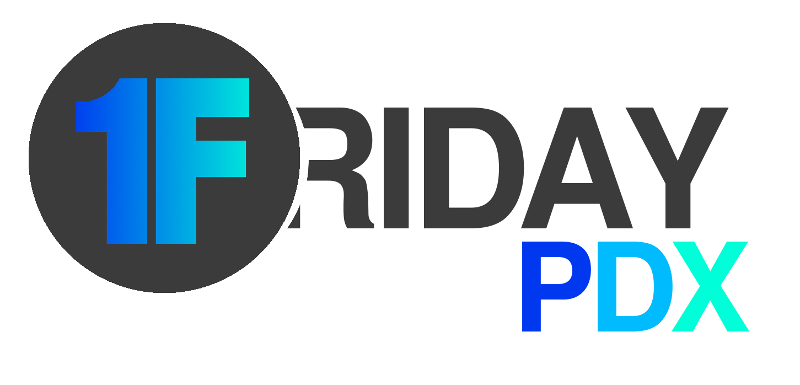 IN-PERSON EVENTS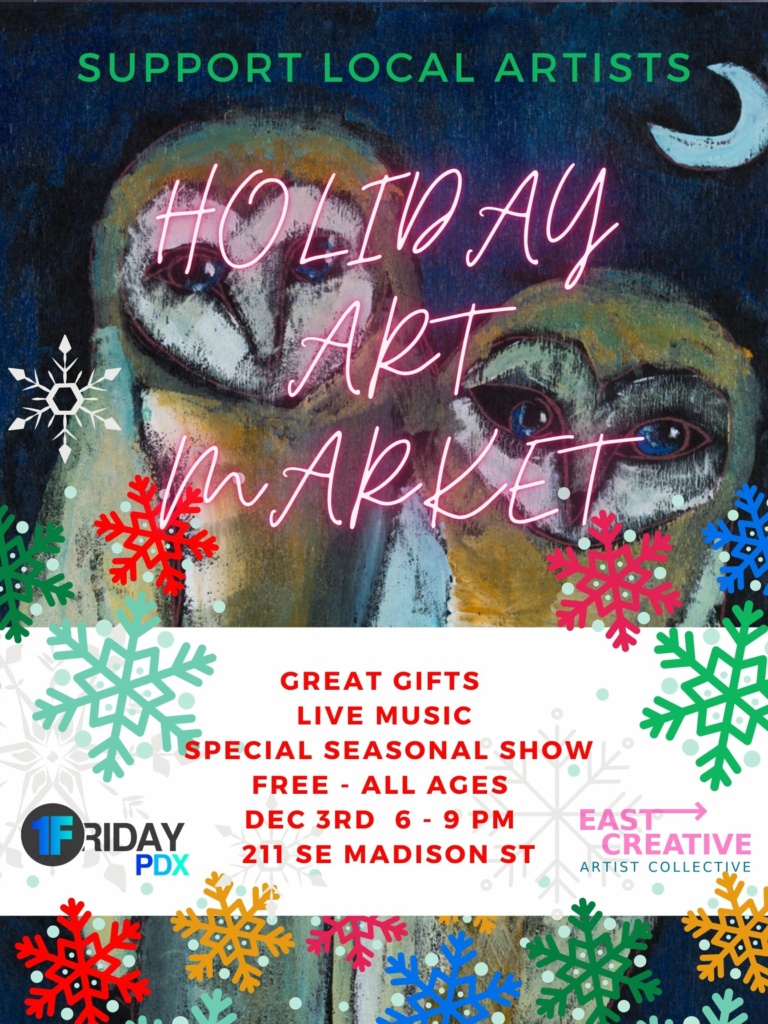 HOLIDAY ART MARKET | EAST CREATIVE COLLECTIVE
Come warm up at East Creative's annual Holiday Art Market! Featuring great gifts by local artists, open studios, a special 100 works under $100 show, live music by Community Jams, and more.
6 PM – 9 PM @ 211 SE Madison St., Portland, OR 97214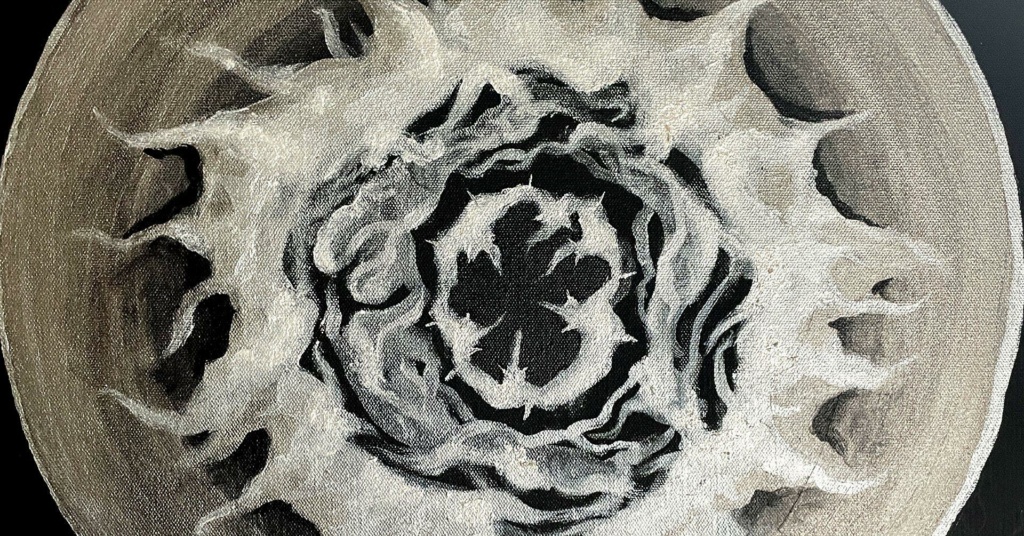 LIMINAL MATTER | EARTH SPACE PDX
we cordially invite you to visit this exhibition of art and witness the new work of the bone goddess on Friday, December 3rd, 2021.
☉
in addition to this new painting series there will be a brand new live performance, curated specifically for this event.
☉
come and enter the space between our world and worlds beyond.
☉
please wear a mask and be respectful to others in the space
"Kelly Delay's perfectly composed photographs show the beauty in decay and the dignity in decline." Tiny's Coffee
6 PM – 10 PM @ 4135 SE Gladstone St Portland, OR 97202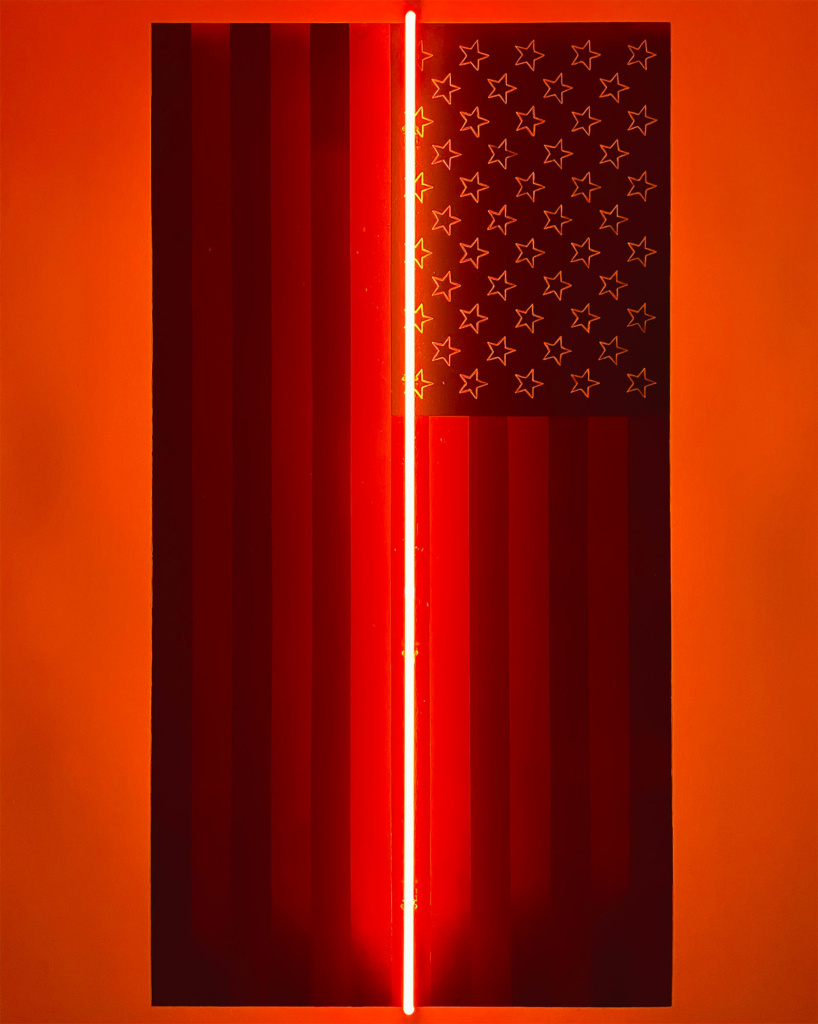 IVAN SALCIDO | PUSHDOT STUDIO
Recuerdo: (rreh-kwehr-doh) NOUN, masculine (plural: recuerdos)
Memory
Souvenir, memento, memorabilia
Regards
By taking a look at personal history, this exhibition touches on themes of nostalgia, connection, legacy, and remembrance. The work highlights the human experience and incorporates themes of cultural and family legacy, artistic heritage, and the significant value of the contributions of immigrants to our society.
Ivan Salcido is a multidisciplinary artist based in Portland, OR. Born in El Paso, TX, Salcido holds an MFA from the University of Texas at San Antonio. His background is in sculpture, but he also makes paintings and installations. His latest series of artworks draws on personal experience, family history, and interests in collectibles (such as sports cards, photographs, and flags) for inspiration.
8 AM – 5 PM @ 2505 SE 11th Avenue, Suite 104 – in the Ford Building, enter on Division Street – Portland, OR 97202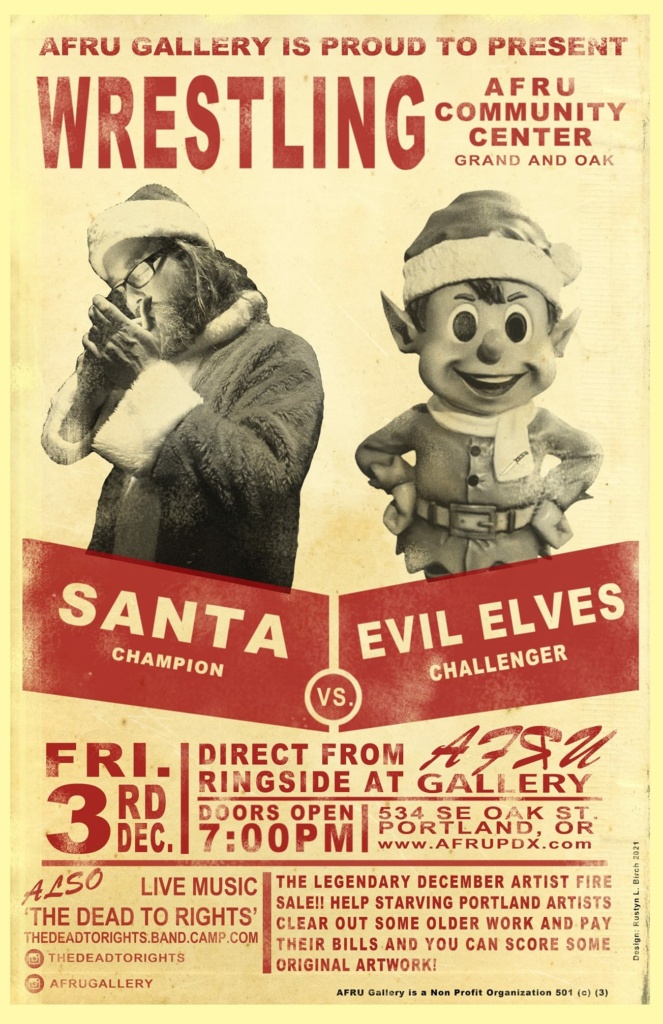 HOLIDAY ART SALE AND LIVE SANTA WRESTLING | AFRU GALLERY
Famous December art show & sale!!! Give the gift of art!
Plus, Santa Wrestling Live!!! WTF?
This is a free event. Donations welcome. Refreshments available.
live music from The Dead To Rights!
7 PM – Close @ 534 SE Oak St., Portland, OR 97214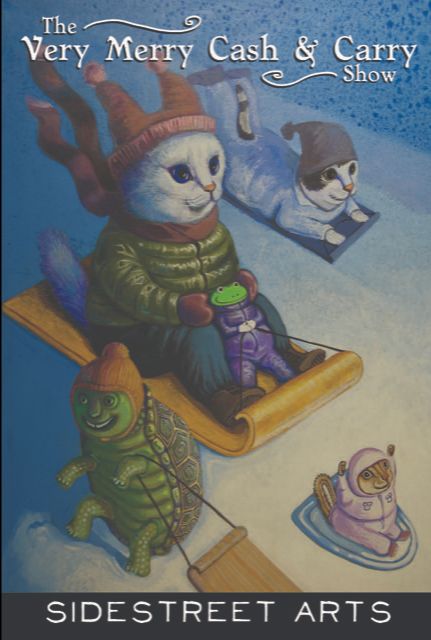 VERY MERRY CASH AND CARRY | SIDESTREET ARTS
Come in for first Friday Artwalk and meet a number of different artists represented in our Very Merry Cash and Carry Show.
5 PM – 7 PM @ 140 SE 28th Ave., Portland, Or 97214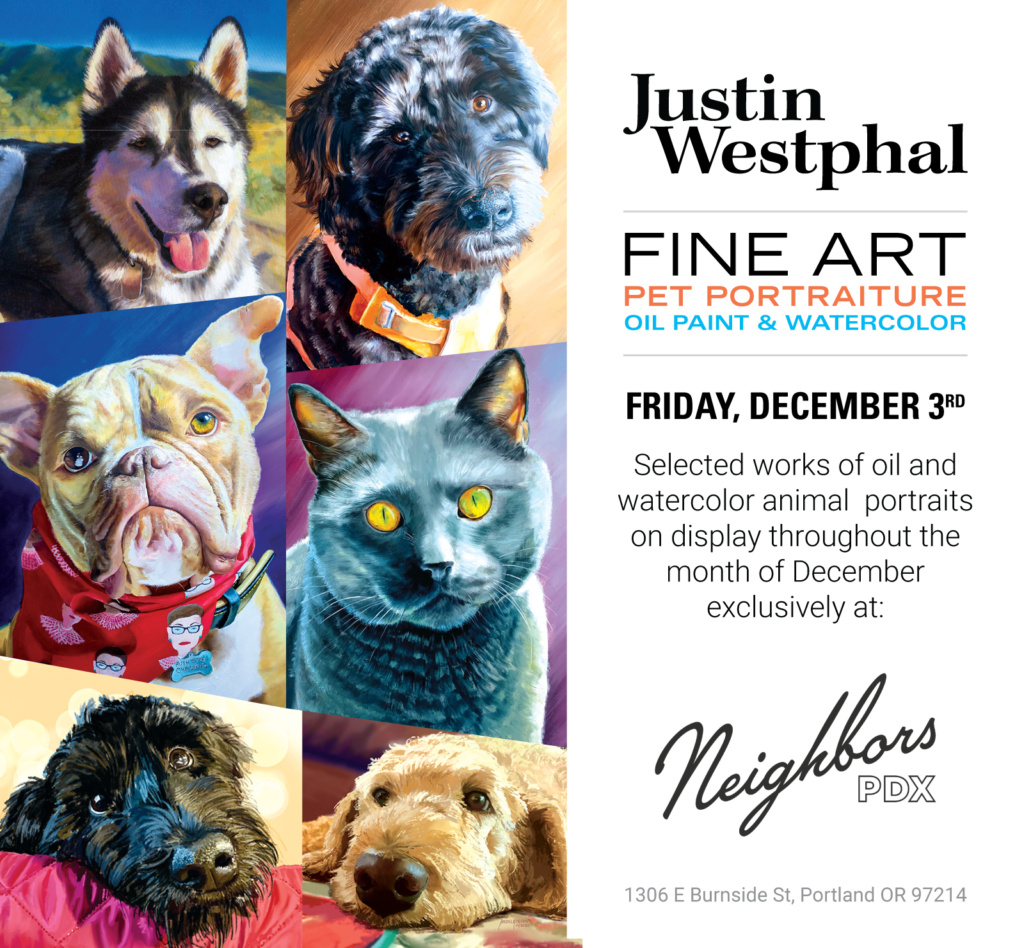 PET PORTRAITURE – HYPER-REALISTIC OIL AND WATERCOLOR BY JUSTIN WESTPHAL | NEIGHBORS TAPROOM
Justin Westphal, a local painter specializing in hyper-realistic pet and animal portraiture, exhibits a collection of oil and watercolor paintings throughout the month of December at Neighbors Taproom. Come enjoy these works up close in person while treating yourself to a rotating selection of curated beer, wine, and plant-based coffee drinks in a dog-friendly, bright and spacious interior!
12 PM – 10 PM @ 1306 East Burnside St, Portland OR 97214
VIRTUAL EVENTS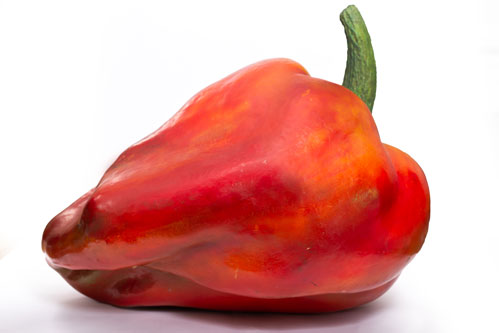 MING FAY SCULPTURE | BUTTERS GALLERY
We present a special online exhibition of vintage works by New York-based Ming Fay. We have worked with Fay for well over 30 years and have presented many spectacular exhibitions. This new show is an opportunity for collectors to see work that has never been shown in our gallery in the past. Jeffrey Butters has personally curated this collection we are presenting–focusing on his picks of the "cream of the crop" of available Ming Fay works.
Contact Us
We do our best to make the list as complete as possible, if you have an event or correction you would like to see listed please send show details to Info@FirstFridayPDX.org or use our easy online event submission form.