All events listed occur on the First Friday of the month and are free and open to all visitors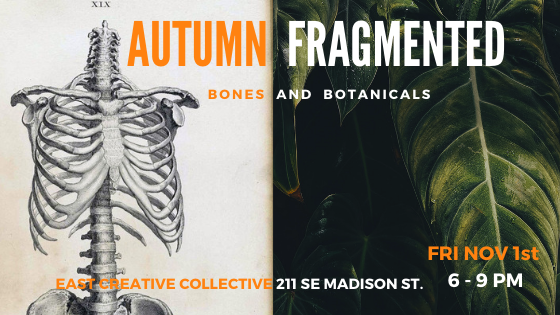 AUTUMN FRAGMENTED: BONES AND BOTANICALS | EAST CREATIVE COLLECTIVE
Join the East Creative Art Collective and more than 20 visiting artists for the Bones and Botanicals opening party. Featuring live music, food, drink and art!
Just as the natural world is governed by the cycle of the seasons, so too do our lives follow their own cyclical processions, full of births and transformations of greater and lesser significance. Many spiritual practices even consider that this cycle extends beyond the bounds of life itself. This mirroring of the inner and the outer provides a deep well for symbolic representation and is reflected in art. Autumn Fragmented invites artists to consider the ever turning wheel and the aesthetic symbols of bones and botanicals
6 pm – 9 pm @ 211 SE Madison St.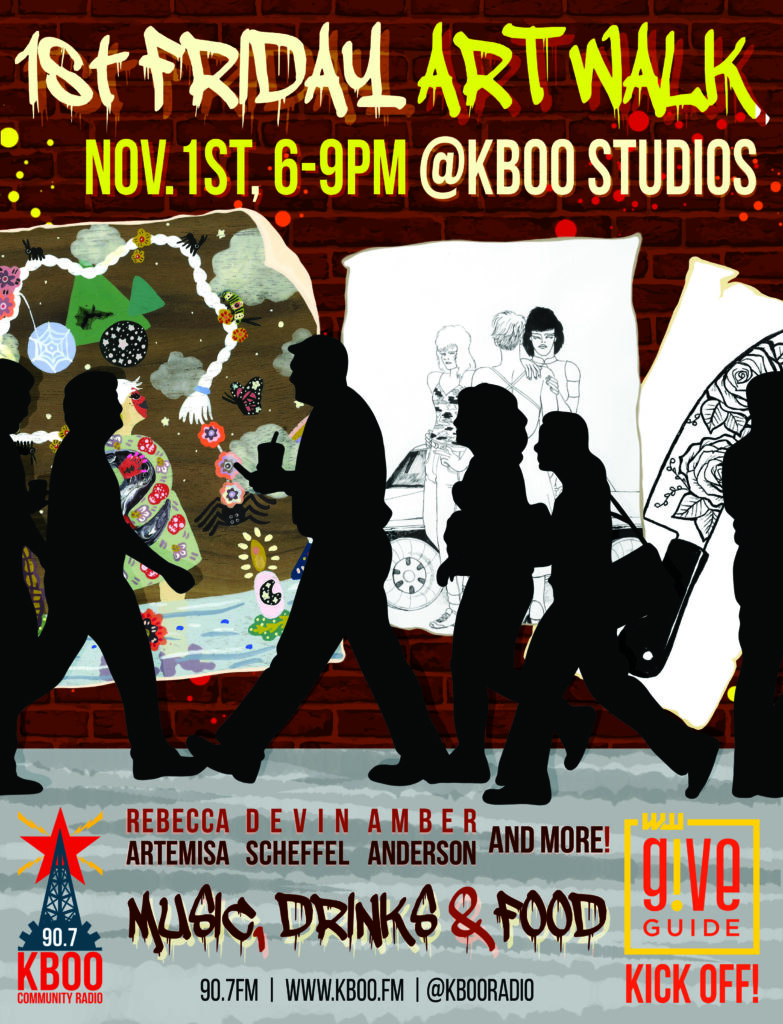 KBOO JOINS FIRST FRIDAY | KBOO COMMUNITY RADIO
KBOO is so excited to be filling our studios with beautiful artwork as well as live music, studio tours, free drinks, and snacks! We are honored to be showing the work of local artists Amber Roquel Anderson-da Silva, Rebecca Artemisa, Devin Scheffel and more.
https://www.kboo.fm/blog/76260
6 pm – 9 pm @ 20 SE 8th Ave.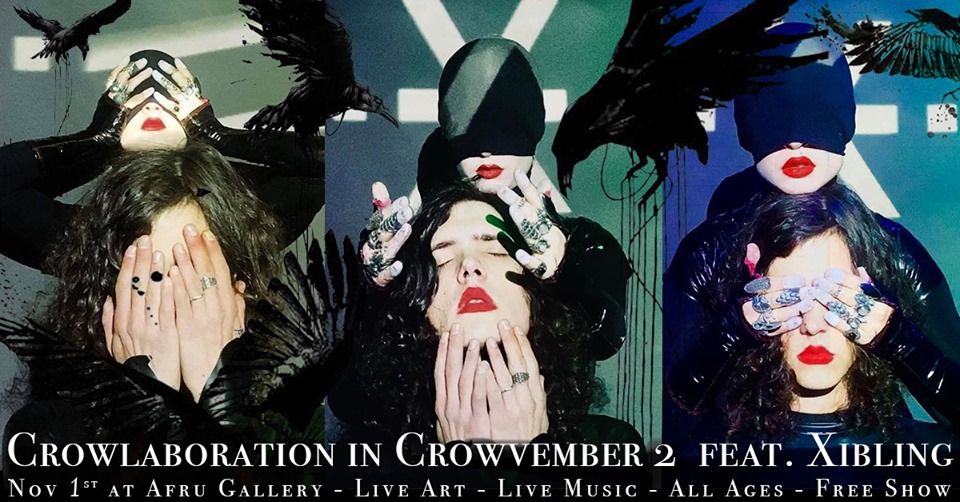 CROWLABORATION| AFRU GALLERY
A collaborative Show conceived
by Lead Crow-Conspirator Dr. Sam Klein
Join the AFRU Murder for what is an
"expanded Art Opening".
There will be plywood crow flats and art supplies
for artists, would-be artists, and kids.
Free and all ages! So join in! No excuses! All fun!
Live music at 9pm by
Xibling
FreneticSynthBeatFemmePoetScreamPop 4theApocalypse
Xibling.bandcamp.com
Soundcloud.com/Xibling
www.instagram.com/_xibling_/
www.facebook.com/Xibling/
6 pm – 12 am @534 SE Oak St.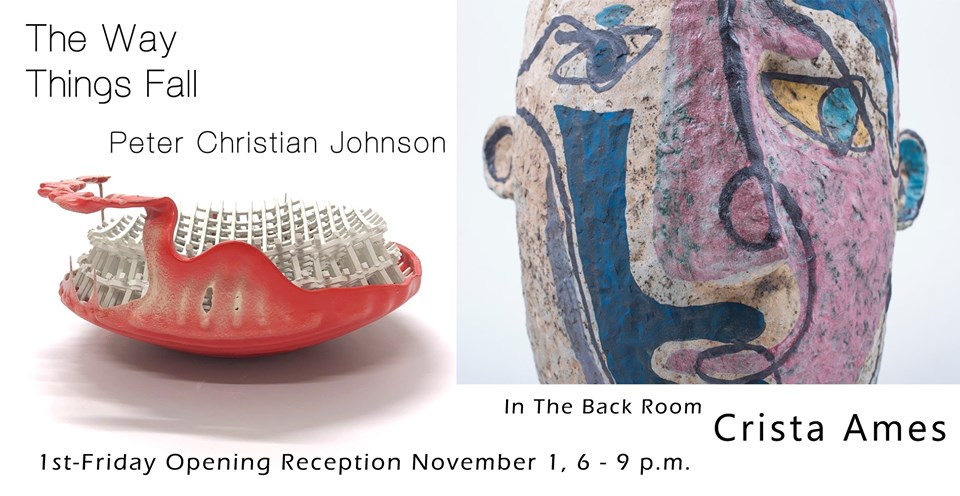 PETER CHRISTIAN JOHNSON | EUTECTIC GALLERY
PCJ is doing us the great honor of traveling across the country to hang with us and celebrate his show, The Way Things Fall. We hope you can join us, and raise a glass to Peter and the phenomenal work from Crista Ames in The Back Room.
6 pm – 9 pm @ 1930 NE Oregon St.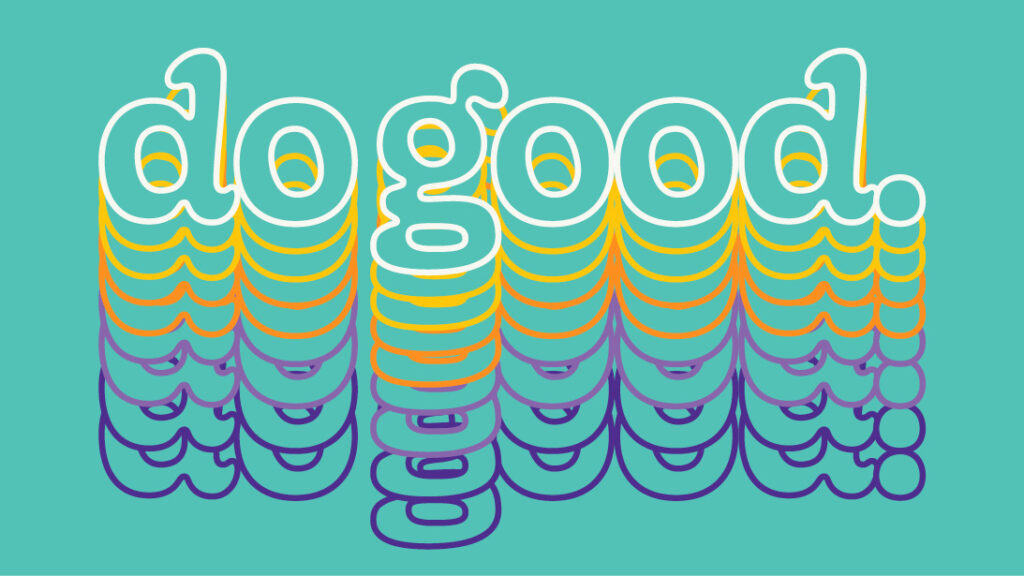 GIVE! GUIDE KICKOFF PARTY | JUPITER NEXT
✨✨✨ FREE // ALL AGES ✨✨✨
Stock your pantries and prepare for an apocalyptic Kickoff Party. Don't miss out on all the mind-blowing fun:
🔸Do-gooder tarot readings from Miss Renee Healing
▫️"Future Feels 2030: an interactive exhibit about climate change"
🔸Photo madness with Happymatic Photo Booth
▫️ A chance to cut all the rugs with DJ Le'Mix (Greg LeMieux)
🔸Tasty food and drinks from Diageo (vegan and non-alcoholic options)
▫️A fiery raffle featuring items from Patagonia Portland, Stumptown Coffee Roasters, Tillamook Creamery and more!
Entry is first come, first serve – make sure to get here early. Did we mention there's no cover?
C U SOON 💛
5 pm – 7 pm @ 900 East Burnside St.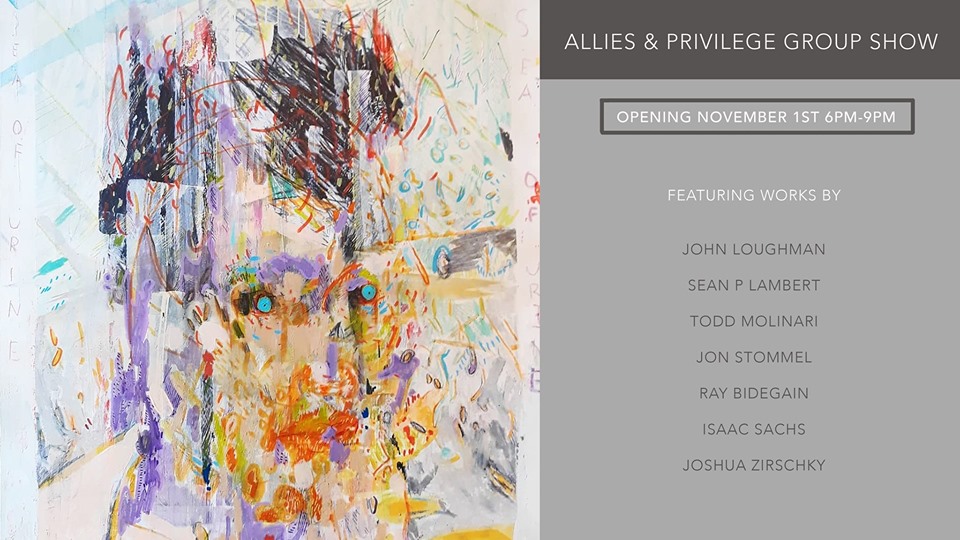 ALLIES AND PRIVILEGE | JAILBREAK STUDIOS
Every day of the year we aim to create a platform for poc, indigenous, queer, and female identifying artists in our community. We believe in positive change through art and open dialogue, and in order to live by our mission of full inclusivity NOVEMBER 1ST will be the opening of 'Allies and Privilege' a group show featuring works by
Ray Bidegain
Jon Stommel
Isaac Sachs
Joshua Zirschky
Sean P Lambert
John Loughman
Todd Molinari
6 pm – 9 pm @ 910 SE Taylor St.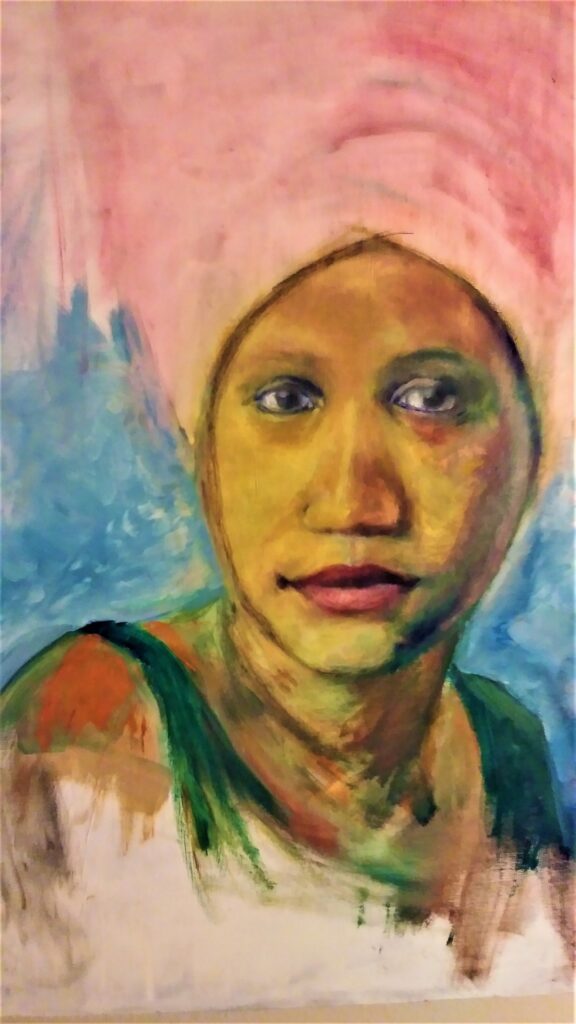 KATE RUNYAN | KARUNA CONTEMPLATIVE LIVING
This summer, tending my garden, I was inspired to capture poetry I found among the trees, flowers, twigs and birds. Flowers offered endless still-life challenges starting with their sumptuous colors to their fading glory and to their final decay. Light, dancing in the shadows and on the leaves, stirred my imagination. From this fertile ground, came most of the paintings in this show.
My watercolors reflect more subdued, loose and realistic images, whereas my oils are bigger and bolder in color and interpretation. Oils allow me to take time to discover an image, reworking it over and again as necessary. Watercolors are the opposite. Overworking them produces muddied images. I find that watercolor is a more immediate process, requiring forethought and a lighter touch. They induce a sense of calm and stand in contrast to the exuberance in my oils. I often feel engaged in a boxing match when painting with oils. I can spend all day working on an oil painting only to scrape everything off at the end of the day. You can see the struggle in the built-up layers, the knife marks and the ragged edges.
My formal art training was at the University of North Texas at Denton and at various community colleges. It continues with local teachers.
Light refreshments will be offered.

6:30 pm – 9 pm @ 1725 SE Hawthorne Blvd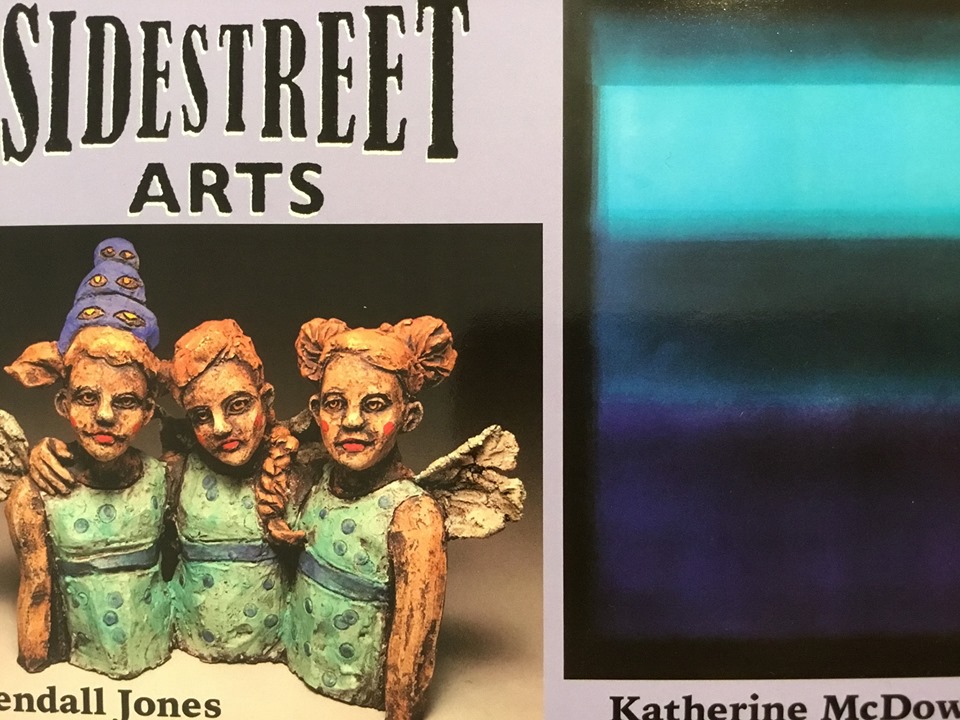 KENDALL JONES | KATHERINE JONES | SIDESTREET ARTS
For the month of November, Sidestreet Arts will be showcasing the ceramic sculpture of Kendall Jones and the monotype prints of Katherine McDowell.
Kendall Jones' highly textured sculptures speak… each figure, each face beckons you to ask, "what's your story?" And often, there is the slightest hint of whimsy that draws a smile, as in "Hermanas." Three young ladies in their polka-dotted dresses and pig-tailed hair hug each other while gazing directly at the viewer. They share identical attire, hair color and makeup. They appear to be sharing some kind of event, perhaps a play or a party. We are observing them as they pose, as if we have our camera ready to take their photo.
Visual artist, Katherine McDowell, is focused on montotype printing. The bright saturated colors streak the large scale paper in her Lake Monotype series. The colors set on the paper like a sunset over the horizon; they bleed into one another, vivid and visually arresting. Textures present themselves on the paper, luring the eye into the greater depths of the paper.
6 pm – 9 pm @ 140 SE 28th Ave.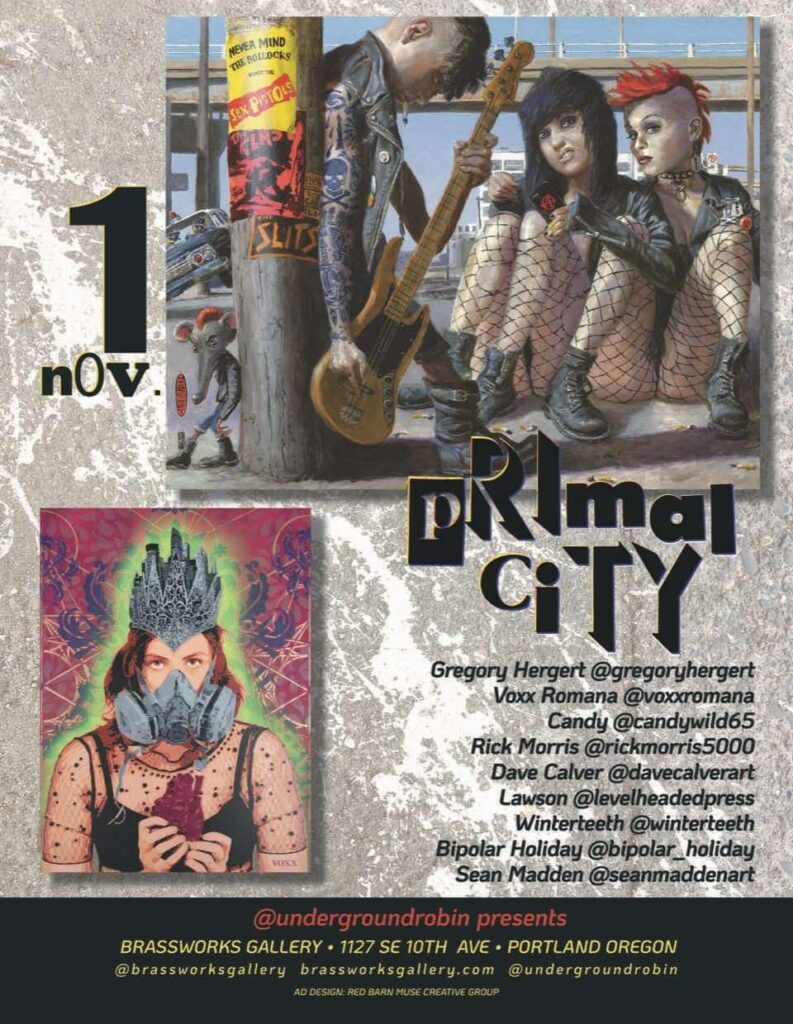 PRIMAL CITY | BRASSWORKS GALLERY
Brassworks Gallery is very excited about "Primal City" group show, – where the artist explore their interpretation of "Early Punk Culture" opening reception, Friday, November 1, 6-10pm – come see some amazing art from all over the US, meet the artist, grab a snack and a beverage and hang with the cool crowd!
6 pm – 10 pm @ 1127 SE 10th Ave.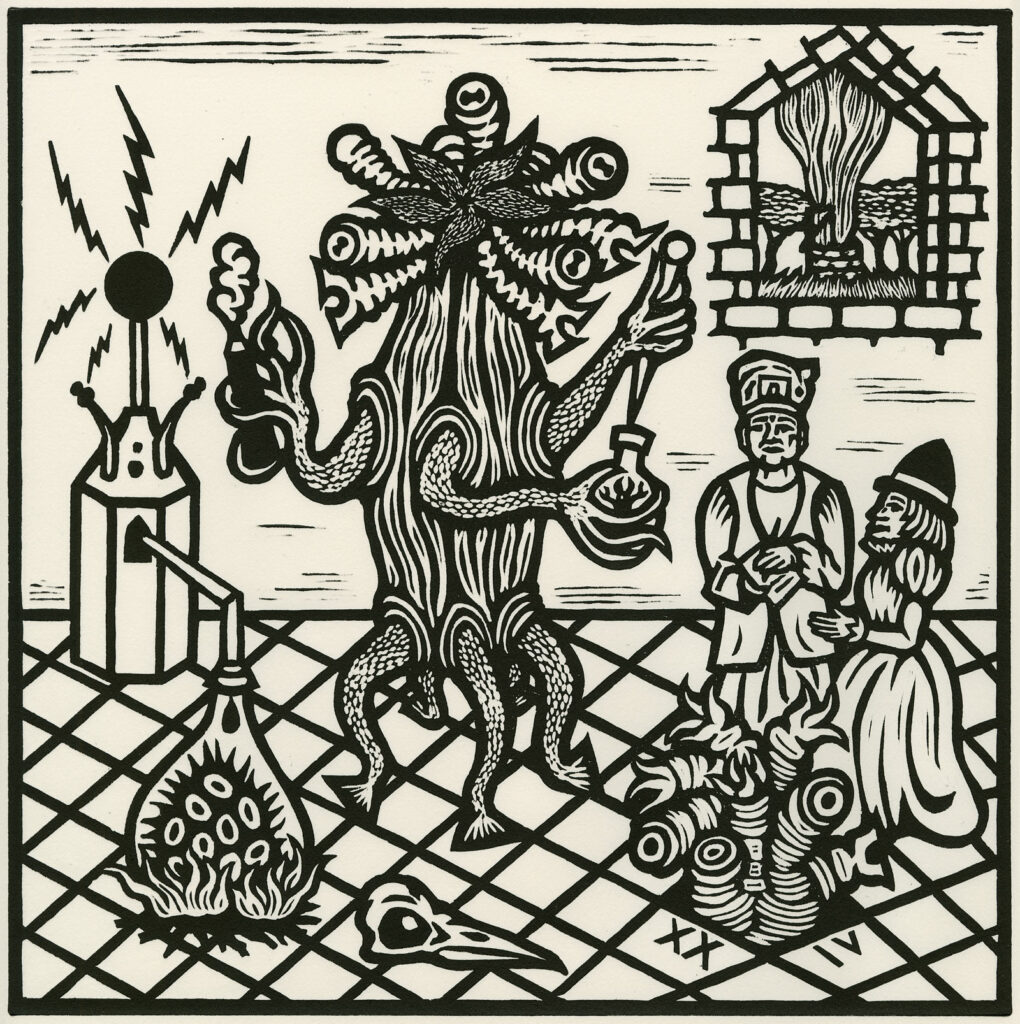 FIRST FRIDAY ARTIST'S RECEPTION | BITE STUDIO
art. friends. conversation. food. drink.

You are cordially invited to join us on Friday, November 1st for our First Friday artist reception, featuring fantastic new prints from Bite Studio artists, Liv Rainey-Smith, Leslie Pohl-Kosbau, and Candace Corbin!
Invite your friends, invite your family, we hope to see you there!
Framed and unframed prints will be available for purchase, and we accept cash, credit, and checks.
6 pm – 10 pm @ 2000 SE 7th Ave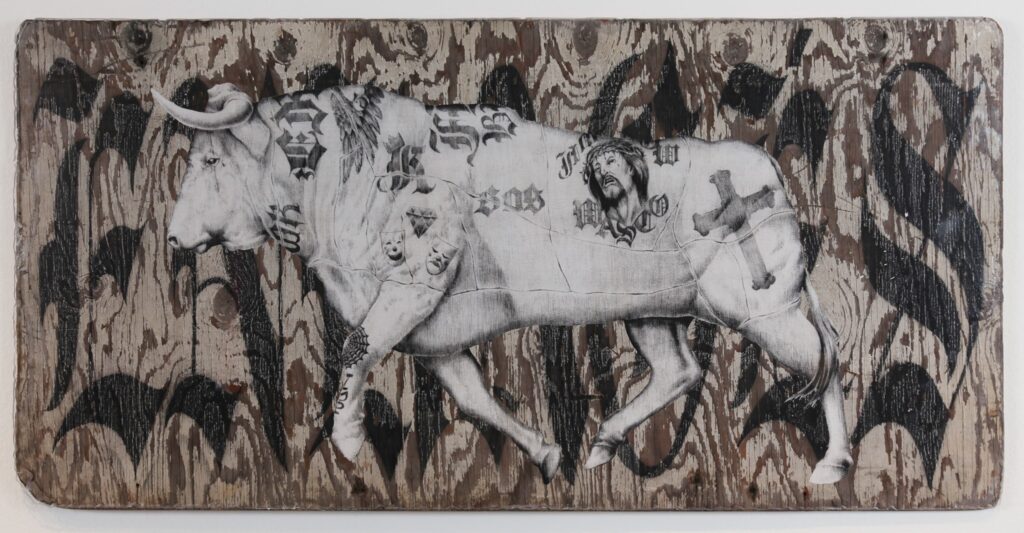 NOVEMBER FIRST FRIDAY| TATTOO 34
Our November First Friday event is an amazing line up! We are featuring the art work of Jesse Hazelip. To see his work please go to http://jessehazelip.com/ and you can follow him on Instagram @jessehazelip. The work of multi-disciplinary artist and activist Jesse Hazelip confronts toxic Western cultural practices and social injustices including the inhumanity of the for-profit prison industry, continued police brutality and the violent impacts of extractive industry on indigenous peoples and the land. Hazelip is known for his skilled drawings of various animal forms which embody concept and act to guide the public towards developing further understanding, empathy and action.
Hazelip holds a BFA from Art Center College of Design and currently resides on the West Coast, USA. Hazelip has shown extensively at galleries throughout the United States and internationally, and his work resides in numerous private collections.

We are also welcoming back Indigenous recording artist Kunu Bearchum for a live musical performance. Kunu has consistently rocked the shop, his newest single "Through The Battle Smoke" can be heard here. Instrumental is by Matt Smokovich Mixed and it is Mastered by P.E. Strickland at Portland Underground Recording. To see more of Kunu's multimedia work, his website is: www.kunubearchum.com. You can also follow Kunu on Instagram @papi_wojapi.

There will be pizza available for purchase, provided by the brand new start up MOT'Z Pizza PDX based Rome inspired pizza. You can find them on Instagram @motz.pizza_

All are welcome here, we do suggest an entry age of 18. Entry is free. There will be snacks and drinks available to accompany the pizza. The art is amazing and the pieces will be for sale. Come check out the Artwork, talk to the community, listen to good music, eat some pizza, and enjoy the night at Tattoo 34!

We are happy to showcase Jesse's work for the entire holiday season from November-January at Tattoo 34. All pieces will be available for sale!

Come be a part of our community!
8:30 pm – 11:30 pm @ 3401 SE Hawthorne Blvd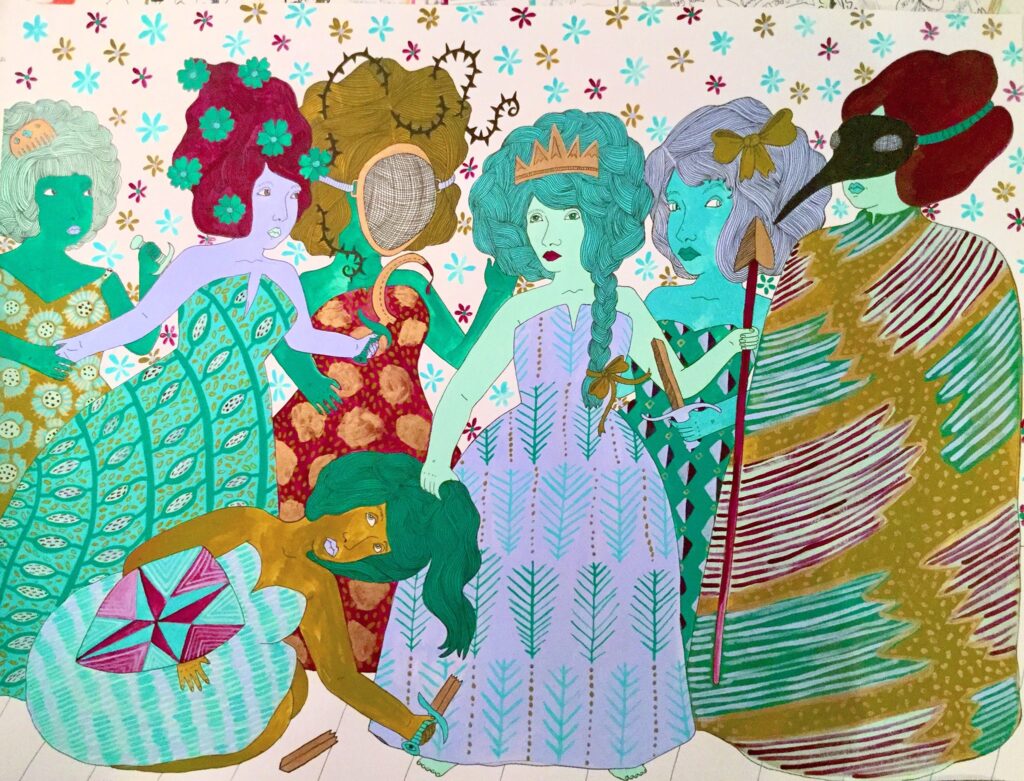 PAGEANT | WOLFF GALLERY
Join us for an opening reception with artist Erika Rier from 6-8PM. Free and open to the public.

Exhibition on view: November 1-December 22, 2019

"Pageant" is an over-the-top, mixed media exploration of pageantry and its surrounding rituals by folk surrealist artist Erika Rier. Using bright colors, intense patterns, and an army of womxn, Rier looks through history to examine the role of pomp and circumstance in womxn's experiences, bringing together medieval pageants, renaissance processions, and coronation rituals, as well as quirky 20th century beauty pageants. Some of this pageantry is re-imagined in an attempt to depict womxn as protagonists in history's great pageants, while other events need very little twisting to expose their psychological impacts on womxn.

Erika Rier is a self-taught artist working mostly in inks and paints on paper in a style she calls "folk surrealism." After many years of oil painting and designing clothes, she shifted her focus to works on paper. Writing was her first love and she still secretly writes fiction but never poetry anymore. Rier has exhibited extensively throughout the Pacific Northwest and most recently exhibited her solo show, "To Grandmother's House," at the Pendleton Center for the Arts. Having lived in Maine, Vermont, Connecticut, NYC, and Arizona, and Washington state, Erika now resides in Portland, Oregon. She also has one of each of the following: a husband, a daughter, and a cat.
Join us for an exhibition walk-through of "The Allegories" with artist Jen Brown!

First Friday reception from 6-8 PM, walk-through starting at 7 PM.

**

In her dramatic, detailed oil paintings, the artist confronts issues facing our society, including climate change, political divisions, and the role of the artist. Her combination of contemporary themes with a Baroque-inspired aesthetic invites discussion while highlighting Brown's exquisite artistry

6 pm – 8 pm @ 2804 SE Ankeny Street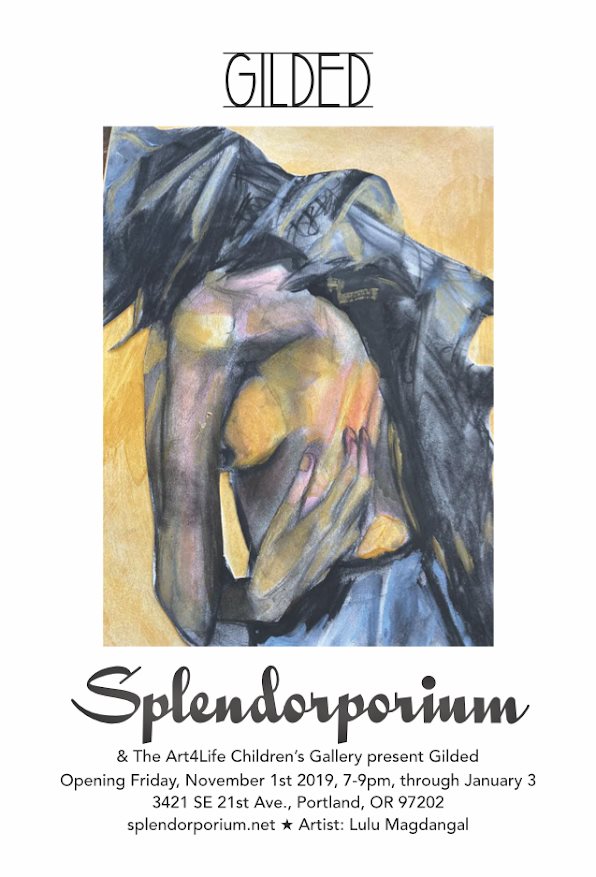 THE GILDED SHOW | SPLENDORPORIUM
Join us Friday, November 1st 7-9 pm for the Gilded show opening. Ophelia Darkly will be here reading fortunes and Kasey Shantz will be here playing improv stylings on the piano. Featured artist this month is Lulu Magdangal.

7 pm – 9 pm @ 3421 SE 21st Ave
Contact Us
We do our best to make the list as complete as possible, if you have an event or correction you would like to see listed please send show details to Press@FirstFridayPDX.org or use our easy online event submission form.