All events listed occur on the first Friday of the month and are free and open to all visitors unless otherwise specified.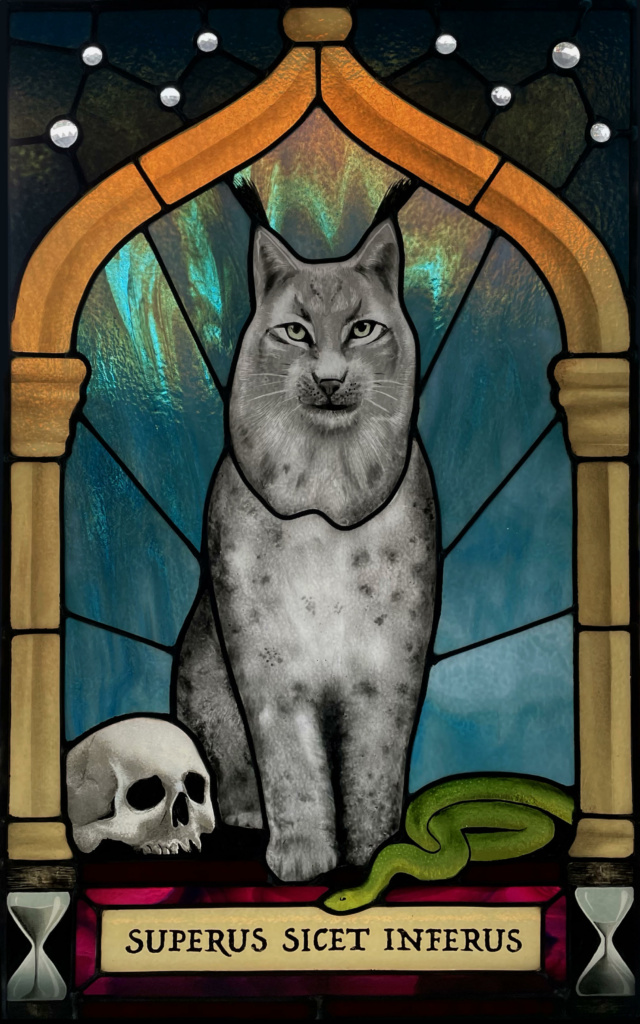 FINAL STAINED GLASS ART SHOW MARKS THE END OF REDUX GALLERY IN PORTLAND | REDUX GALLERY
Redux Gallery returns for a final first Friday exhibition and group show featuring eight Pacific
Northwest-based stained glass artists. This is a free, family-friendly event, but please leave pets
at home. All work will be for sale through the Gallery, for sales inquiries, please contact Tamara.

WHO: Carla Stevens , Jamie Ballestrin, Kristin Culotta, LaRhea Phillips, Laurel Jane Vonderau, Madison Olsen, Tamara Goldsmith , Valerie Fairlight
Redux Gallery presents eight talented artists for an upcoming final exhibition in their Central Eastside shop and gallery space.

Redux has been a cornerstone venue for artisans and makers alike to sell their functional and decorative wares in a shop and gallery setting. Pre-Covid, Redux featured art shows regularly every First Friday to celebrate and support locally made work, encouraging the creative endeavors of local artists and promoting sustainable commerce.

Please join us this March for Redux's last month in business and final show to celebrate the culmination of this 18-year adventure, support some talented emerging and established artisans, and spread some love for this unique and ancient art form.

Curated by Tamara Goldsmith, this show conveys the energy that is alive and well in Portland and beyond, for the transformational art and craft of stained glass. This ancient art form is rooted in some of the oldest traditions of art-making, but contemporary artists have redefined both its purpose and meaning. Though many of its technical processes have remained relatively the same for the last 1000 years, advancements in tools and tech have made stained
glass more accessible to the masses. Artists have widened the scope of what kinds of themes and iconography can be represented in glass, inspiring important dialogues about current world events, and a lively cultural commentary.

Artists will be in attendance from 5-8 pm for the Opening show to answer questions about their process and artwork. Don't miss this rare glimpse into this unusual art form, get connected with some incredible artisans, and perhaps you'll be inspired to acquire a piece of your own.
5 PM – 8 PM @ 811 E Burnside St., #116, Portland, OR 97214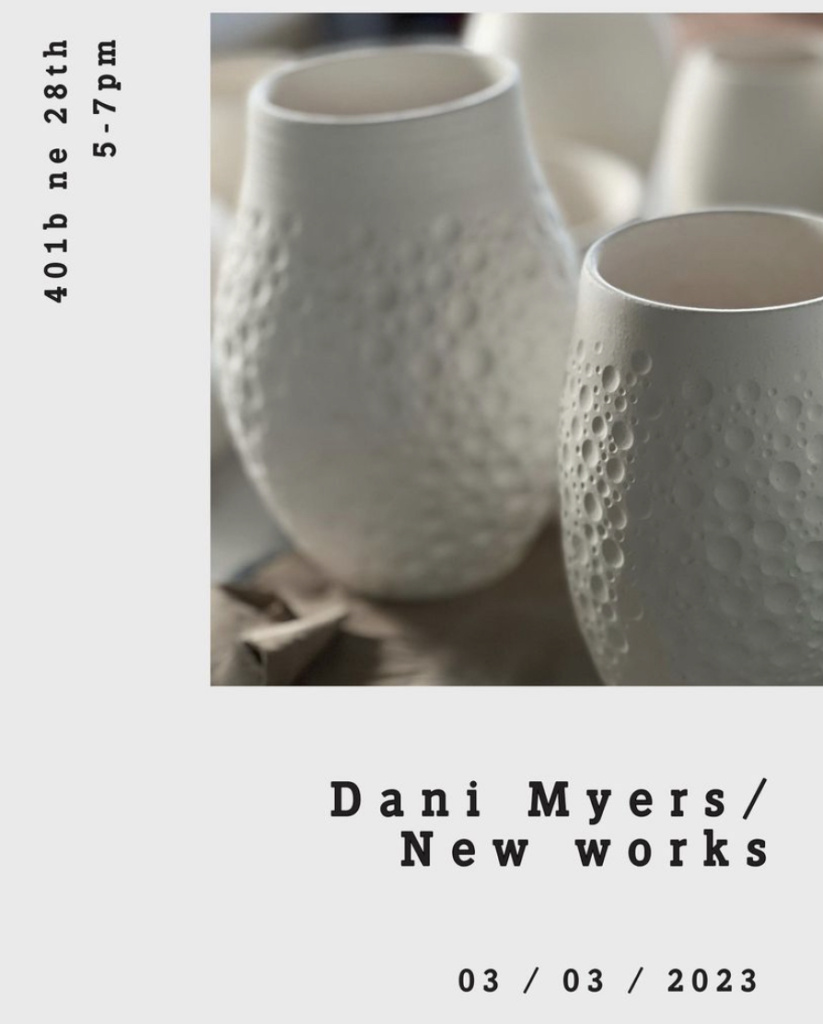 DANI MYERS | THE ANGRY FLORIST
Dani Myers. New Works.
Finding her voice in clay-a year in retrospect.
Dani spent the last year working with different firing techniques. Raku, Anamaga (wood fire), Soda, and with her studio electric kiln.
She found that her influences; music, function of form, and textures found in nature fed her creative flow. When that creative flow was added to ceramics they became her voice.
Come see how her year in clay has taken shape.
5 PM – 7 PM @ 401b NE 28th Ave.., Portland, OR 97232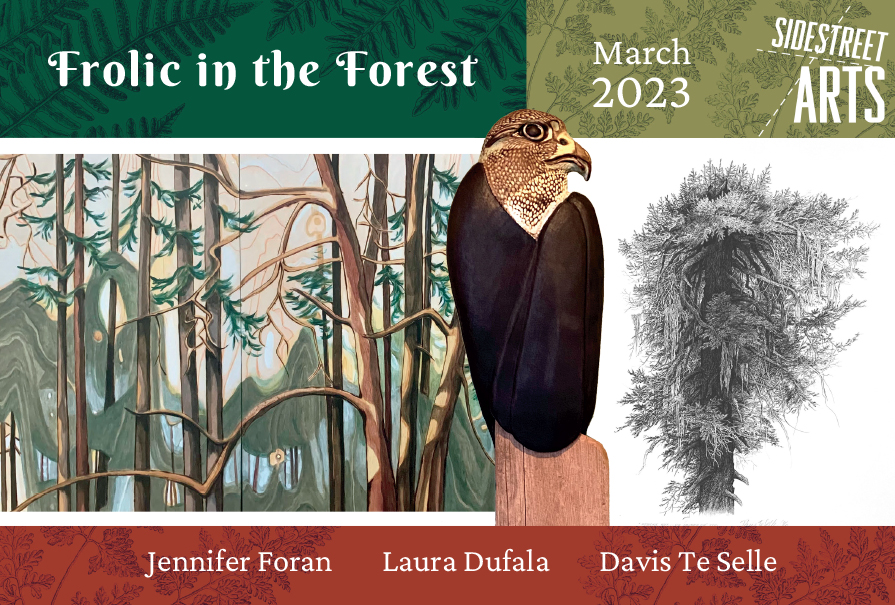 FROLIC IN THE FOREST | SIDESTREET ARTS
The March feature show, Frolic in the Forest, will bring out the nature-lover in every viewer. Our three local artists, Laura, Jennifer and Davis, have brought their interpretations of the forest to this beautiful show. Kristen Etmund is our Spotlight Artist this month.
One can practically smell the earthy loam and pine sap as one views these art works. Sure to make every heart thrill; a bird-sighting is guaranteed as one passes through this forest. No binoculars are necessary!

Stop by during our First Friday event to enjoy some wine and nibbles, see the art and meet the artists!
5 PM – 7 PM @ 140 SE 28th Ave., Portland, OR 97214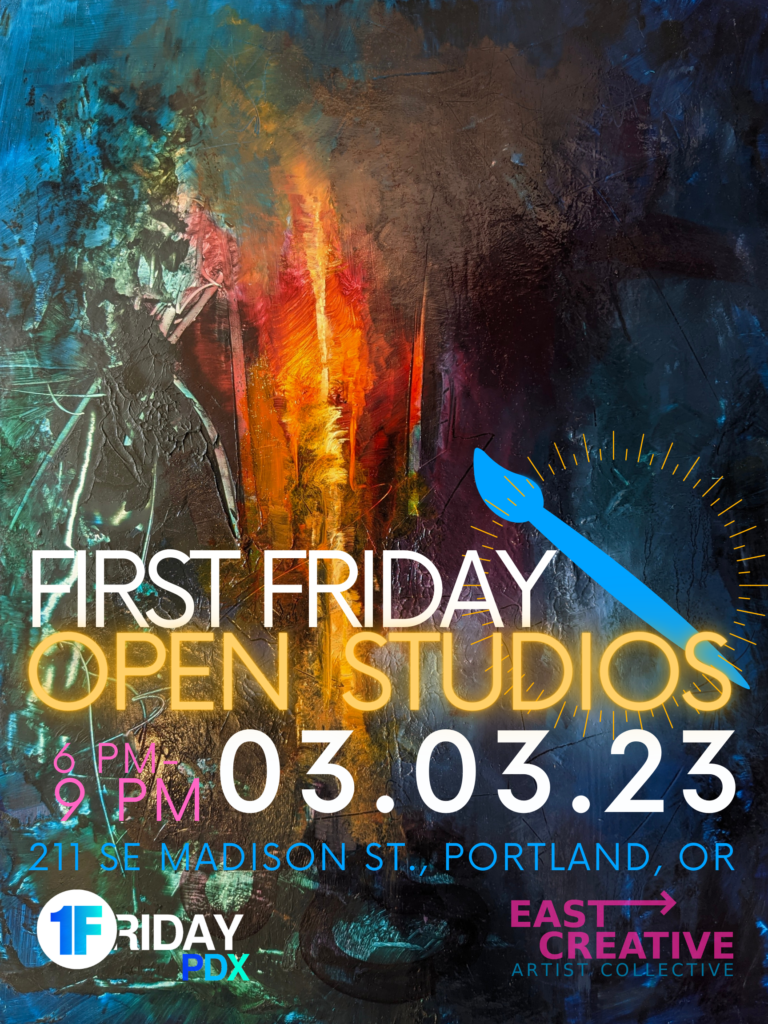 FIRST FRIDAY OPEN STUDIOS | EAST CREATIVE COLLECTIVE
Come see what the artists and creators of East Creative Collective have been up to! Meet local artists in their natural environments, and step inside to the studios of some of Portlands most prolific artists.
We're also excited to announce the opening of a new subterranean installation that will take visitors into the labyrinthian heart of Franz Kafka's "The Castle."
6 PM – 9PM @ 211 SE Madison St., Portland, OR 97214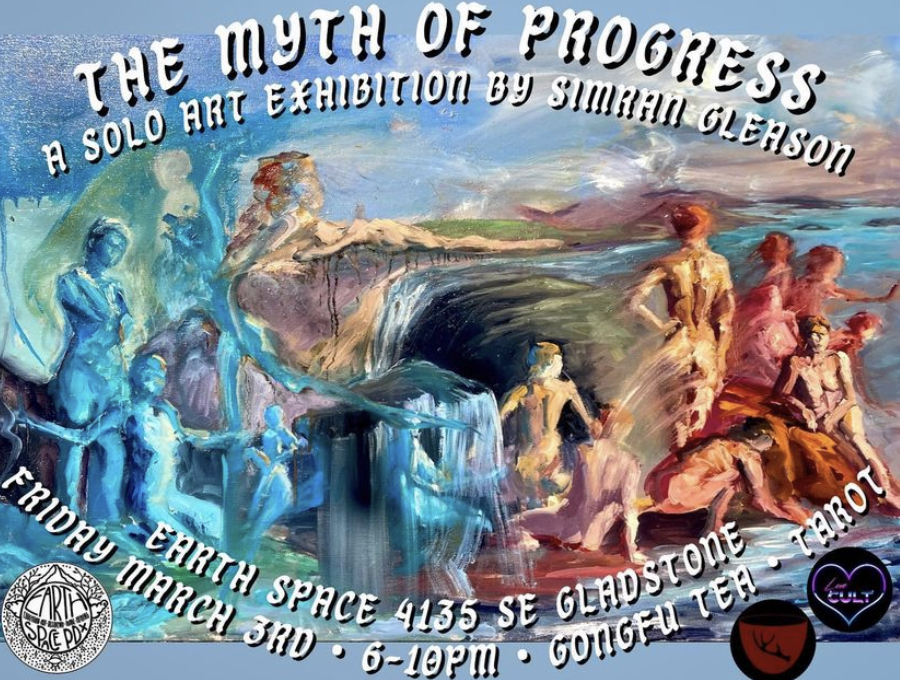 SIMRAN GLEASON: THE MYTH OF PROGRESS | EARTH SPACE PDX
You are warmly welcomed to "The Myth of Progress", a solo art exhibition by Simran Gleason @slowcamerapaparazzi at Earth Space PDX.
The show opens Friday March 3rd from 6-10pm!
Simran Gleason is a Portland artist. He often paints bands and other performers as they're playing. In the studio he has been exploring magical realism and oracular surrealism.
• Gongfu Tea Service with @antlerstonetea aka @russell_bohr
© Tarot Readings with @the.love.cult aka @psytherial
Live music tbd!
6 PM – 10 PM @ 4135 SE Gladstone St., Portland, OR 97202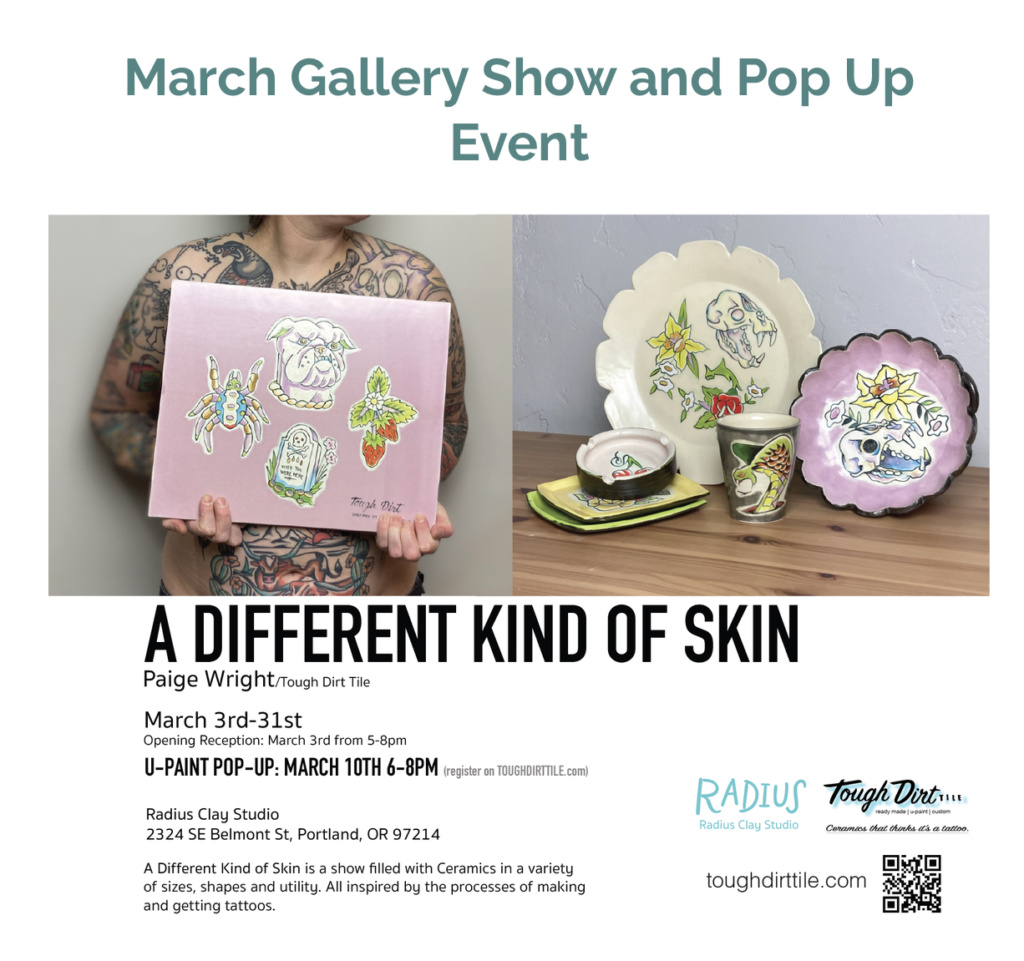 A DIFFERENT KIND OF SKIN | RADIUS ART STUDIOS
A Different Kind of Skin is a show filled with Ceramics in a variety of sizes, shapes and utility. All inspired by the processes of making and getting Tattoos.
5 PM – 8 PM @ 2324 SE Belmont St., Portland, OR 97214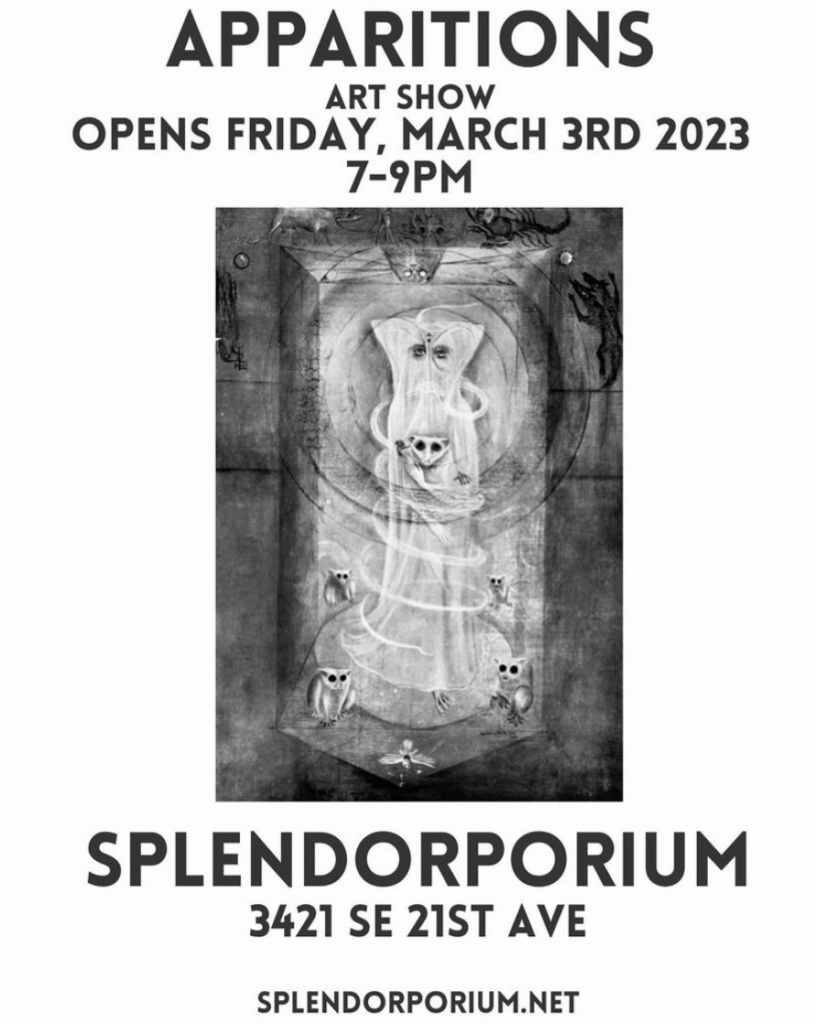 APPARITIONS | SPLENDORPORIUM
7 PM – 9 PM @ 3421 SE 21ST Ave., Portland, OR 97214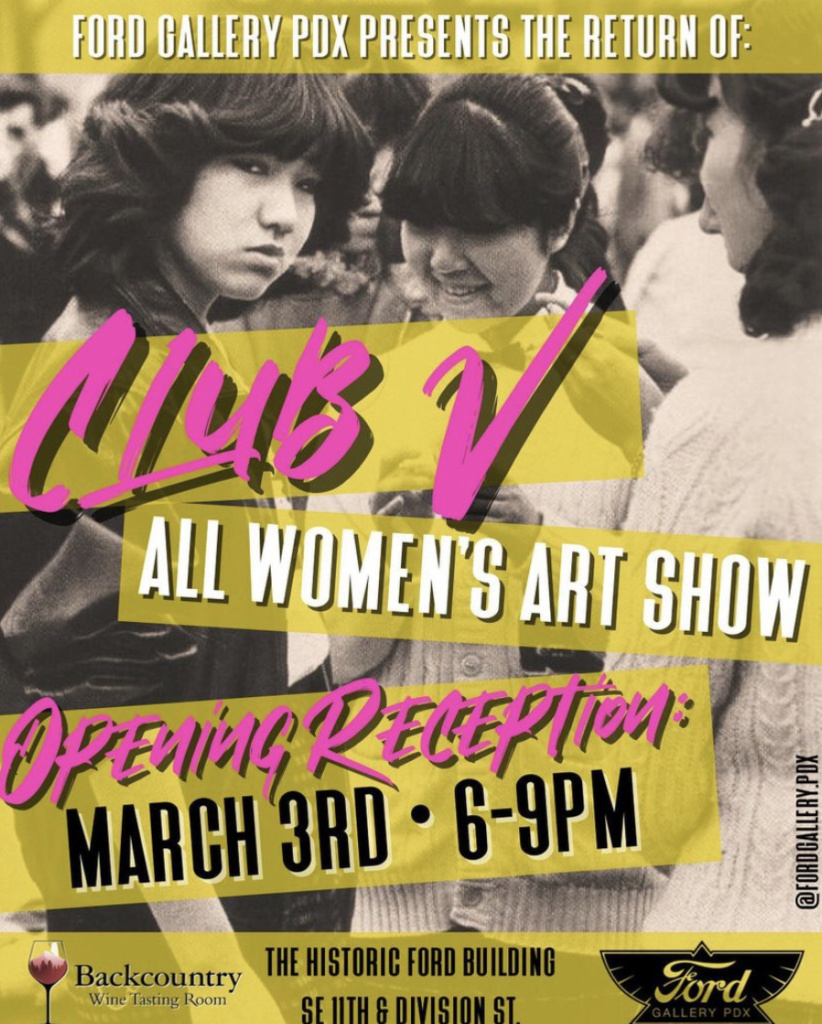 CLUB V | FORD GALLERY PDX
Portland, mark your calendars! Friday, March 3rd, we celebrate all women with the opening reception of "Club V." Find new and exciting work from 40 working creatives based in the PNW.
Curated wine selections and music from @backcountry.wine.tasting.room
Stop by the historic Ford Building in SE PDX for what's sure to truly epic evening
6 PM -9 PM @ 2505 SE 11th Ave. Portland, OR 97202 United States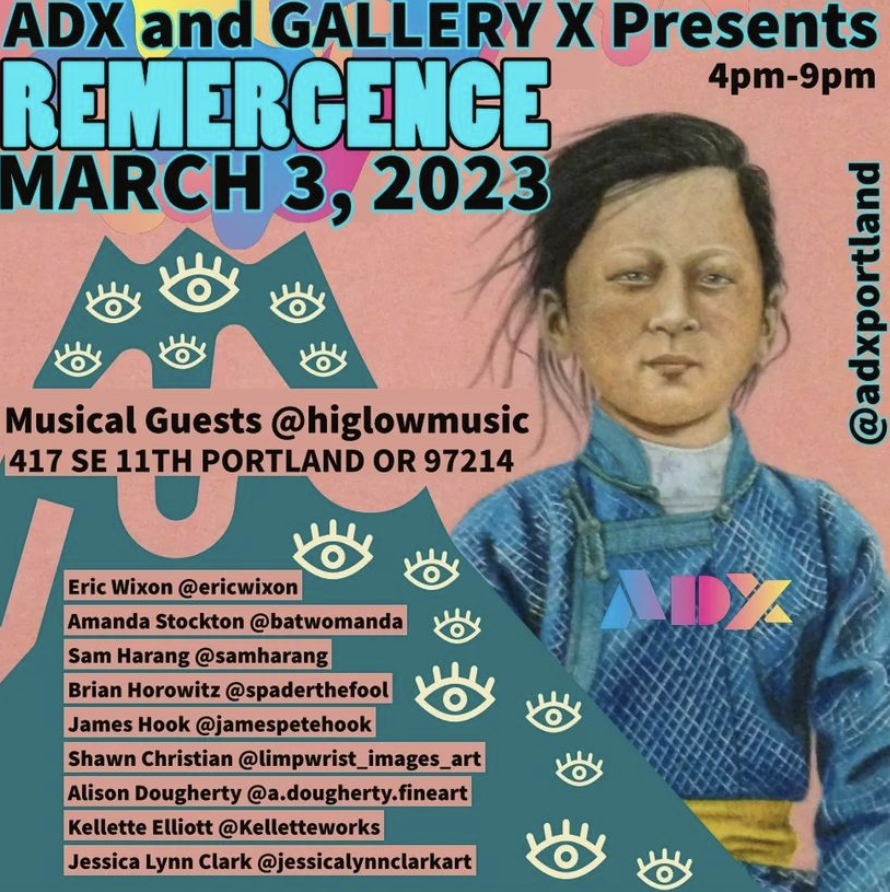 REMERGENCE | ADX PORTLAND
Remerging is to bring together (re-member) something that was in bits and pieces, in the darkest buried depths of time. Remergence is remerge then raise to the surface, to reveal a cohesive the wholeness that that had been shattered, scattered and hidden through perspective and or purposeful control.
Humanity is now experiencing the personal as well as global remergence of Tribal Antiquities' TRUE purpose and training.
Urban Dictionary
Join us @adxportland to celebrate the work of eight
Portland gems. These artists have some beautiful work to share-most of them have shown in Gallery X before and they always blow minds. Emerging artists and established masters joining forces at ADX. Music and beer… free admission.
Musical Guests @higlowmusic @ericwixon @batwomanda @samharang @spaderthefool @jamespeterhook @limpwrist_images_art @a.dougherty.fineart @kelletteworks @essicalynnclarkart
4 PM – 9PM @ 417 SE 11th Ave., Portland, OR 97214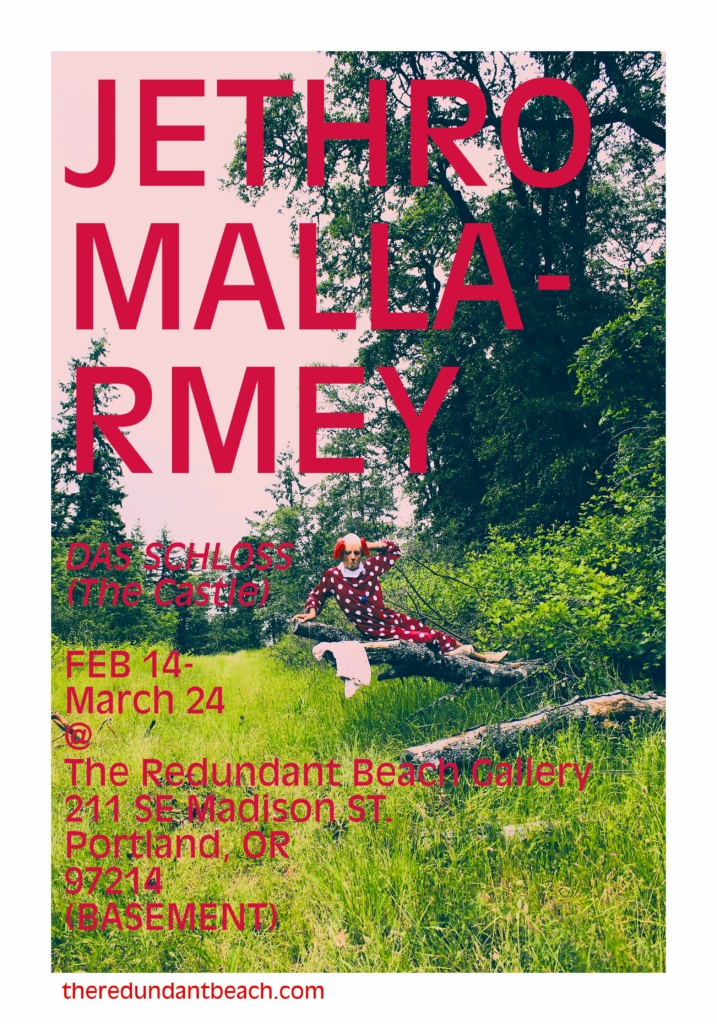 JETHRO MALLARMEY: DAS SCHLOSS (THE CASTLE) | THE REDUNDANT BEACH GALLERY
A burst pipe on Christmas Eve at The Redundant Beach destroyed Jethro Mallarmey's inaugural exhibition, a blue chicken coop built into the gallery's walls that alluded to the site's past function as an animal feed lot. Vastly expanded to fit the gallery's new 2000 sq ft space, the chicken coop has been rebranded Das Schloss (The Castle), after the unfinished novel by Franz Kafka. Wandering around Mallarmey's blue psychobuilding, visitors play the role of "K," hopelessly searching for the castle's bureaucratic authority. The farm animals themselves have taken on a threatening air, as mesnie, minotaurs, and false confidants. At the entrance to the "pig run," there is Brügel, the long-winded secretary delivering useful advice on about art. Adventurous visitors willing to shuffle further into the darkness are treated to an animatronic man gazing on (and pleasuring himself to?) an acrylic self-portrait of Mallarmey dressed in a Santa suit while straining to lift the wood used to build Das Schloss.
Handmade cut-outs of roosters and rooster-hounds have been coated in transparent projector paper to prevent a view of the outside, in effect coating visitors in the castle's oblique narrative. Largely this narrative seems to concern celebrating the making of the castle itself. Pairing the rooster symbolism with a sheet of definitions for the term COQUILLARD suggests that we are to connect a nearby dungeon with the gang of thieves and bandits that stalked Paris in the 15th C (one rooster is dressed as an executioner). Through a hidden door beyond the castle walls, a villager furrows a long poem. Les coquillards were known for having developed their own thieves' jargon, and the message of this poem remains tantalizing just out of reach. Of the poem, which took him 8 months to write, Mallarmey explains: "In this illuminated world, there are no more shadows, no misunderstandings, no slips of the tongue. But language is devious — it uses this light to play even greater tricks. In reflection, one sees nothing but objects, dead objects in a drunken stupor of dim thoughts and mixed messages." A fitting conclusion to The Castle.
6 PM – 9PM @ 211 SE Madison St., Portland, OR 97214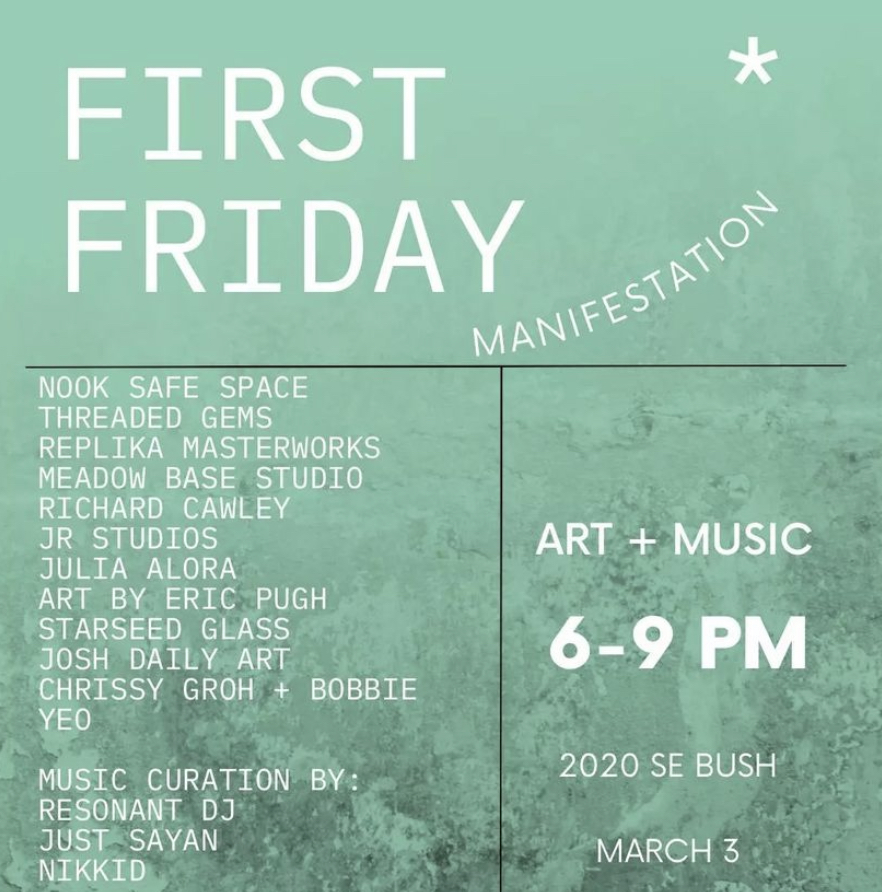 FIRST FRIDAY | MANIFESTATION
6 PM – 9PM @ 2020 SE Bush St., Portland, OR 97214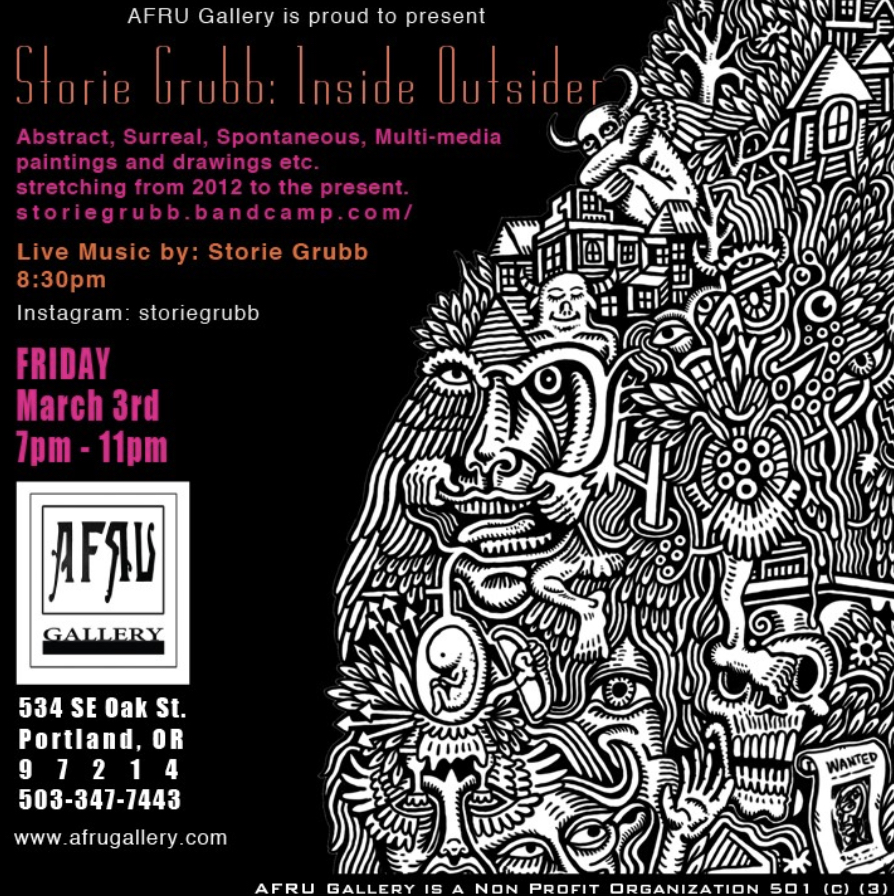 STORIE GRUBB: INSIDE OUTSIDER | AFRU GALLERY
Abstract, Surreal, Spontaneous, Multi-media paintings and drawings etc stretching from 2012 to the present.
Storie Grubb's music is on bandcamp/storiegrubb.
Live performance at 8:30pm
7 PM – 11 PM @ 534 SE Oak St., Portland, OR 97214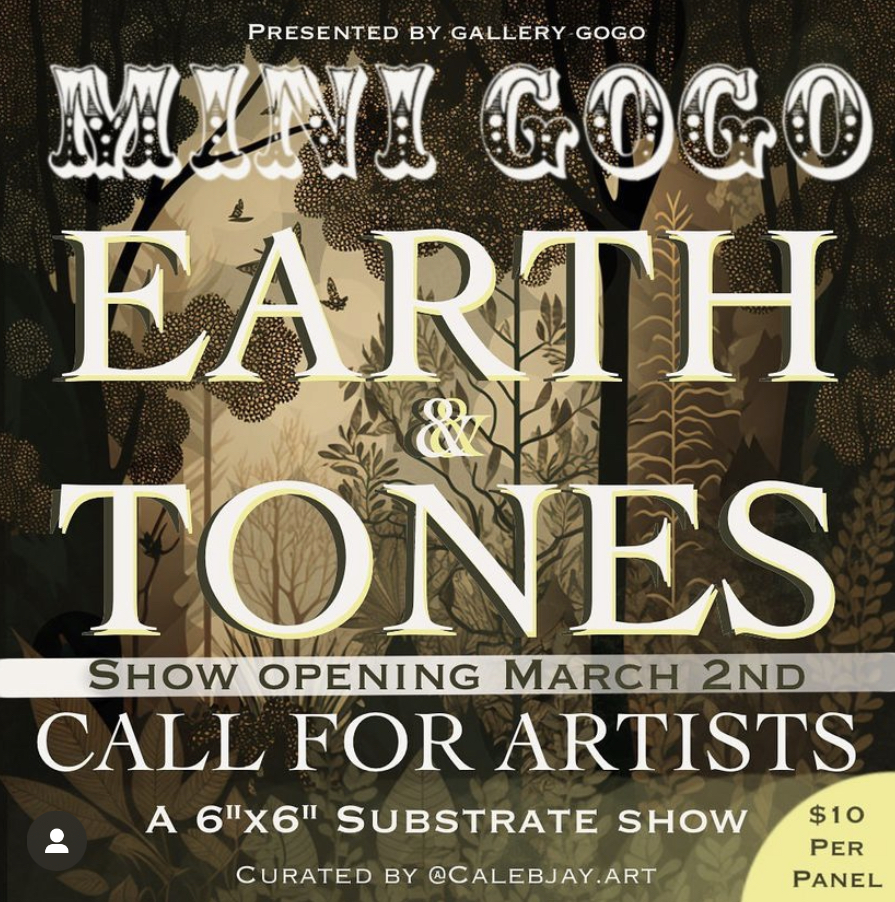 EARTH & TONES | MINI GO GO
A 6″x6″ substrate group show! Featuring the work of 60+ artists
You may have guessed it this shows theme will be earth tones! Far too often are we overwhelmed by color. What about the desaturated, the muddy, the greyscale?
Artists were challenged to create art celebrating the color family that makes up the majority of our visual landscape. Come help us celebrate the opening of our monthly group show series.
2 PM – 7 PM @ 700 SW Fifth Ave., Portland, OR 97204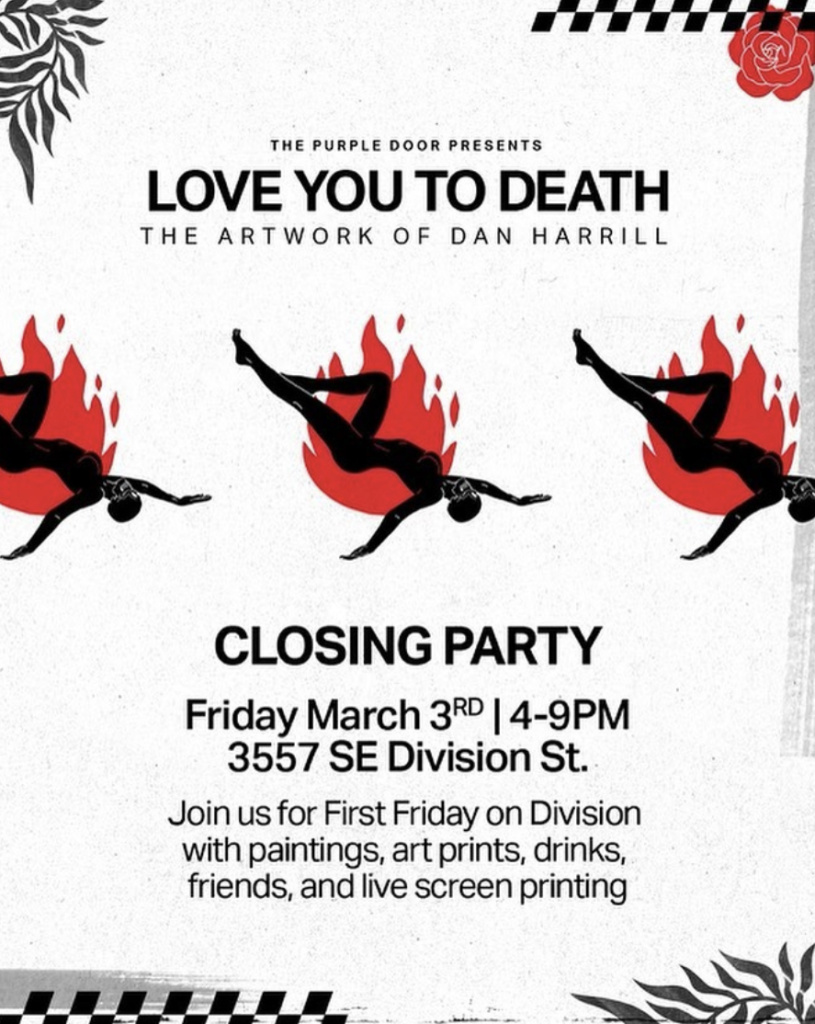 DAN HARRILL: LOVE YOU TO DEATH | THE PURPLE DOOR
One party just ain't enough! So we're closing this show out with a bang on First Friday, THIS Friday March 3, 4-9pm with @idlehanddan (!)
HERES A TIP: BYOPrintables because @dazeprinting is gonna be setting up his live screen printing station on site so you can snag one of Dan's designs on your favorite vintage tee or your dogs best scarf
Tell Siri to set a reminder, or like, put it on your wall calendar or sharpie this shit on your arm, just don't miss out! (If fact if you come with a reminder sharpied on your arm ill give you a couple free pins). See you Friday!
4 PM – 9 PM @ 3557 SE Division St., Portland, OR 97214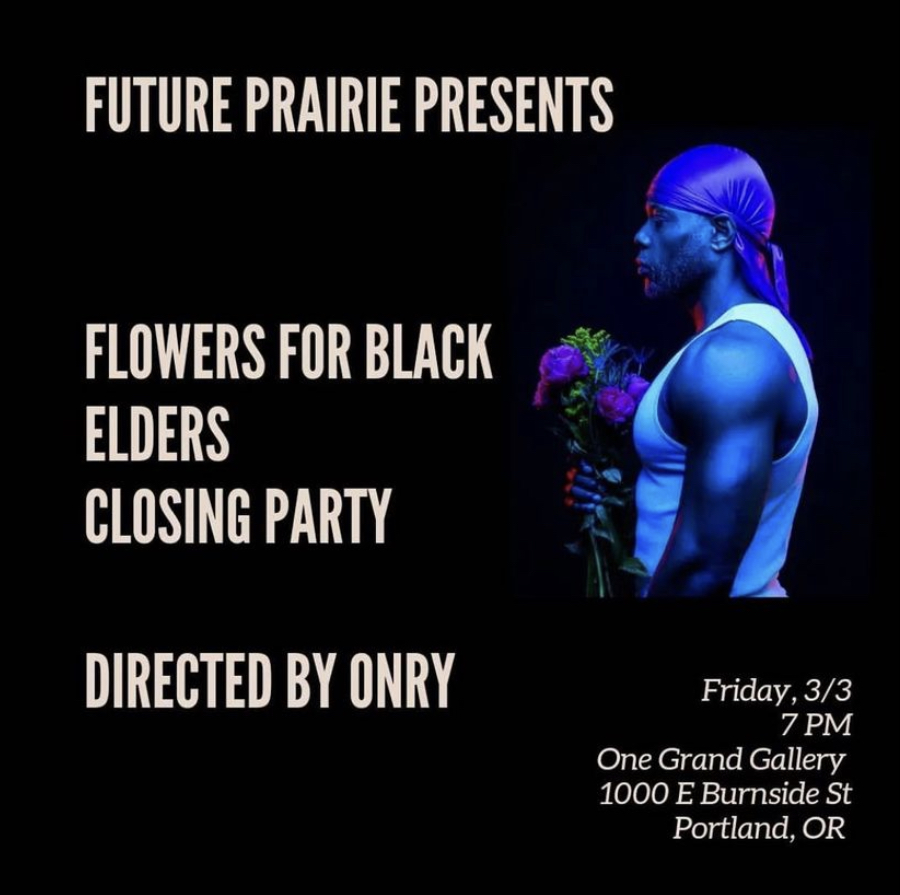 FLOWERS FOR BLACK ELDERS CLOSING PARTY | ONE GRANDE GALLERY
Tonight! Join us at 7pm for a one-night only performance hosted by @onrymusic and @futureprairieradio to celebrate the closing of 'Flowers for Black Elders' at out neighbor @nationale
The performance will be followed by Future Prairie Listening Lounge at the gallery the following week – visitors can take in the beautiful photography of @the.brettbrown and scan each QR code to listen to the audio interview recorded with each elder. Not to be missed!
7 PM @ 1000 E Burnside St., Portland, OR 97214
Contact Us
We do our best to make the list as complete as possible, if you have an event or correction you would like to see listed please send show details to Info@FirstFridayPDX.org or use our easy online event submission form.