All events listed occur on the first Friday of the month and are free and open to all visitors unless otherwise specified.
COVID-19 Notice:
Due to restrictions imposed by the ongoing pandemic, many of our regular galleries are currently open virtually, require reservations for physical visits, or are temporarily closed. Be sure to check with specific galleries for individual requirements before visiting. Thanks for supporting local artists!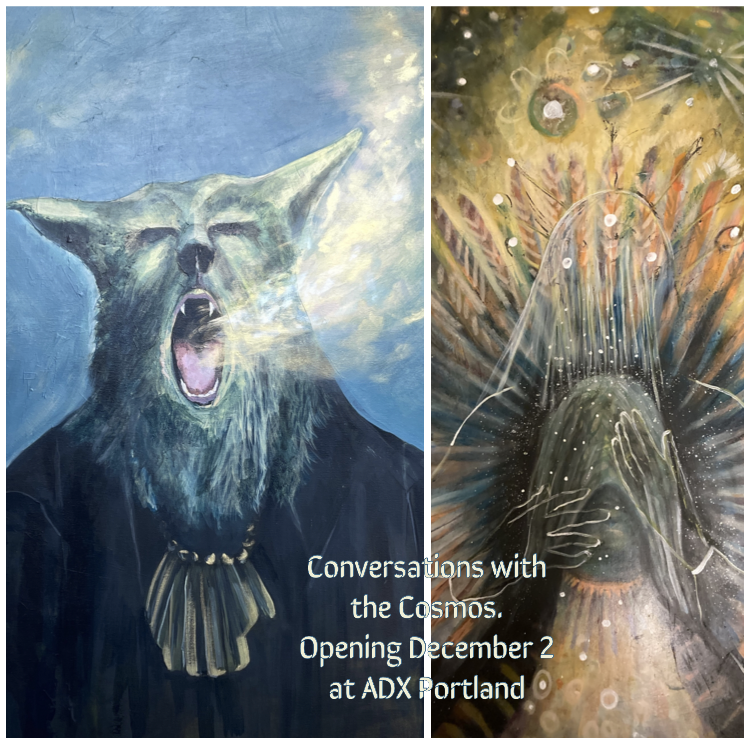 CONVERSATIONS WITH THE COSMOS | ADX PORLTAND
New work by Cydney French and Rachael Allen
"Conversations with the Cosmos" is a body of work exploring the connectivity between this human existence and the divine. French and Allen use paint on canvas to convey these conversations. Bold compositions and lustrous colors create compelling places to enter the conversations.
4 PM – 10 PM @ 417 SE 11th Ave, Portland, OR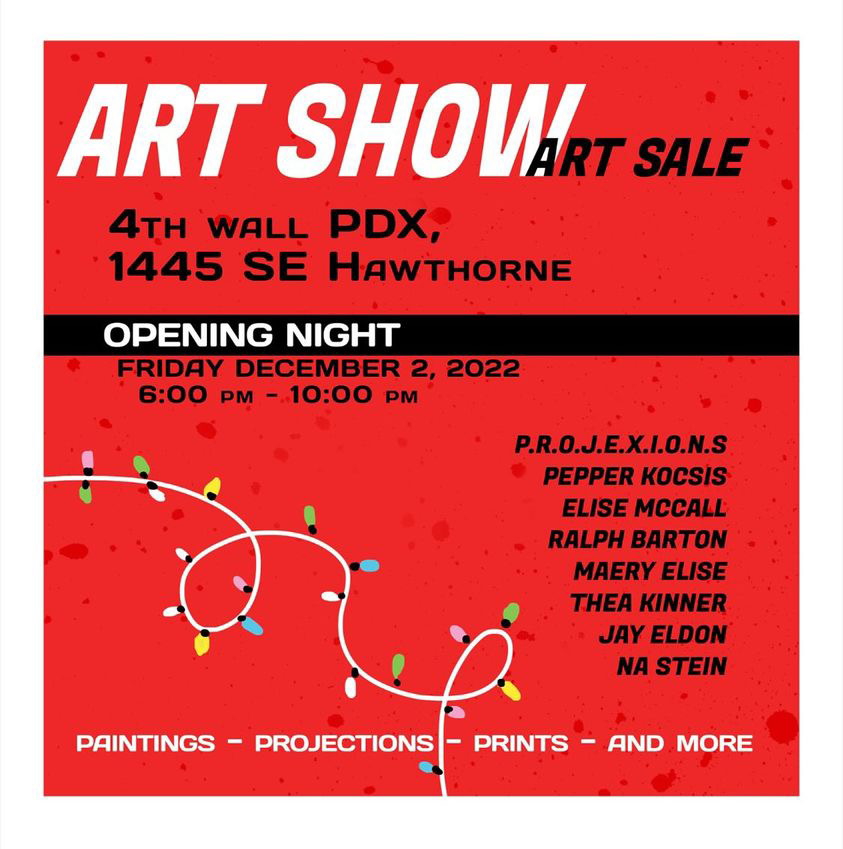 ANARCHY: THE ART SHOW | THE 4TH WALL PDX
Local artists use paint, sculpture, found objects and video projects to explore chaos and anarchy and through personal sovereignty
6 PM – 10 PM @ 1445 SE Hawthorne Blvd., Portland, OR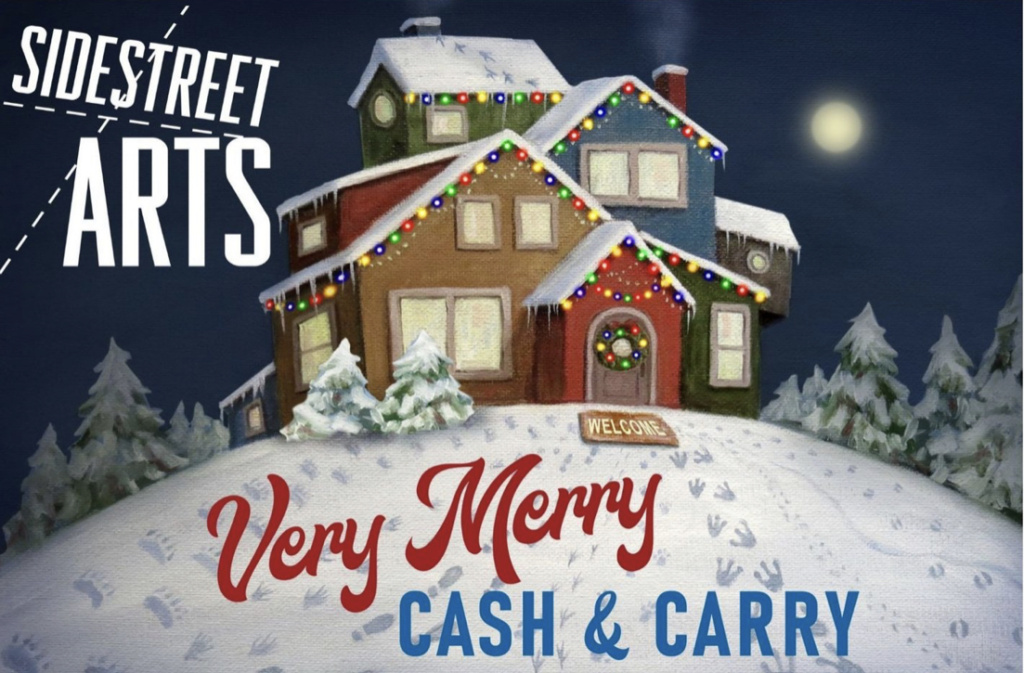 VERY MERRY CASH AND CARRY | SIDESTREET ARTS

Join us and meet the artists who brought in unique cards, ornaments, and lots of ART! We will have nibbles and wine, too.
5 PM – 7 PM @ 140 SE 28th Ave, Portland, OR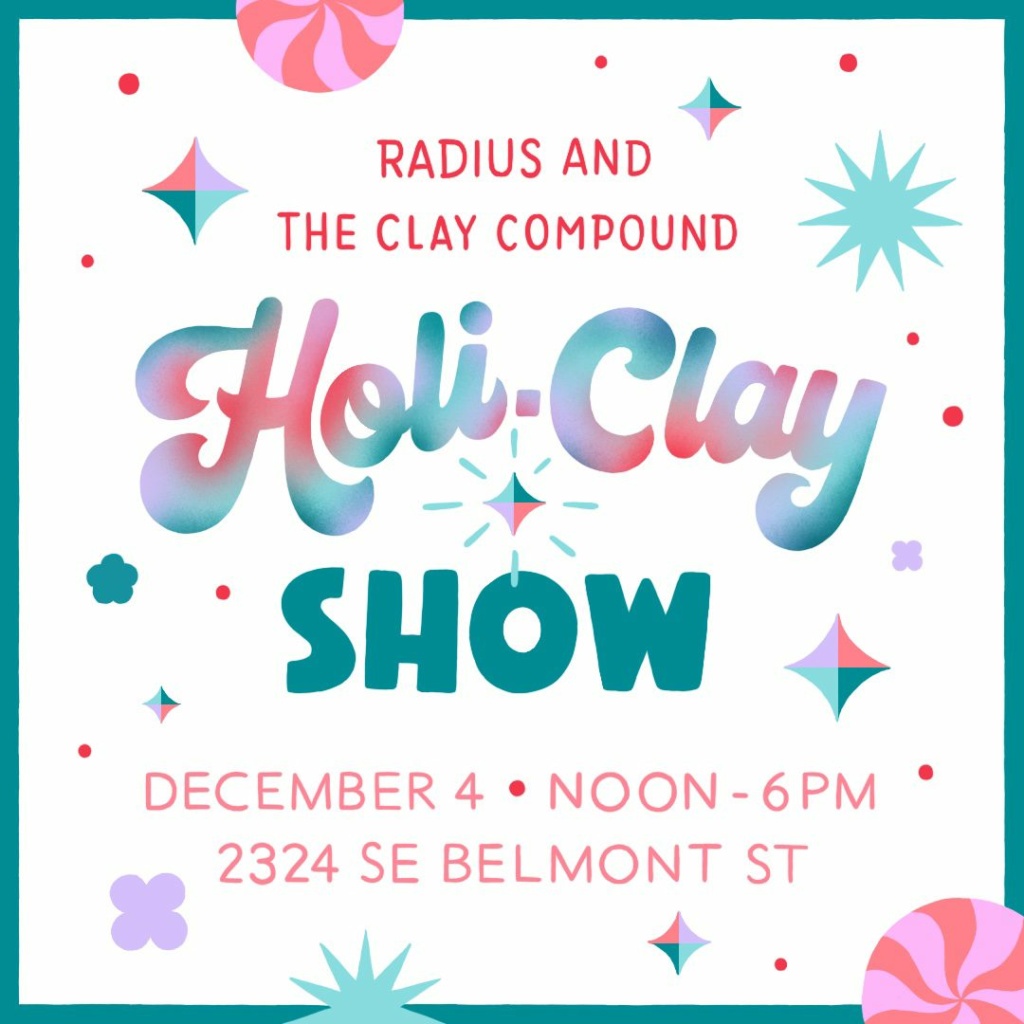 HOLI-CLAY MARKET | RADIUS ART STUDIO
Radius and The Clay Compound are joining forces again this year for the Radius Holi-clay Market! Sunday, December 4th! Featuring artist vendors from both studios.
12 PM – 6 PM @ 2324 SE Belmont St. Portland OR 97214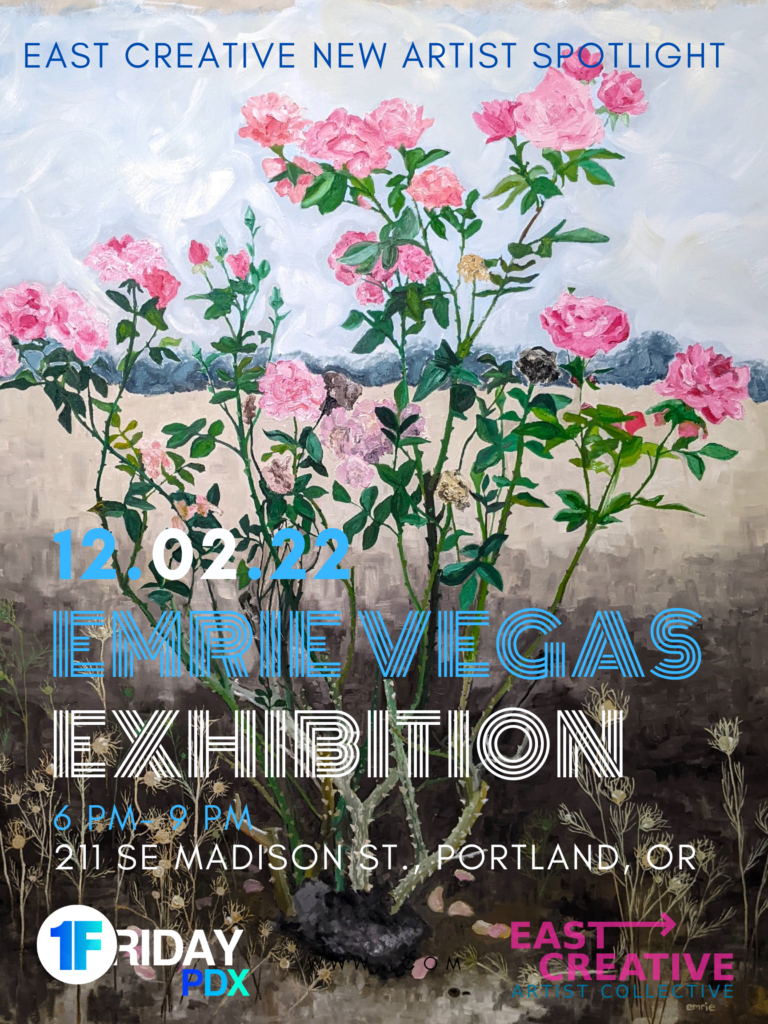 EMRIE VEGAS | EAST CREATIVE COLLECTIVE
We are excited to welcome new artist Emrie Vegas to the East Creative building, and will be show casing their work for the holiday season.
"Emrie is an emerging middle-aged artist who began painting with oils only one-year ago after a lifetime working and playing with traditional arts and crafts. Emrie also "taught art" to preschoolers for many years which taught her to let go of perfection and expectation and enjoy the process of creatinine in a deep and profound way. She considers herself a folk artist, as she is self-taught and much of her inspiration has been found in the work of folk artists."
The event will feature open studios by acclaimed local artists, live karaoke by Community Jams, the International Mural by Mail project, fire dancing, and more!
6 PM – 9 PM @ 211 SE Madison St., Portland, OR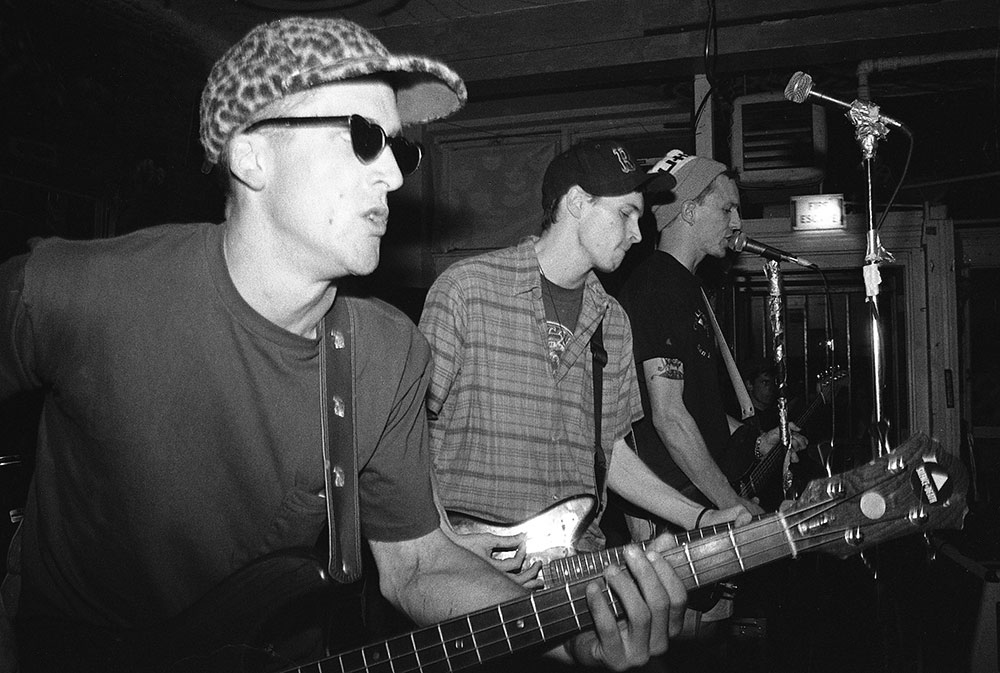 FACING NORTHWEST: JJ GONSON | PUSHDOT STUDIO
Boston based photographer Gonson has been "Obsessed with music from the time I was a small girl. In the mid 80's I discovered that it was possible to get access to musicians and bands by signing on to shoot live and posed photos for magazines and newspapers. For the last half of that decade I shot hardcore and punk bands multiple times a week in clubs around the Boston area. In 1990 I went west, to Portland Oregon. While much of my work is of live music, portraits have dominated my body of work over the span of decades; from the early 80's to present day. The result of my experiences is a collection of intimate portraits of musicians, friends and fans, both live on stage and candid. My archive includes little seen pictures of Kurt Cobain, Elliott Smith, Jane's Addiction, Black Flag and hundreds of other punk and independent bands. My work has been published in books including Torment Saint: a Biography of Elliott Smith, Cobain Unseen and Cobain on Cobain as well as in fanzines such as xXx and Suburban Voice and many magazines, including Rolling Stone, Mojo, Q and Spin." This show focuses on some of her NW bands collection.
6 PM – 8 PM @ 2505 SE 11th Avenue, Suite 104, Portland, OR (In the Ford Building, enter on Division Street)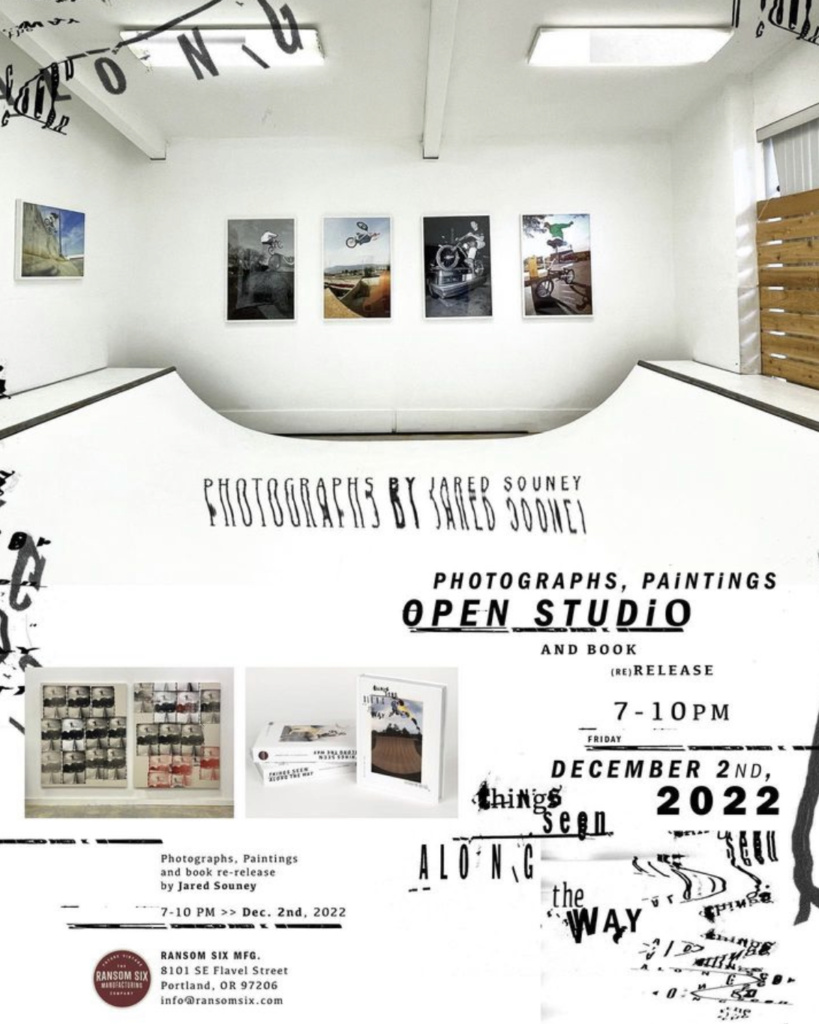 THINGS SEEN ALONG THE WAY: JARED SOUNEY | RANSOM SIX MFG.
Showing some photographs and paintings along with the reprint of the book "Things Seen Along the Way" at my studio in Portland's Historic Flavel Arts District, just West of the dynamic Avenue of Roses. Music courtesy of a bluetooth speaker in the corner. Here are some flyers and such. Pop in.
7 PM – 10 PM @ 8101 SE Flavel St., Portland, OR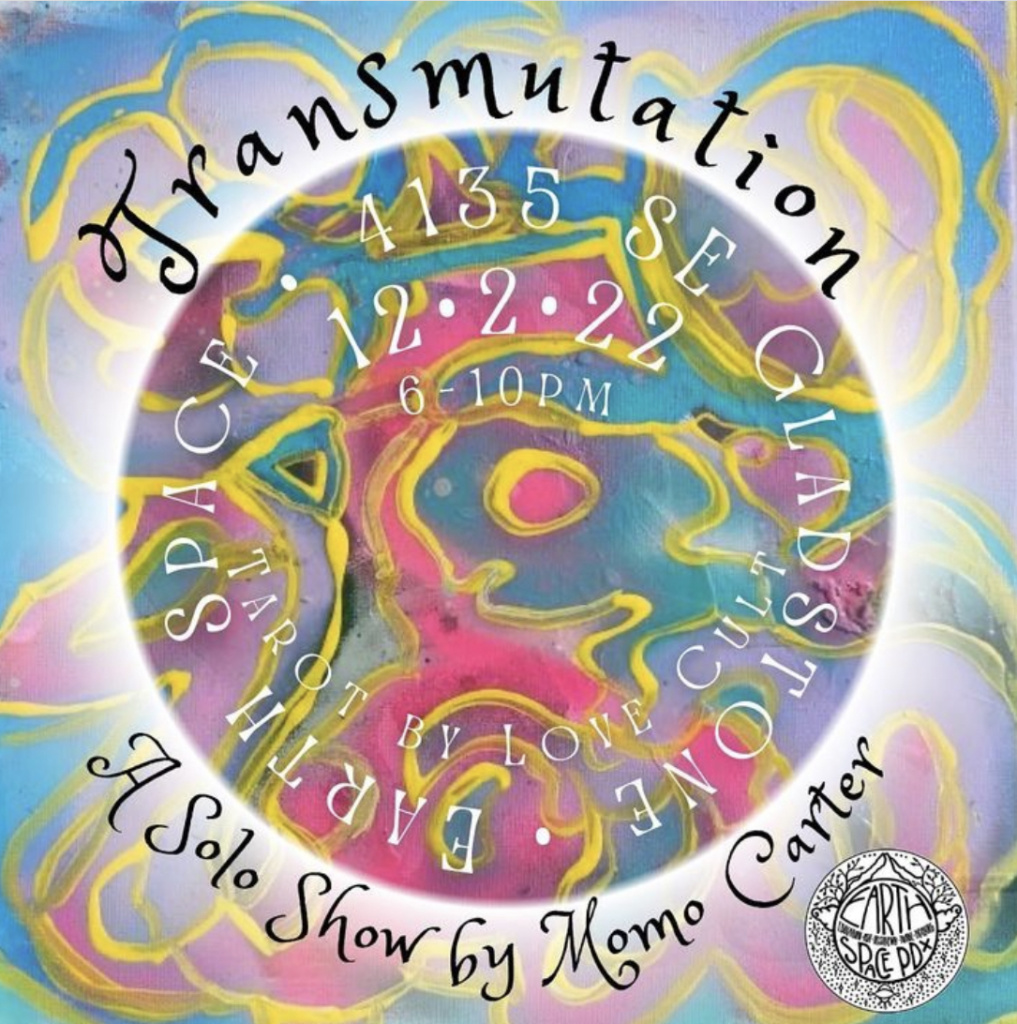 TRANSMUTATION | EARTH SPACE PDX
The invasion has begun. We are here for peace. We are here for the uprising. We are here to raise the vibration of humanity. We are here to align the planet to the light. Do you feel the awakening?
This body of work represents the themes of DNA activation, shedding of old skin, ego death, and aligning to higher self. The dark night of soul breeds new beginnings. As we rise to the occasion of connecting fully to the divine, we release old programs and attachments. We cocoon and metamorphosize anew. We honor the old and thank it for what it has taught us. We release and celebrate the soul we are becoming.
Momo Carter is an intuitive living in Portland, where they love to be in nature, assist others in their healing journey, and cuddle with their husband and cat.
The exhibit will be accompanied by a curated light and sound experience.
Tarot readings by @the.love.cult aka @psytherial
6 PM – 10 PM @ 4135 SE Gladstone St., Portland, OR 97202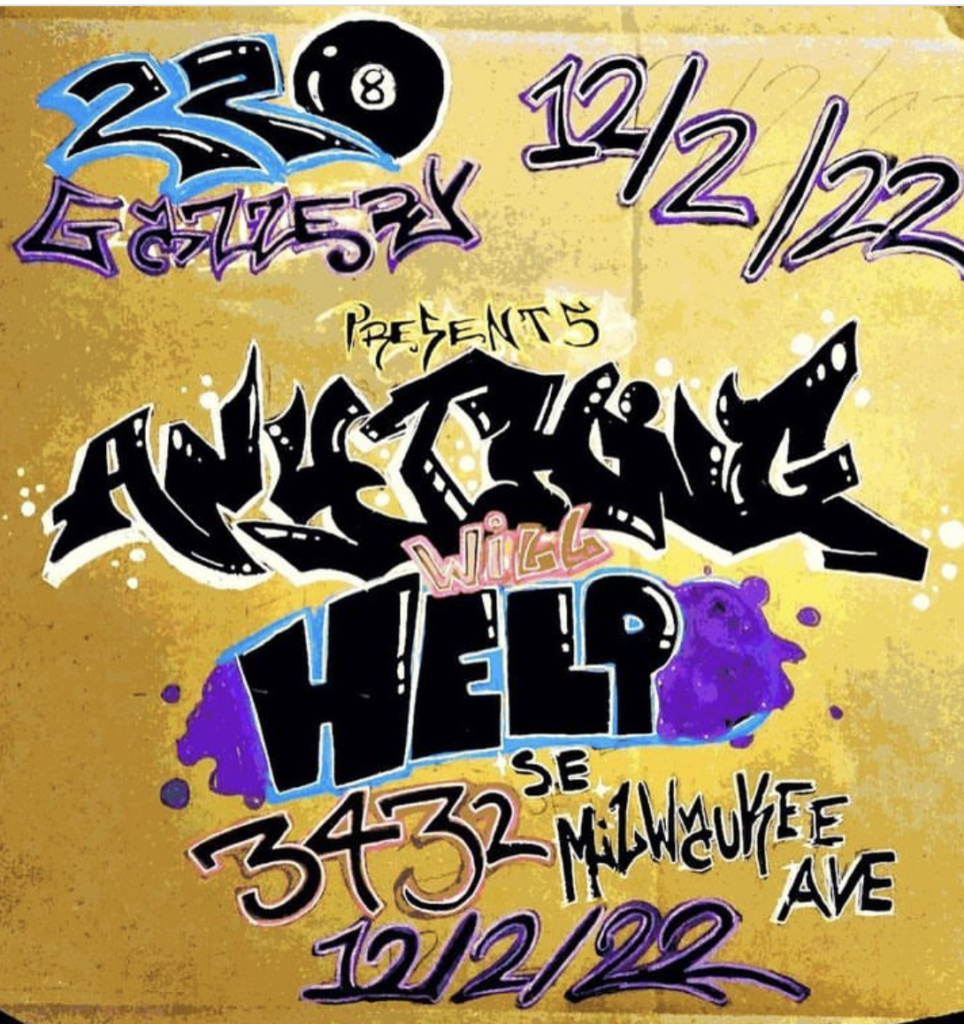 ANYTHING WILL HELP | 228 GALLERY
Opening party for "Anything Will Help"
Come see art from all around the world and a ton of local legends. Curated by @skamsticker and @228_gallery_pdx amazing flyer by @bell.wethir
Free admission,
food and drink welcome
6 PM @ 3432 SE Milwaukee Ave., Portland, OR 97202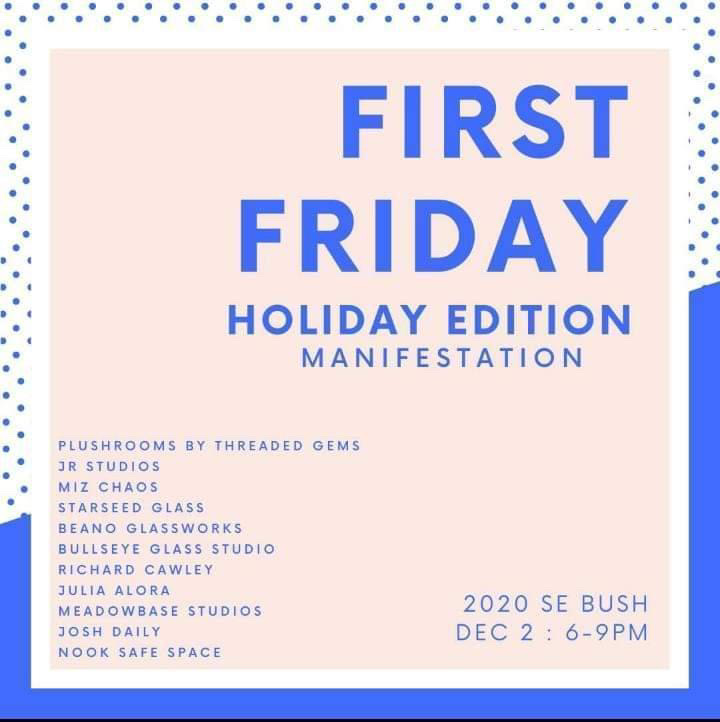 FIRST FRIDAY HOLIDAY EDITION | MANIFESTATION
6 PM – 9 PM @ 2020 SE Bush St., Portland, OR 97202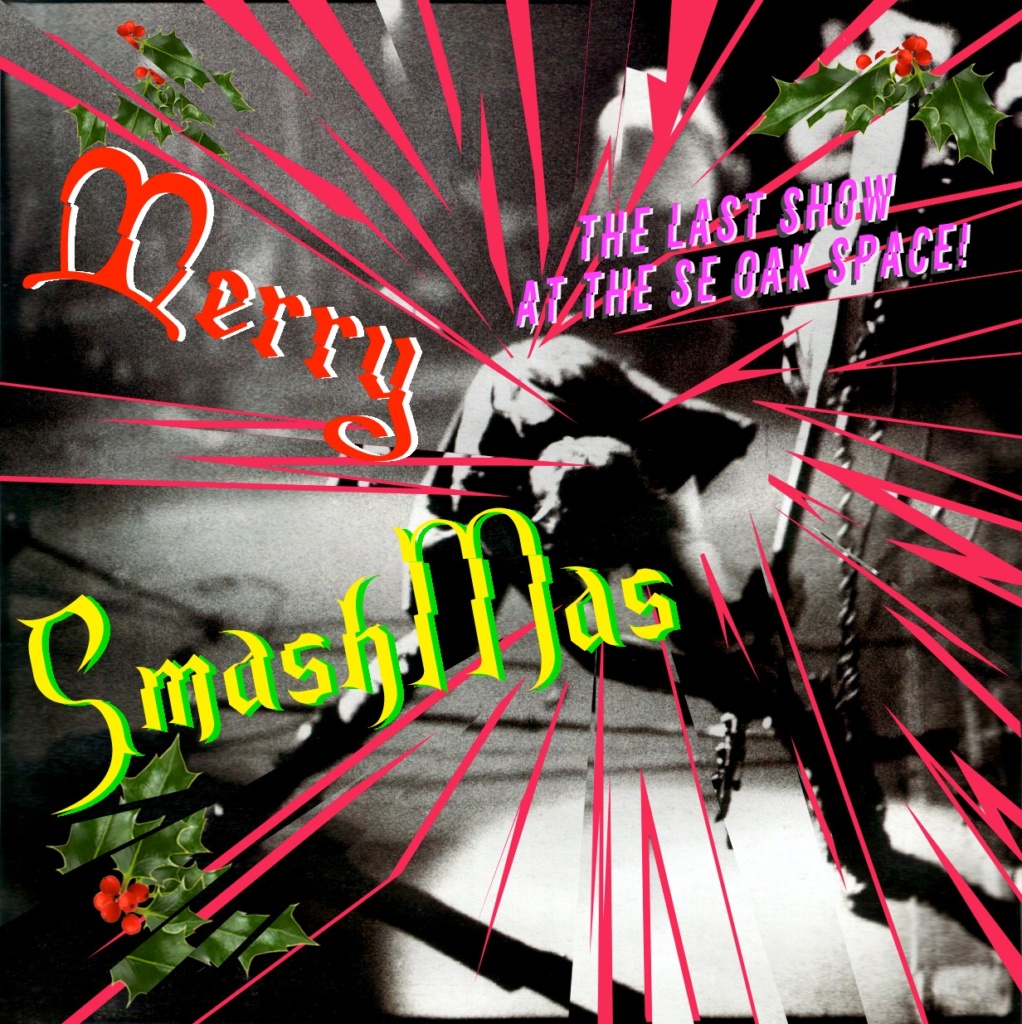 MERRY SMASHMAS | AFRU GALLERY
The Last Show at the SE Oak Street space!!!! Let's make this one count!!!!
7 PM – Close @ 534 SE Oak St., Portland, OR 97214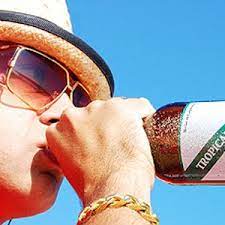 FIRST FRIDAY SUPERJAM | THE GOODFOOT
Dance and party to classic funk, soul, disco, jazz and various funky jams, skillfully mixed by resident DJ's Mr Jeigh and Magneto. $10
9 PM – Close @ 2845 SE Stark St., Portland, OR 97214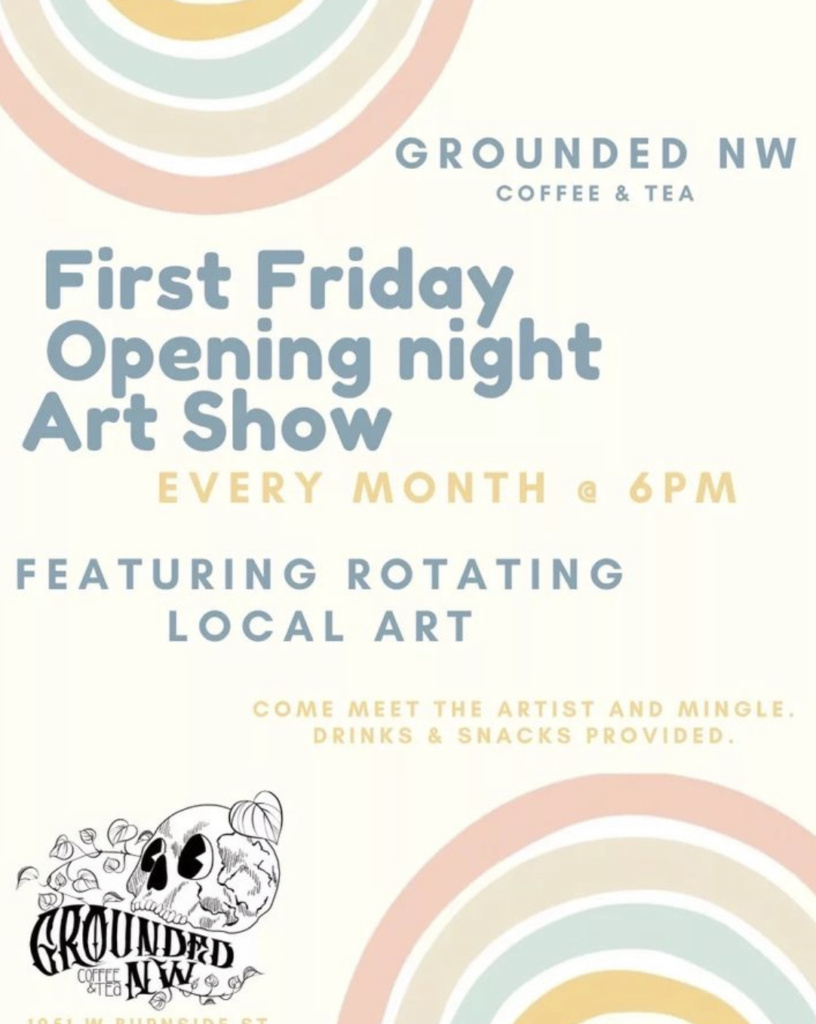 FIRST FRIDAY | GROUNDED NW
6 PM @ 1951 W Burnside St., Portland, OR 97215
Contact Us
We do our best to make the list as complete as possible, if you have an event or correction you would like to see listed please send show details to Info@FirstFridayPDX.org or use our easy online event submission form.