All events listed occur on the first Friday of the month and are free and open to all visitors unless otherwise specified.
COVID-19 Notice:
Due to restrictions imposed by the ongoing pandemic, many of our regular galleries are currently open virtually, require reservations for physical visits, or are temporarily closed. Be sure to check with specific galleries for individual requirements before visiting. Thanks for supporting local artists!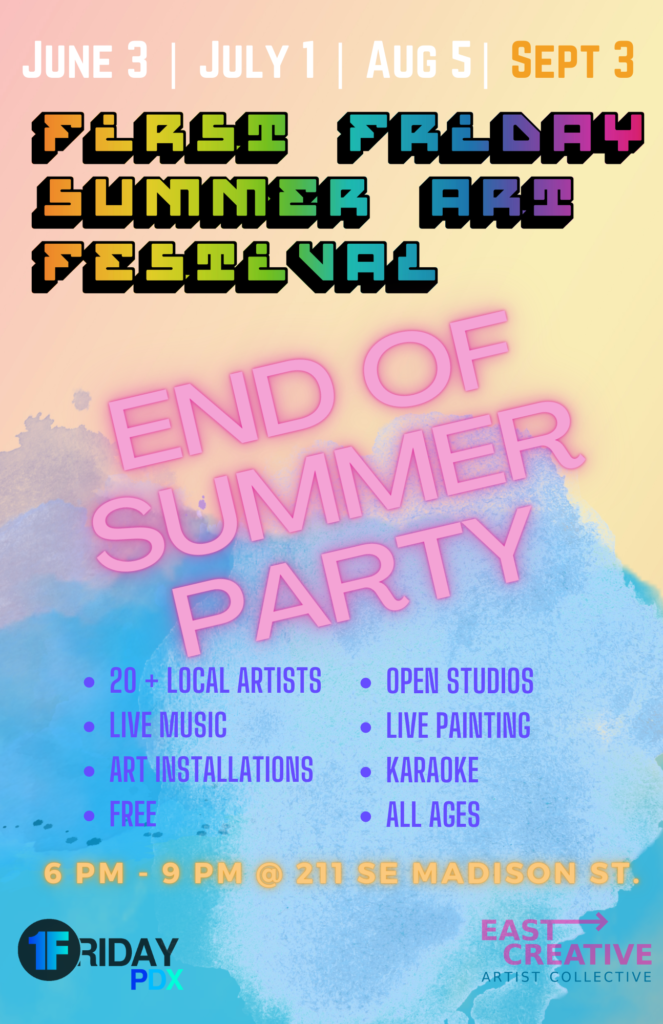 END OF SUMMER ART PARTY | EAST CREATIVE COLLECTIVE
3 city blocks of art, original art by more than 20 local artists, open studios, and more!
Live painting by IdealPDX
Collaborative mural making with the International Mural by Mail Project
Live music by Space Bat,
Karaoke with Community Jams
Always free and open to all.
Register at FristFridayPDX.org to participate as an artist.
6 PM – 9 PM @ 211 SE Madison St., Portland, OR 97214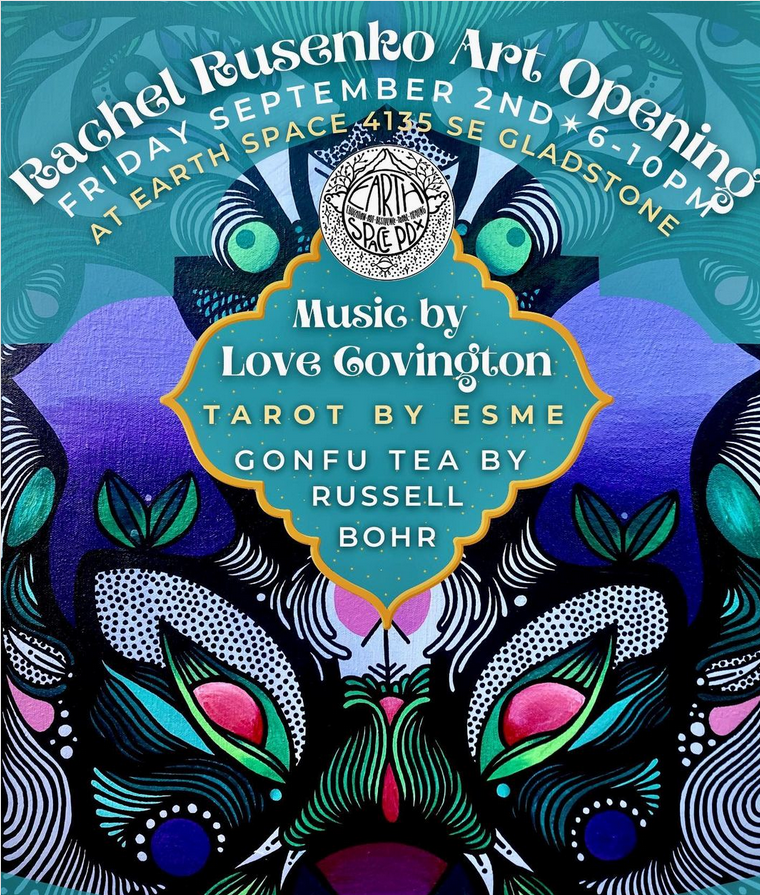 RACHEL RUSENKO | EARTH SPACE PDX
Hi friends! We are excited to announce our co-founder Rachel Rusenko's Art Show opening
Heavily influenced by her upbringing in Casablanca, Morocco, Rachel's work clashes tessellations resembling Islamic geometric patterns with organic and yielding forms found in nature. Her stream of consciousness, as depicted by her ink, projects a dreamlike quality which induces a trance-like submersion. The intricacy of her line work invites the viewer to explore a multiverse living on canvas, with dimensional pockets permitting multiple reads and infinite possibilities. Rusenko has taken an active role in community building and organizing arts spaces since 2013. She currently devotes much of her time to Earth Space PDX, a local art and permaculture community center which she is a co-founder of. Her main motivation is to amplify the voices of those often overlooked. She is interested in creating a universe that subverts the traditional gallery model, making the creation, viewing, and owning of art accessible to all. She puts a high priority on fostering safer and inclusive spaces. She often discusses themes of femininity and surreal dreamscapes in her work.
Live music by Love Covington
Readings with Esme Midnight
Gongfu Tea Lounge with Russell Bohr
In an effort to make art accessible to all, this body of work will be sold via silent auction, with many bids starting at $11! Over 50 original works will be displayed.
This is also a welcoming of Virgo Season and a birthday celebration for all Virgos, including Rachel and Love!
6 PM – 10 PM @ 4135 SE Gladstone, OR, 97202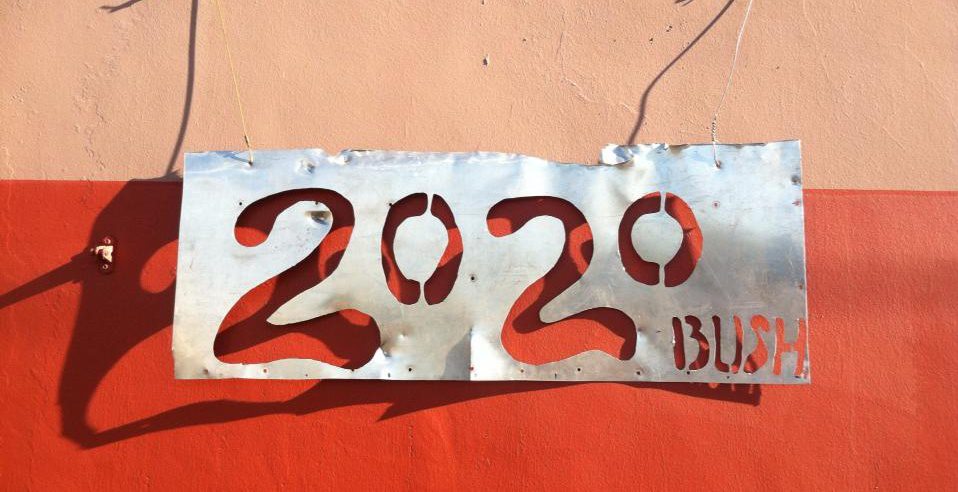 HEDRON HACKERSPACE | MANIFESTATION PDX
Check out what the artists and members of the space have been working on in our well established warehouse full of sculptors and artists. We'll feature a few people in our front galleries and have people around for tours of their different areas.
Resident artists include:
Josh Daily Art
Julia Alora
Starseed Glass
Community Stitch PDX
Meadow Base Studio
Sam Bechtel Art
Sungorth Corporation – Gorthball
Threaded Gems – Plushrooms
and more!
Hedron Hackerspace is a membership based organization living inside the greater building of Manifestation PDX, along side many different artists and companies. We'll be offering tours, and we're always taking new members and offer a community full of people sharing skills and equipment. https://hhacker.space There will be snacks.
6 PM – 9 PM @ 2020 SE Bush St., Portland, OR, 97202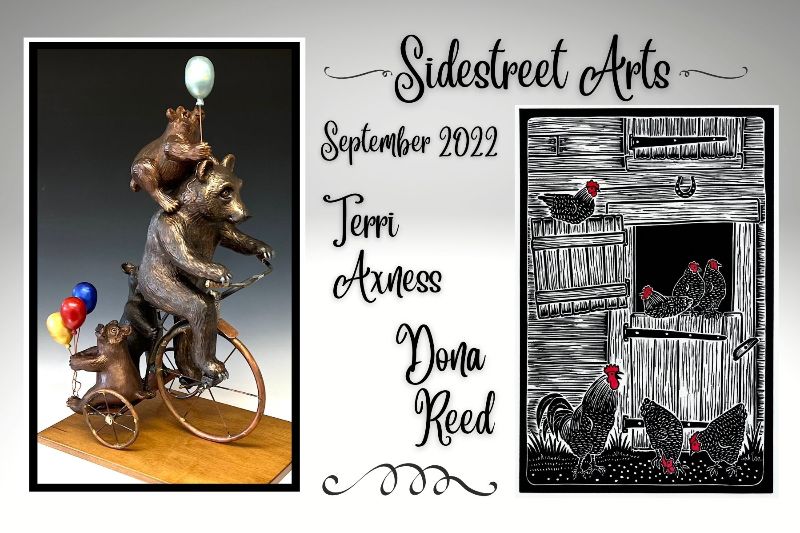 TERRI AXNESS | DONA REED | SIDESTREET ARTS
Printmaker Dona Reed thinks in black and white. Her designs are very bold, graphic, and show a playful side to her subjects. Her latest art, Farm Series, is a body of work that harkens back to her roots. These images reflect her childhood spent on a small dairy farm in Minnesota. Dona's other pieces are a combination of assemblage & linocut prints. Her love of nature and the outdoors is evident in these pieces. She uses up-cycled boxes and drawers to enhance and showcase her lively bird prints.
Known for her diverse and whimsical ceramics, artist Terri Axness considers her art to be successful when it brings forth a smile from a viewer. Terri fires her nature-inspired ceramics in electric and gas kilns. She is a master at both throwing and hand-built ceramics; she uses her lifetime of experience in creating unique and collectible pieces. She has collectors who are local as well as international.
5 PM – 7 PM @ 140 SE 28th Ave, Portland, OR 9721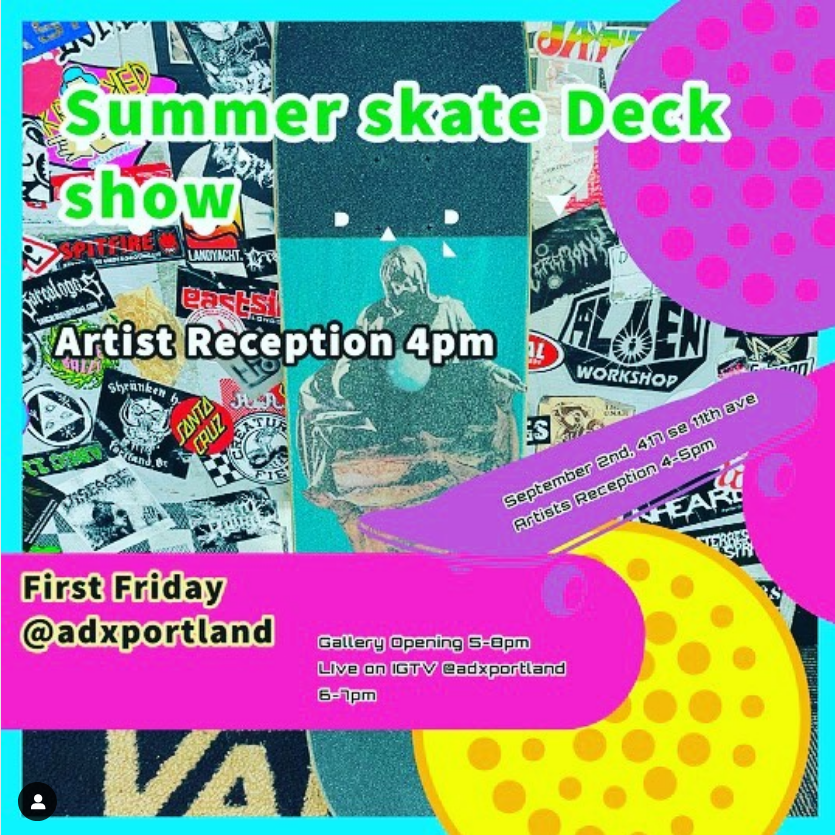 SKATE DECK SHOW | ADX PORTLAND
Are you ready?!? #firstfridaypdx September 2nd it's our Summer Skate Deck Show ⚡️🛹🎨🎨🛹⚡️
Over 50 artists participating❤️💜❤️ artist reception at 4pm💥gallery open 5pm💥live on IGTV @adxportland 6pm💥 it's gonna be a doozy so make sure you get over here
4 PM – 8 PM @ 417 SE 11th Avenue, Portland, Oregon, 97214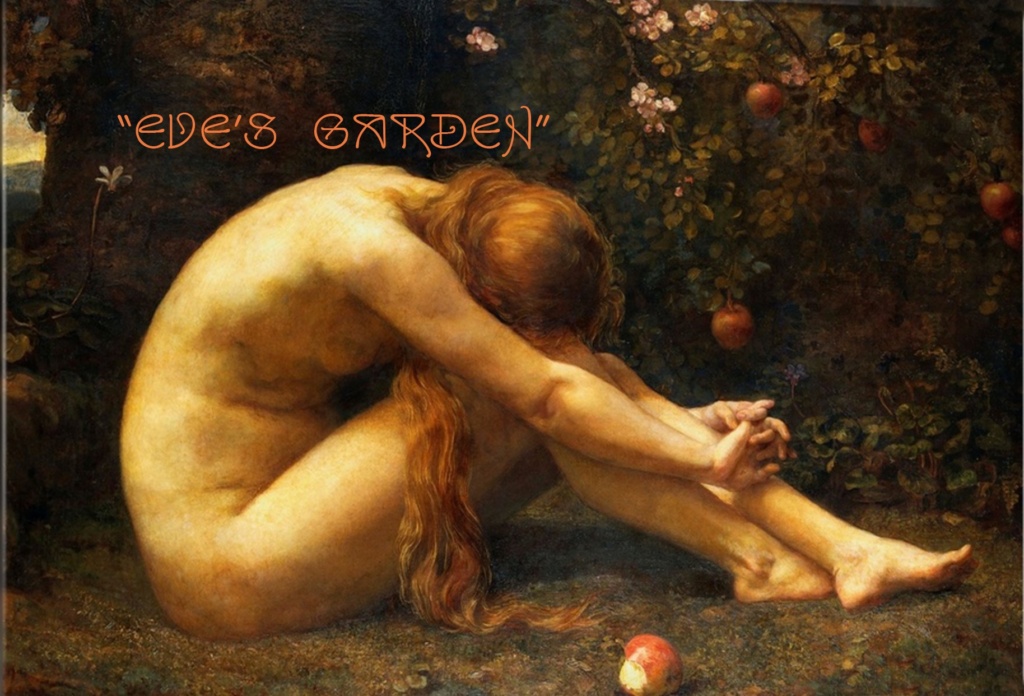 EVE'S GARDEN | AFRU GALLERY
This is a collaboration/ group show guest curated by Kitsch Bitch
@kitschbitch69 on Instagram.
Searching for artworks that are about Divine and Demonized expressions of sexuality. Pleasure and repression, queer and femme sexuality.
Submit artworks to:
submissions@afrugallery.com
Artist showing for this event:
Lex Wurth
Scout
Nandi la Sophia
Freak daddy
Leylo
Mike Albano
Lillias Right
Dazzling Vastness
Drag Performances by hell house and special guests!
7 PM – 11 PM @ 534 SE Oak St., Portland, OR 97214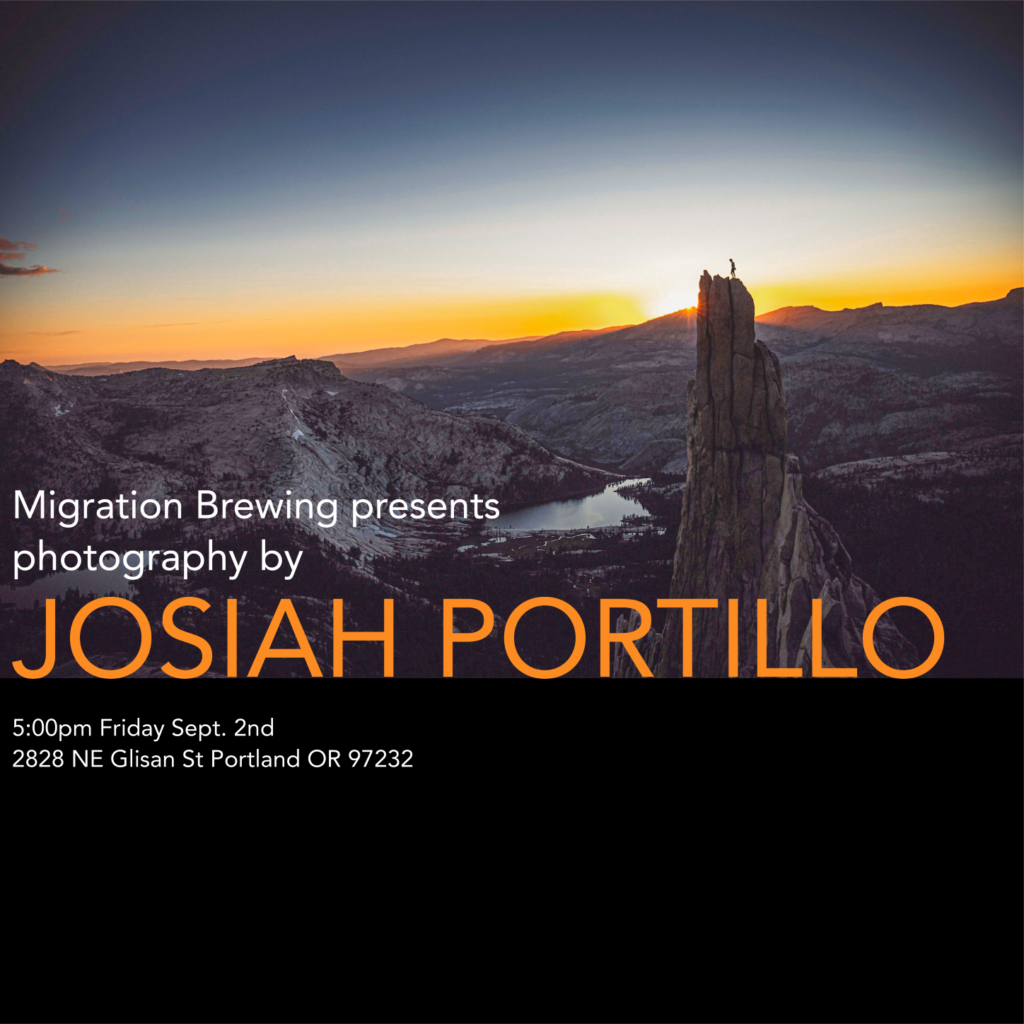 JOSIAH PORTILLO | MIGRATION BREWING
Josiah Portillo is a photographer, cinematographer, and action sports athlete based out of Portland, Oregon, He captures extraordinary imagery and tells amazing stories while working in extremely high risk and demanding environments. He started his photography career in 2018 after buying his first camera and moving to Yosemite national Park. There he began photographing, climbing, highlining, snowboarding, and BASE jumping. During that time he was able to photograph the establishment of the unicorn peak highline in Yosemite's high country in 2019. He then took his photography on the road living full-time out of his van with his partner where he climbed and photographed all over the country. He is a free-lance photographer and films for a variety of companies like Tiny Home Tours, Valero watches, Migration Brewing, and more. Come have a beer and take a look at the stunning views him and his camera have captured.
5 PM – 10 PM @ 2828 NE Glisan St, Portland, OR 97232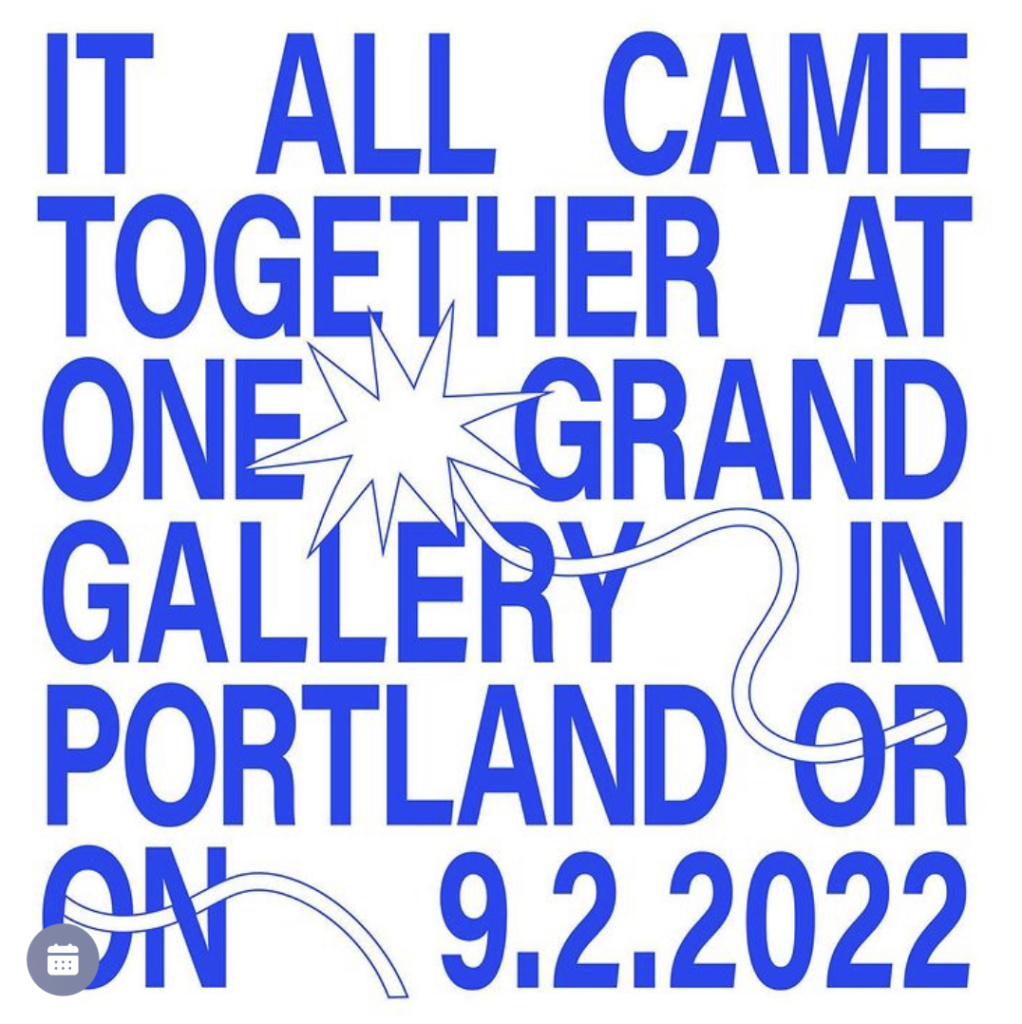 NIA MUSIBA CLOSING RECEPTION | ONE GRAND GALLERY
Join us this Friday from 6-9pm to close out Nia Musiba's exhibition with the gallery. Nia will be releasing a zine publication in tandem with the show available at the closing, as well as a new limited run of artist shirts. We'll be rounding out this show with a final 8th painting by Nia, debuting Friday. This last work will be a raffle piece – raffle tix
will be available for purchase night of and the purchase of a tee gets you one raffle ticket as well. A portion of funds raised from the tee sales will be donated to a mutual aid fund of the artists choosing. A raffle winner will be drawn at random and announced next week!
6 PM – 9 PM @ 1000 E Burnside St Portland, Oregon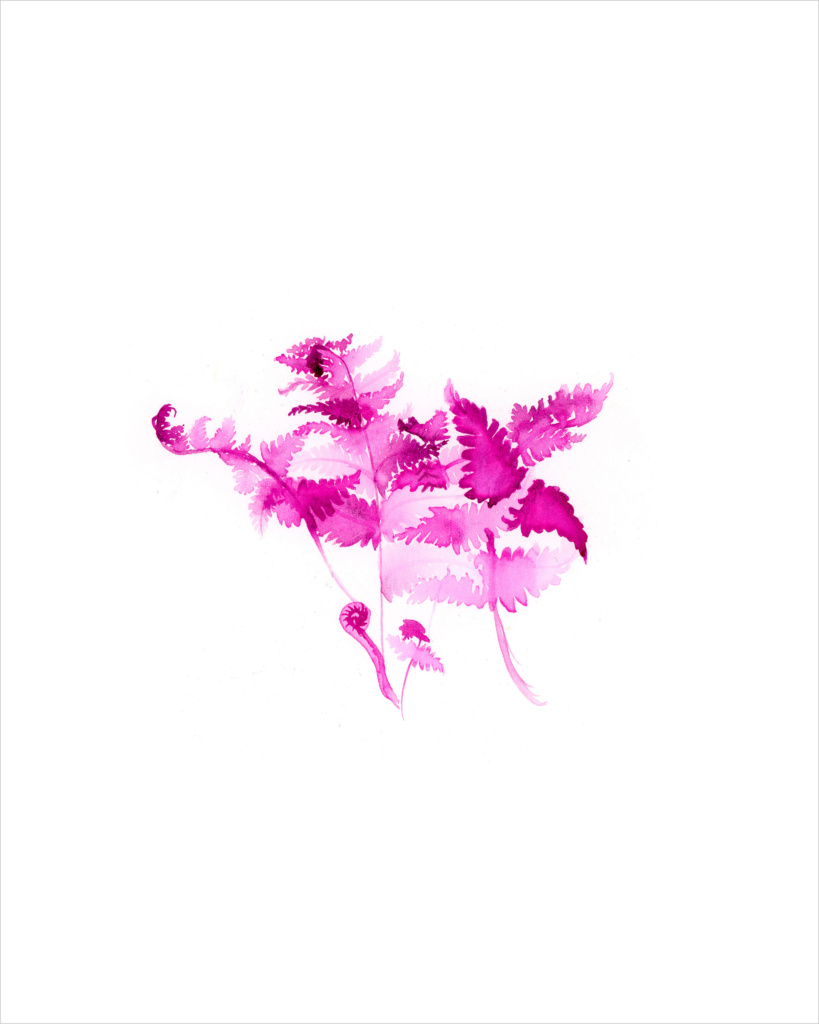 MONOCHROME RAINBOW PLANTS | NEIGHBORS TAPROOM
Monochrome watercolor prints by Charlotte Cox
2 PM – 10 PM @ 1306 E Burnside St Portland OR, 97214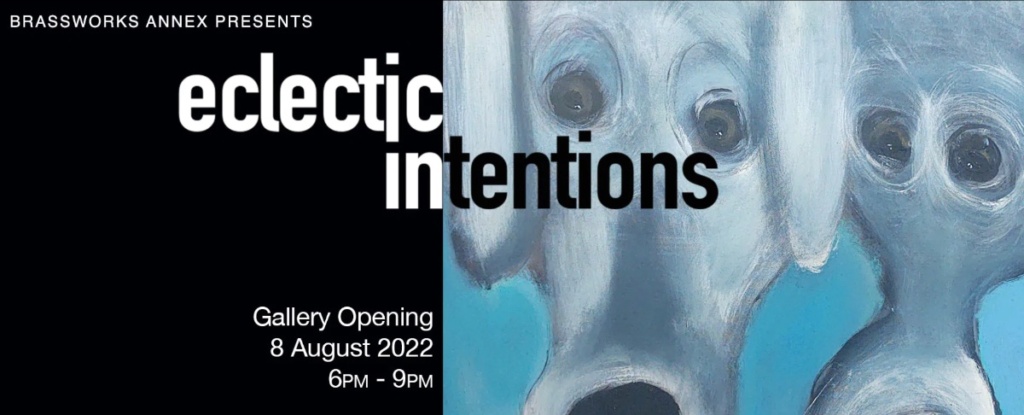 ECLECTIC INTENTIONS | BRASSWORKS ANNEX
Show extended through September!
6 PM – 9 PM @ 127 SE 10th Ave, Portland, OR 97214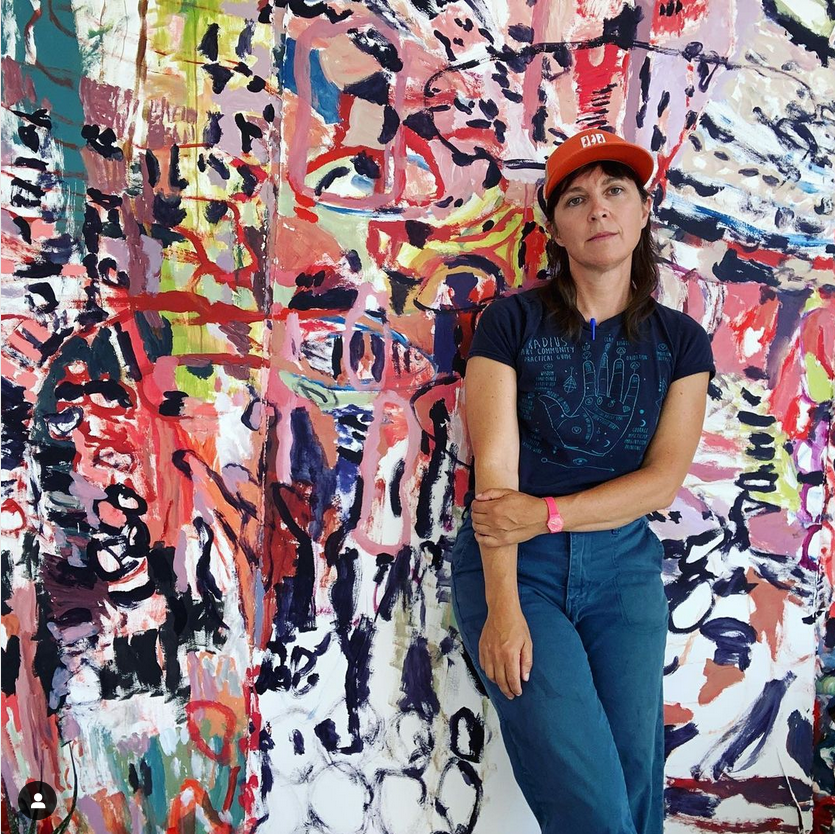 BELLY | RADIUS ART STUDIO
Join us this Friday, September 2nd for the Opening Reception of Belly, by @jolynfry, 5-8pm!
All of September, Radius will be showing "Belly", ⁠an installation about the interior of a feeling. What happens when you feel inside of a feeling? An evolving study based on introspecting and expressing the unfelt with curiosity. A raising of imagery from spaces unseen and perhaps unseemly.⁠⠀
We hope to see you all there!
5 PM – 8 PM @ 2324 SE Belmont St. Portland OR 97214
Contact Us
We do our best to make the list as complete as possible, if you have an event or correction you would like to see listed please send show details to Info@FirstFridayPDX.org or use our easy online event submission form.