All events listed occur on the First Friday of the month and are free and open to all visitors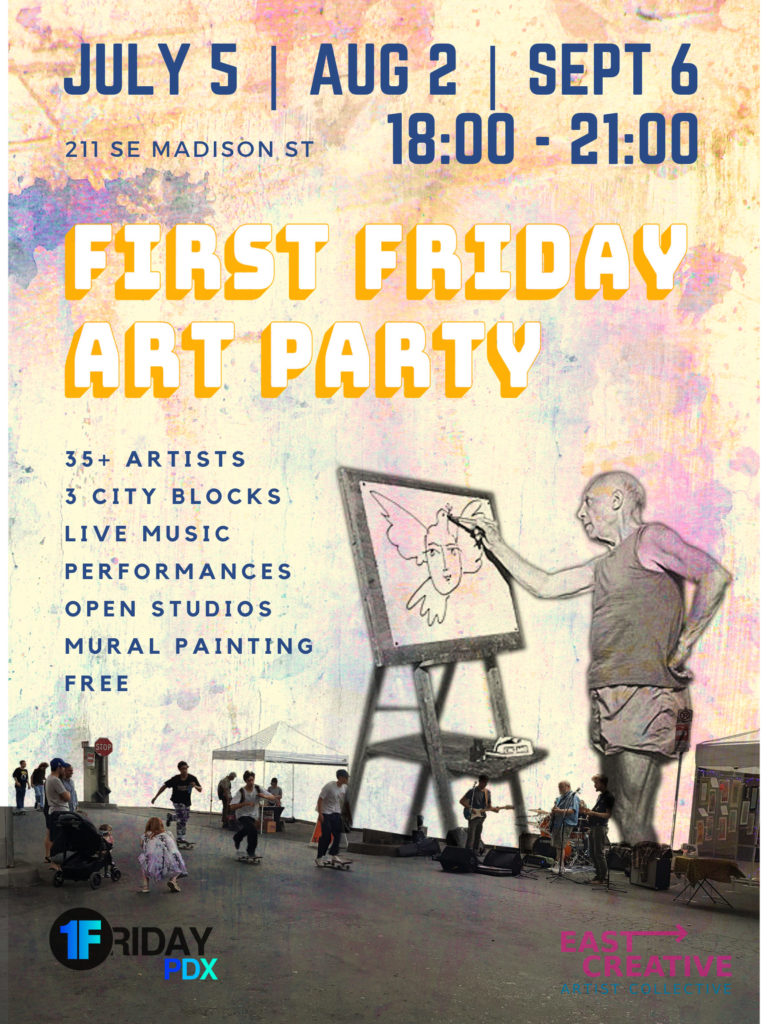 FIRST FIRDAY SUMMER ART PARTY | EAST CREATIVE COLLECTIVE
A collaboration between First Friday PDX and the East Creative Collective, join us for the first of First Friday PDX's summer Art Parties. Featuring the work of more than 35 local artists and vendors, the Summer Art Party takes place beneath the columns of the Hawthorne bridge, and features live music and performances.
6 pm – 9 pm @ 211 SE Madison St.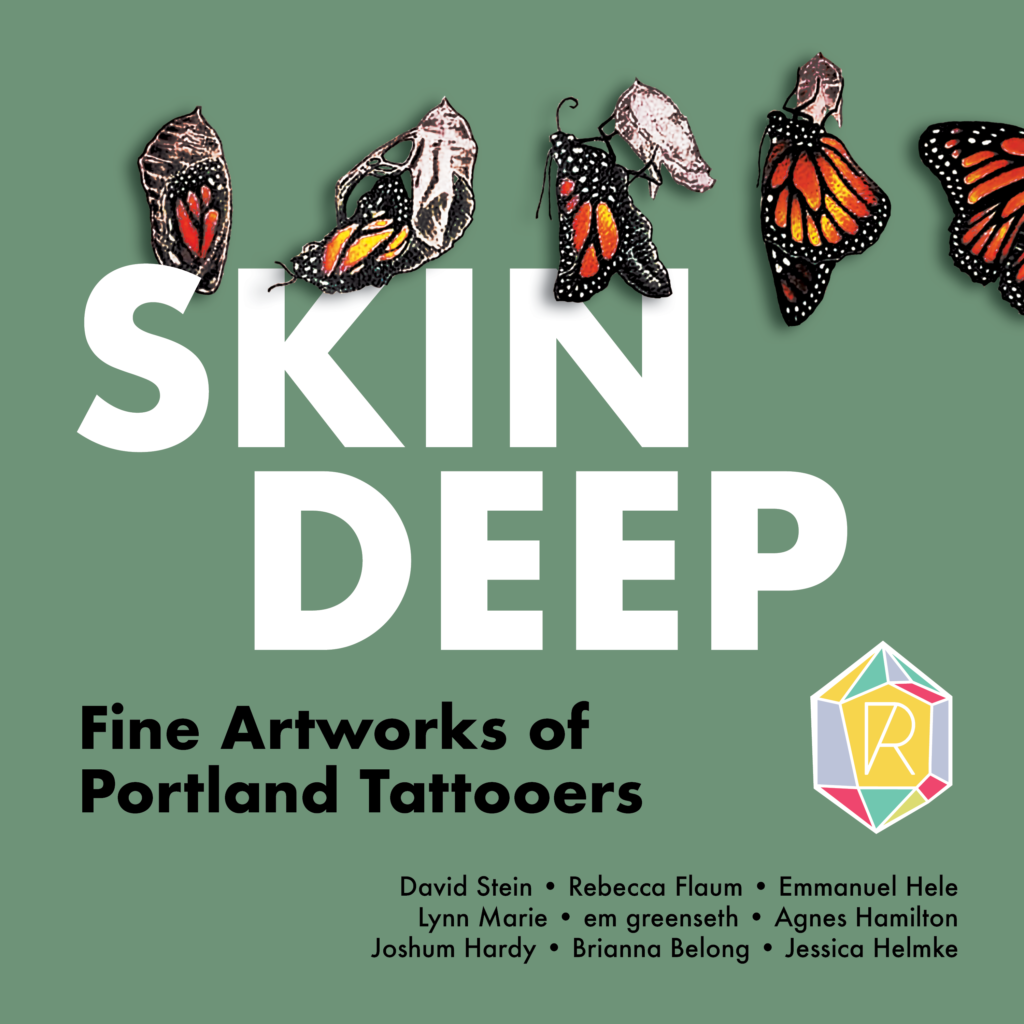 SKIN DEEP GROUP SHOW | REDUX GALLERY
SKIN DEEP GROUP SHOW featuring 9 amazing local tattoo artists. Celebrating the contemporary artistry of some of Portland's finest tattoo artists, we are stoked to bring you a show demonstrating Portland's continued knack for smashing conventions and elevating tattoo artistry to extraordinary heights.
OPENING RECEPTION: Aug 2nd, 2019 FIRST FRIDAY TIME 6-9PM SHOW RUNS TWO MONTHS, AUG & SEPT. REDUX GALLERY 811 East Burnside st. #116 Portland, OR 97214 Emmanuel Hele – Rosewater Tattoo Lynn Marie – Rosewater Tattoo Em Greenseth – elmpixie Tattoo David Stein – Grizzly Tattoo Rebecca Flaum – Oak Iris Tattoo Agnes Hamilton – Hive Tattoo Joshum Hardy – Evolved Arts Brianna Belong – Evolved Arts Jessica Helmke – Infinity Tattoo
Portland is a well known hot-spot for some of the most incredible tattoo artistry in the world. Famous tattoo artists live here and many aspiring ink fans flock here for apprenticeships, conventions, and of course; appointments to get work done. We have asked several talented artists to share some of their favorite pieces on paper, as seen before they were translated to skin, giving them an opportunity to show the public a side of the craft that is not normally seen. Don't miss this rare glimpse inside the sketchbooks of some of the most revered tattoo artists in town.
We will have both framed originals as well as prints available at the show and in our online gallery in August and September, 2019. We also welcome Opening Night show-goers bring work on their person to show off.
HISTORY: >>Since the late 1800's, seafaring settlers pioneered the early history of Portland, Oregon and defined the seedy central Willamette port-city as a tattoo hub. In the inner west side of Burnside street, packed with saloons and known for it's debaucherous vices of all varieties, the American tattoo scene of the Pacific Northwest was born. It's from this fascinating but scandalous history that tattoo artistry has evolved into what it is today, celebrating a diverse array of techniques combining stylistic influences like realism, watercolor and surrealism, and also borrowing from a wide variety of much older cultural traditions like those of tribal and Japanese origins as well. What better place than a Central Eastside Gallery like Redux to bring together a collection of unusual and contemporary works by celebrated artists of our time to illustrate how far the art of tattooing has come. Check out our online Gallery: www.reduxpdx.com/reduxgallery on opening reception day for all artworks available for purchase, or swing by the Gallery during the month of AUGUST and SEPTEMBER to see the work up close and personal. PC: thanks to Lynn Marie for use of her butterfly tattoo image !
6 pm – 9 pm @ 3022 E. Burnside St.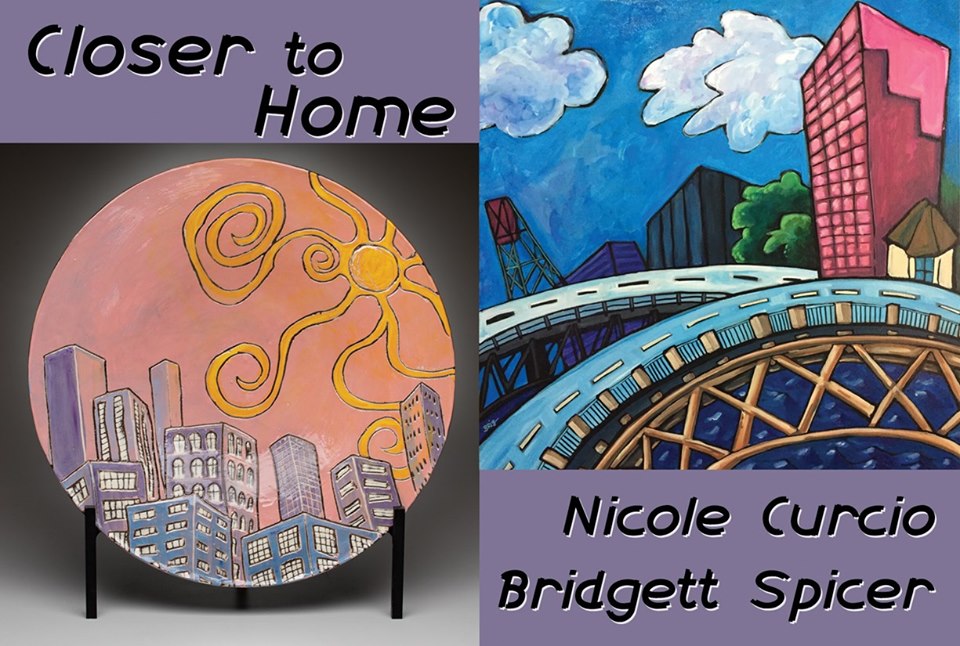 CLOSER TO HOME | SIDESTREET ARTS
6 pm – 9 pm @ 140 SE 28th Ave.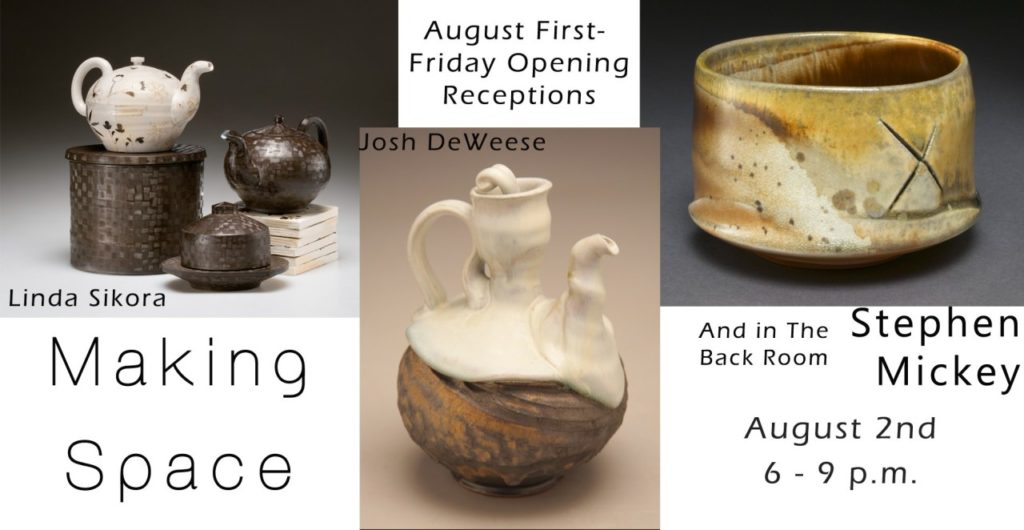 MAKING SPACE | YUNOMIS & MORE | EUTECTIC GALLERY
Celebrating the latest work from master potters, Josh DeWeese, Linda Sikora in Making Space, along with local legend Stephen Mickey with Yunomis & More in The Back Room. Join us, along with Josh and Stephen.
6 pm – 9 pm @ 1930 NE Oregon St.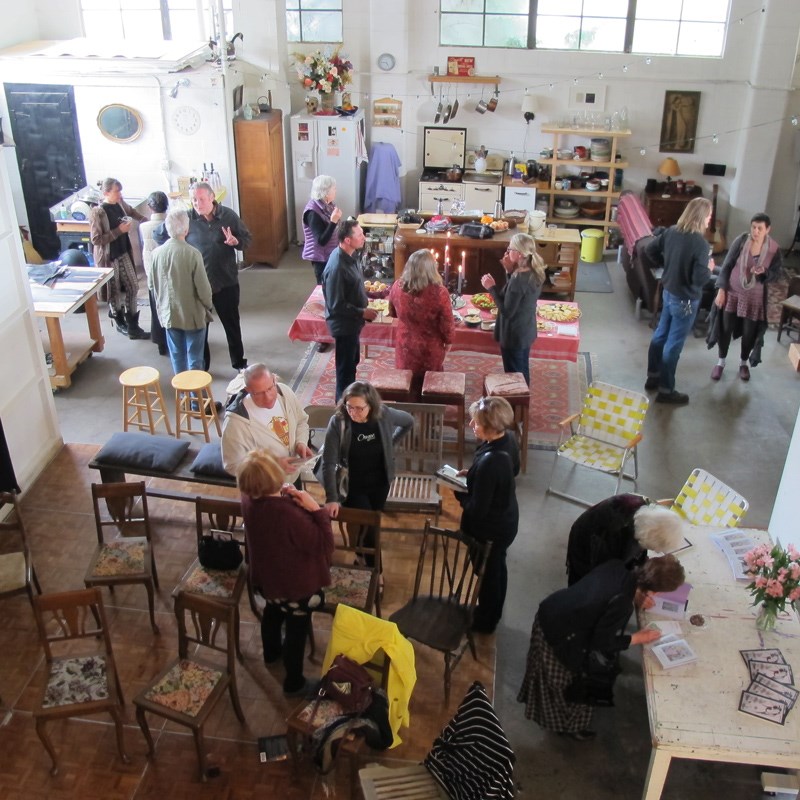 GALLERY CLOSING PARTY | ROLL-UP PHOTO STUDIO + GALLERY
Roll-Up Gallery is closing and we're moving!

Closing Party
Saturday, August 3
3-8 pm

We're celebrating 5 years, packed with:
• Transforming a warehouse into a gallery & a junkyard into a garden
• 22 exhibits featuring 87 artists
• 8 poetry readings with 25 writers
• 5 live music performances
• An eclectic array of happenings and community gatherings

On Saturday, August 3rd, we invite you to come one last time to celebrate and raise a glass to 5 vibrant years of creative community at Roll-Up. We'll have food & libations and art available for purchase, along with some other odds & ends. Come find out what's next.

If you're interested in renting the warehouse, let us know and we'll put you in contact with the owner.

A heartfelt thanks to everyone who's been part of this great experiment.
-Anna & Kerry

3 pm – 8 pm @ 1715 SE Spokane St.
Contact Us
We do our best to make the list as complete as possible, if you have an event or correction you would like to see listed please send show details to Press@FirstFridayPDX.org or use our easy online event submission form.