All events listed occur on the first Friday of the month and are free and open to all visitors unless otherwise specified.
COVID-19 Notice:
Due to restrictions imposed by the ongoing pandemic, many of our regular galleries are currently open virtually, require reservations for physical visits, or are temporarily closed. Be sure to check with specific galleries for individual requirements before visiting. Thanks for supporting local artists!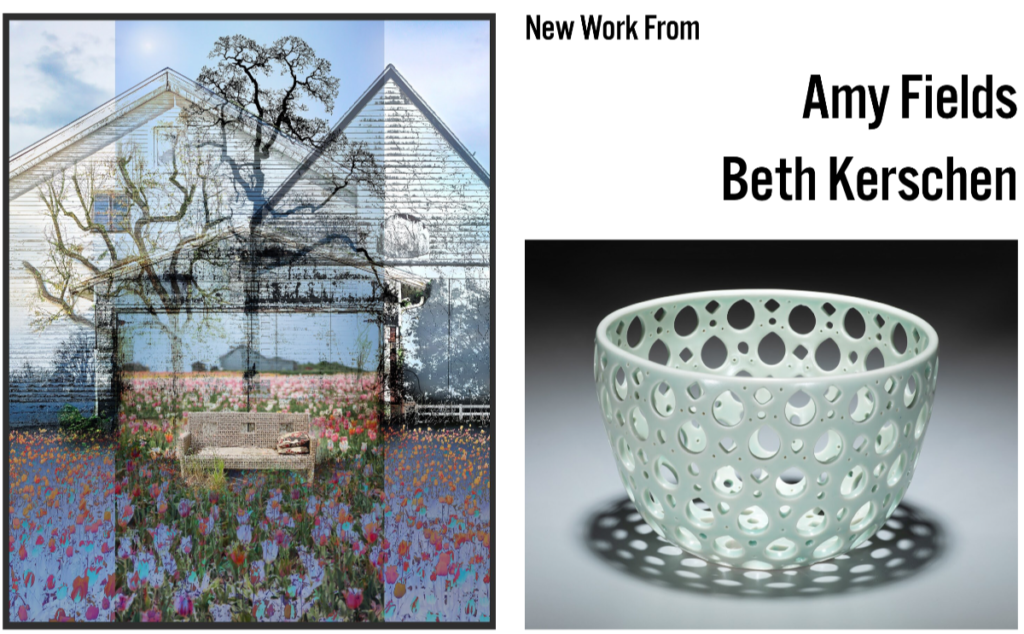 PROCESSING, PAUSING, AND PERSPECTIVE | SIDESTREET ARTS

Amy Fields starts with a lump of raw clay; Beth Kerschen starts with images of her surroundings. Both artists use their materials to create beauty, encourage reflection, or discover the unpredictable.

Beth layers and interweaves her photographs, asking us to reflect how our own lives paralleled The Big Pause as a collective examination of what we will now call normal. Amy's porcelain vessels are wheel-thrown, then carved and pierced. But don't let their delicate appearance fool you: they're fired in an atmosphere of super-heated wood ash where their mineral content reacts to form an unpredictable glaze finish.
5 PM – 7 PM @ 140 SE 28th Ave., Portland, OR 97214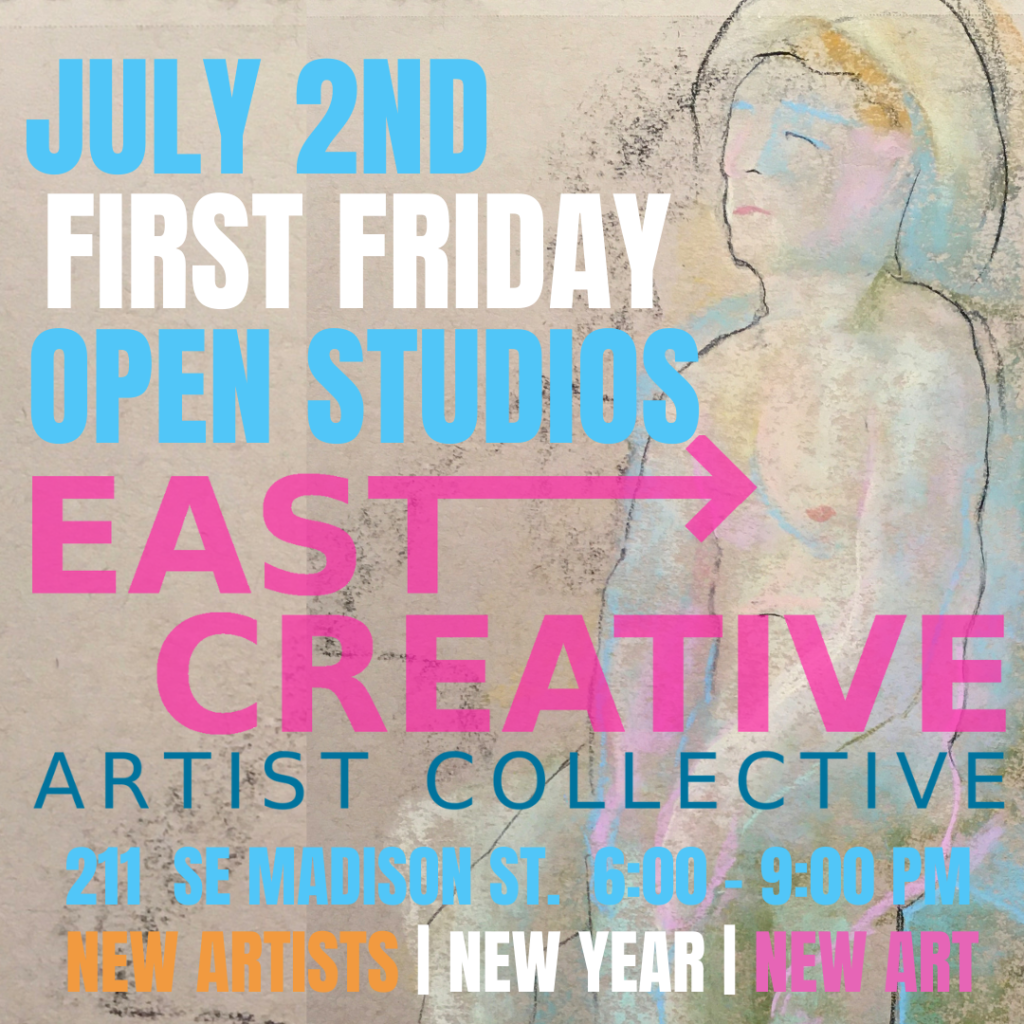 FIRST FRIDAY OPEN STUDIOS | EAST CREATIVE
Join the artists of East Creative for our July Open Studios! Come cool off and enjoy refreshments as you get an inside look into the studios of local artists. Featuring new work from 8 resident artists and creators.
6 PM – 9 PM @ 211 SE Madison St., Portland OR, 97214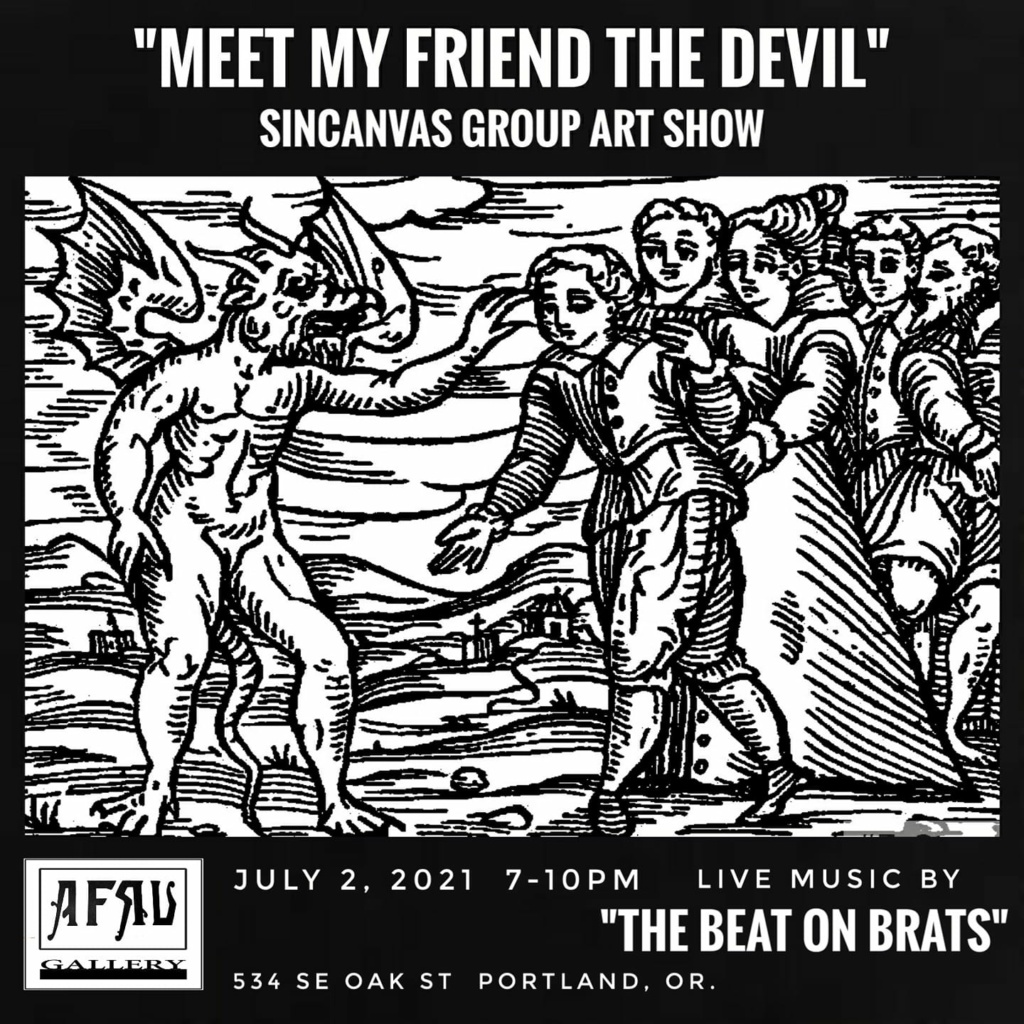 MEET MY FRIEND THE DEVIL | AFRU GALLERY
The Devil man's quintessence model for evil is known by many names. Father of Lies, Belial, Beast, Scratch, Accuser, Abaddon, Beelzebub, Ruler of this World etc,etc. Typically seen as a hostile,destructive force. Portrayed adversely as Red,Blue,Black, or Green, with horns on its head as well as mouths on its groin,knees, or butt. Other times takes the form of a Dragon,goat,snake, or Donkey. "Meet my Friend the Devil" a group art show by Sincanvas will be showcasing art that celebrates this colorful archetype/ idea that is the Devil. As well as dive into the ever changing face of evil. To see the true adversary one needs only too look into a mirror. The ideals we hold so dear are those that destroy us.
New Works of Art by Sincanvas
FEATURING ART BY: Gavin Eveland, Hesher Park, Troy Hileman, Jennifer Randall, Angela Myers, Michal Albano, Idle Hand, Art Dylan, Invalid Cesil, Dr Sam Klein
Live Music by The "The Beat on Brats" a Ramones cover band
7 PM – 10 PM @ 534 SE Oak St. Portland, OR 97214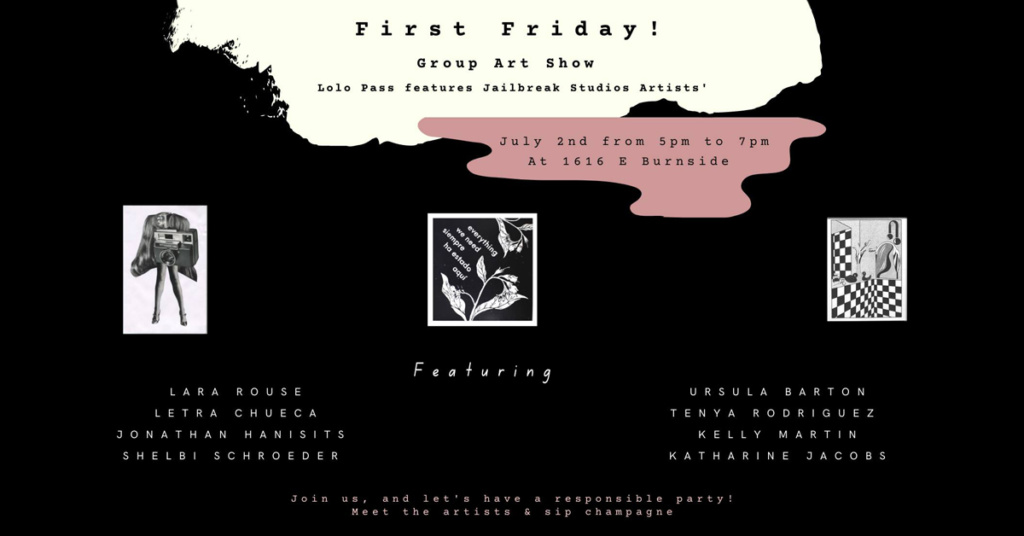 FIRST FRIDAY PARTY | JAILBREAK STUDIOS
This month we are excited to collaborate with another female run business, Lolo Pass, Portland's latest hostel-hotel hybrid located on 1616 E Burnside. Travel over to their beautiful gallery space, meet some of Jailbreak's talented artists, and sip some complimentary champagne in the gallery, and then head on up to the 3rd floor to enjoy a beautiful view from their rooftop bar. We hope to see you there July 2nd from 5-7pm and have another responsible First Friday party!Party with a purpose! **We will be donating 100% of the tips from our complimentary cocktail of the evening to Don't Shoot PDX, come by to sip and support your community!
5 PM – 7 PM @ 910 SE Taylor St, Portland, OR 97214
Contact Us
We do our best to make the list as complete as possible, if you have an event or correction you would like to see listed please send show details to Info@FirstFridayPDX.org or use our easy online event submission form.