All events listed occur on the first Friday of the month and are free and open to all visitors unless otherwise specified.
COVID-19 Notice:
Due to restrictions imposed by the ongoing pandemic, many of our regular galleries are currently open virtually, require reservations for physical visits, or are temporarily closed. Be sure to check with specific galleries for individual requirements before visiting. Thanks for supporting local artists!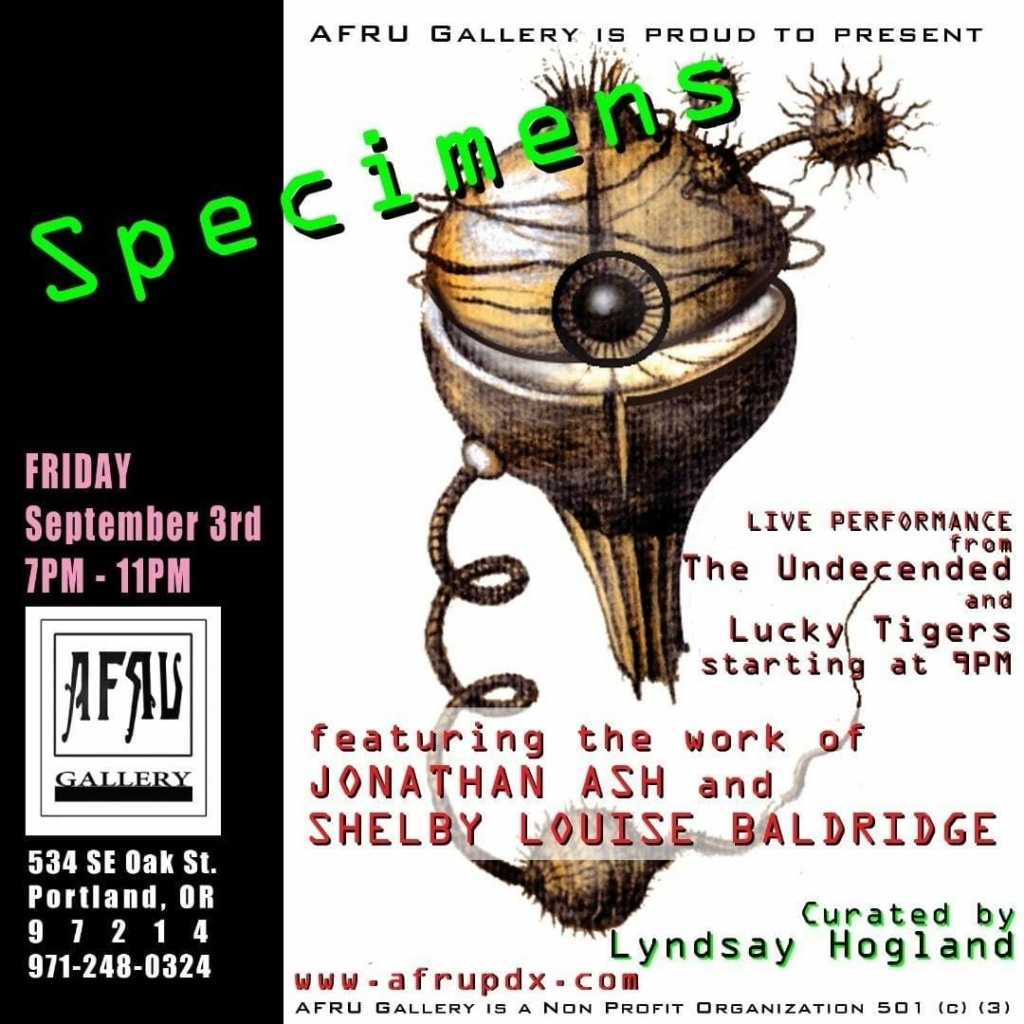 SPECIMENS | AFRU GALLERY
Join AFRU Gallery for new works by Jonathan Ash and Shelby Louise Baldridge as they share their works from the mythical landscape of 'Specimens'.An exhibition of imagined lifeforms on display, featuring the work of Jonathan Ash and Shelby Louise Baldridge.OPENING NIGHT RECEPTION
Friday, September 3, 2021
7pm – 11pm
Musical performances by The Undecended and Lucky Tigers starting at 9pm
OPEN GALLERY HOURS
Saturdays and Sundays
2pm – 6pm
Show runs September 3 – 26, 2021
Show opens on September 3rd at 7pm, bands at 9pm.
Masks and distancing required.
7 PM – 11 PM @ 534 SE Oak St. Portland, OR 97214
JESSICA DELTAC | EARTH SPACE PDX
We are beyond excited to announce our next art opening this Friday the 3rd, featuring a diverse variety of mediums by the wondrous @lifetish72 🎨✨

The landscapes of Jessica Deltac's paintings, photography and poetry are where she makes sense of her diverse commitments to: free-will, birth advocacy, human/animal co-existence, emotional relationships, and the purity of lust.
6 PM – 10 PM @ 4135 SE Gladstone St. Portland, OR 97202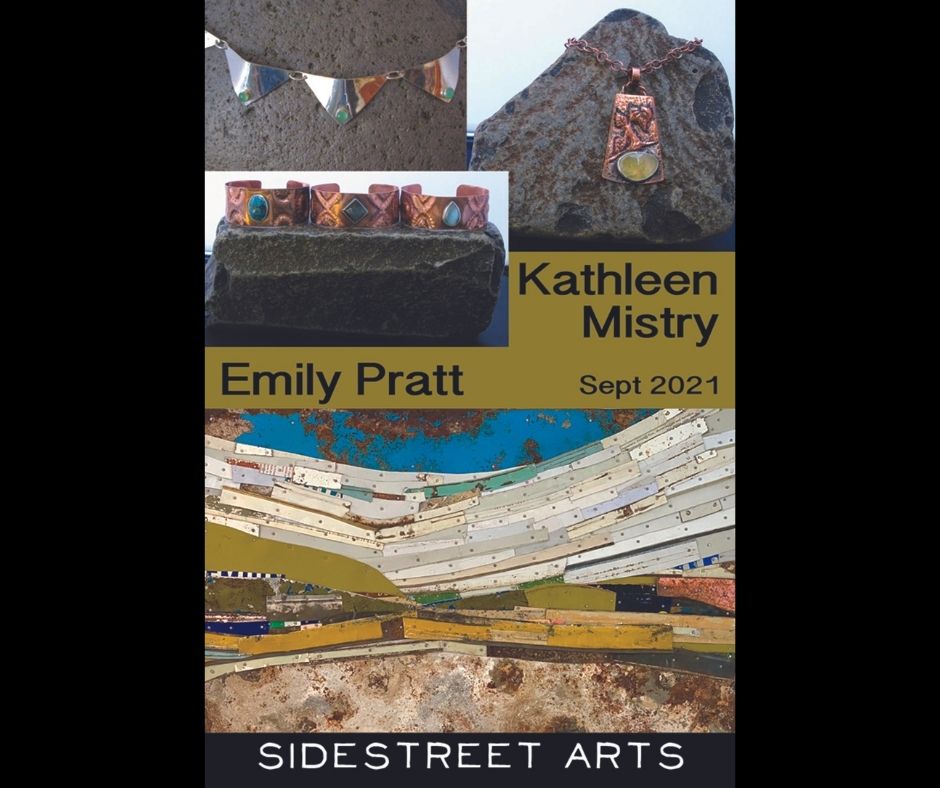 EMILY PRATT | KATHLEEN MISTRY | SIDESTREET ARTS
This month's featured gallery artists, Kathleen Mistry and Emily Pratt, have unique relationships with metal. The featured gallery will be full of their pounded, nailed, etched and cleaved metals.   Kathleen Mistry is searching. While crafting beautiful metal and semi-precious stone jewelry, she is always looking to discover new methods of texturing and shaping metal. For this show, Kathleen has created sumptuous copper and silver cuffs, earrings, and necklaces using etching and reticulation. Emily Pratt's work reflects a strong curiosity for worn and weathered metal objects. Inspired by the discovery and transformation of 3-D materials into 2-D art, she collects worn and rusty man-made metal objects and hammers them into assemblages. Each "metal painting" creates a narrative and contains hints of memory that connects the viewer with the man made past. 

Online Preview Night:     Wednesday, Sept 1, 6-7 pm
First Friday Artwalk:        Friday, Sept 3, 5-7 pm
Zoom Studio Artist Talk: Sunday, Sept 12, Noon​
5 PM – 7 PM @ 140 SE 28th Ave., Portland, OR 97214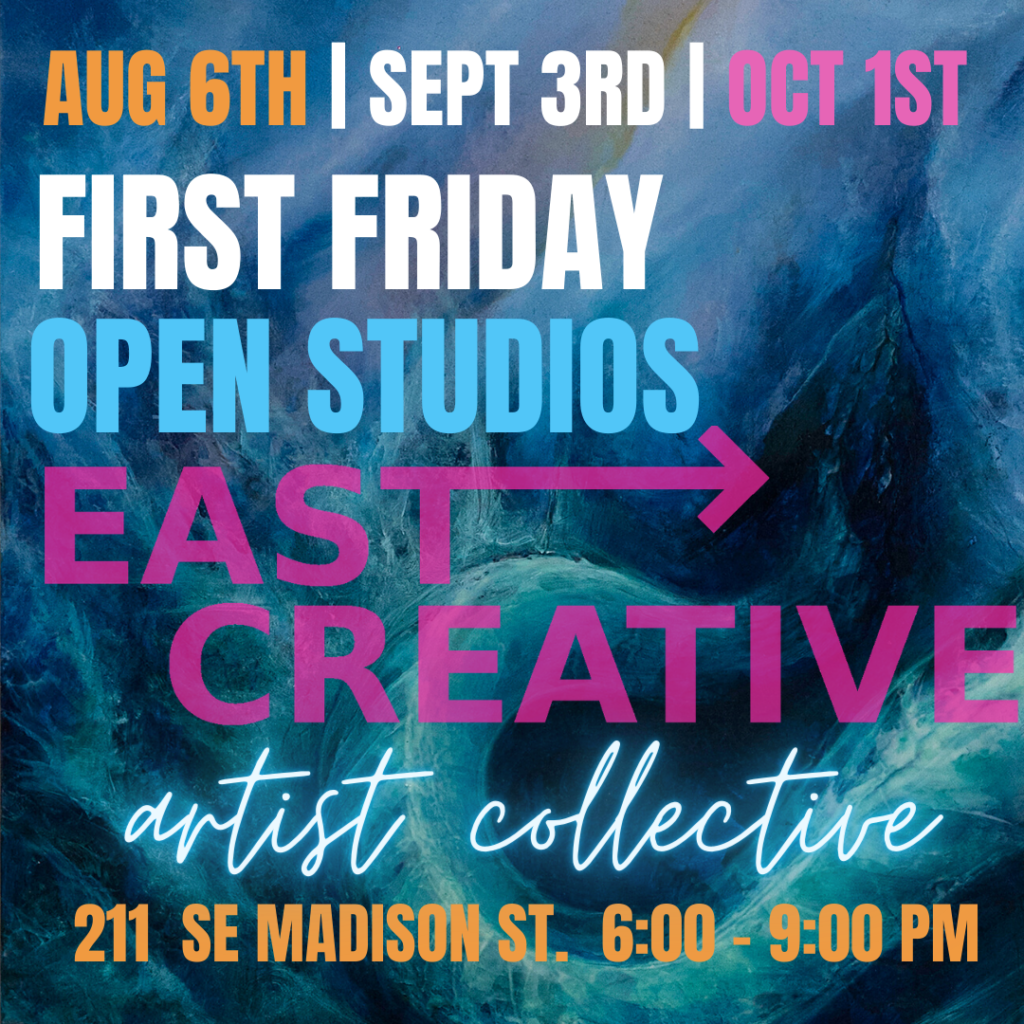 FIRST FRIDAY OPEN STUDIOS | EAST CREATIVE
Join the artists of East Creative for our July Open Studios! Come cool off and enjoy refreshments as you get an inside look into the studios of local artists. Featuring new work from 8 resident artists and creators.
6 PM – 9 PM @ 211 SE Madison St., Portland OR, 97214
Contact Us
We do our best to make the list as complete as possible, if you have an event or correction you would like to see listed please send show details to Info@FirstFridayPDX.org or use our easy online event submission form.