All events listed occur on the First Friday of the month and are free and open to all visitors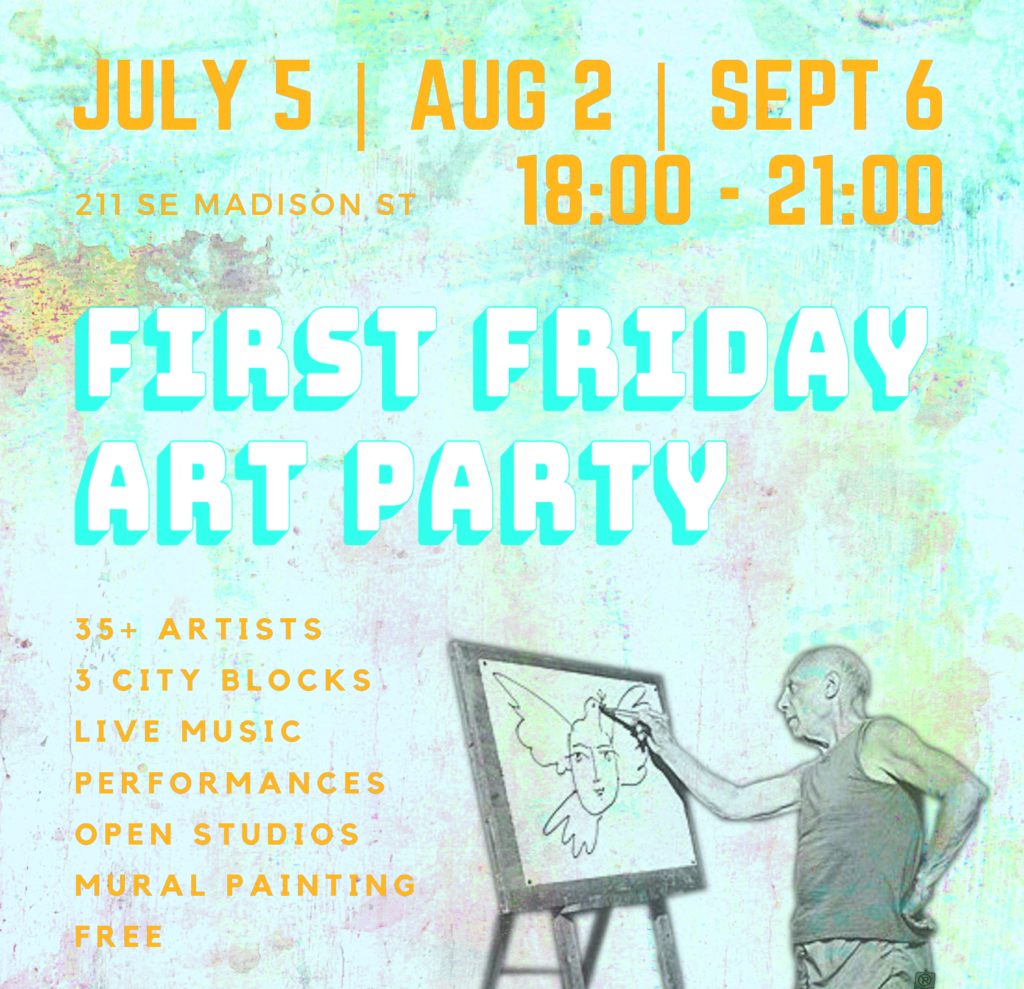 FIRST FRIDAY ART PARTY | SE MADISON STREET
A collaboration between First Friday PDX and the East Creative Collective, join us for a special end of summer First Friday Art Party.
Featuring the work of more than 35 local artists and vendors, the Summer Art Party takes place beneath the columns of the Hawthorne bridge, and features live music, performances, food and more!
6 pm – 9 pm @ 211 SE Madison St.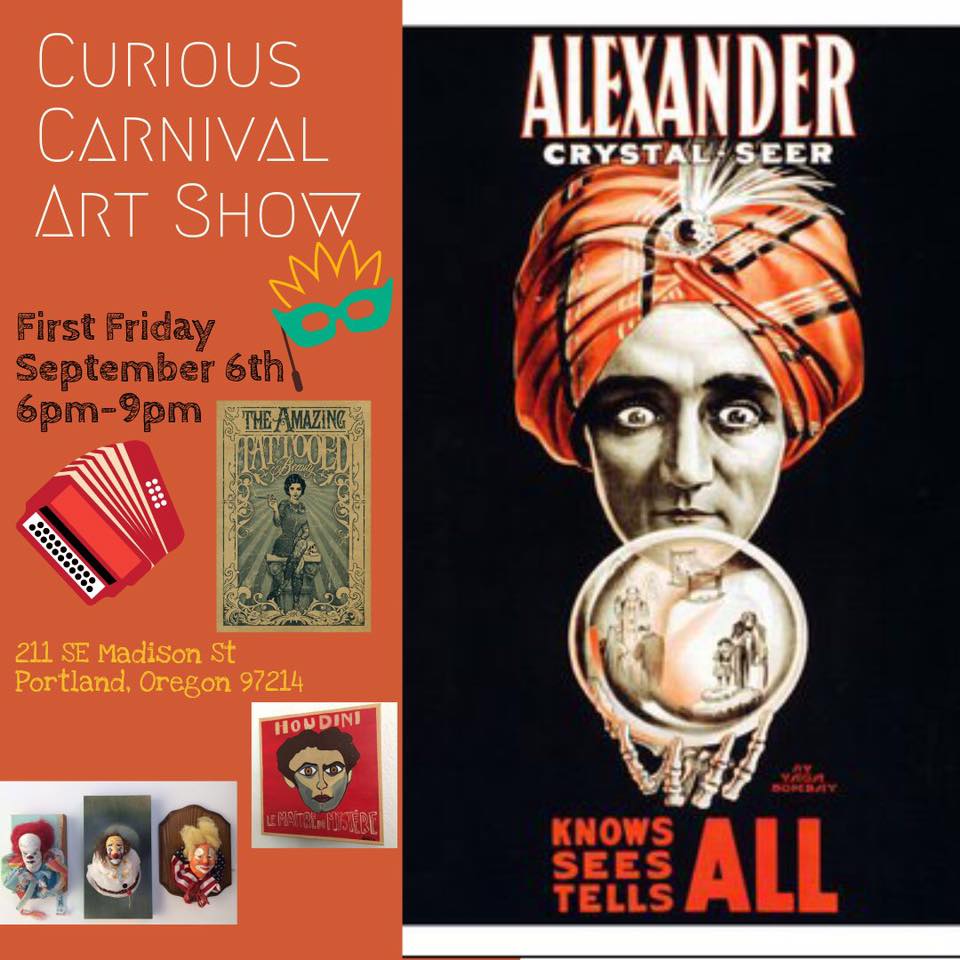 THE CURIOUS CARNIVAL | EAST CREATIVE COLLECTIVE
Introducing, for one night only, the Curious Carnival! Join us at East Creative Collective for the latest incarnation of the timeless Feast of Fools; traveling circus of all things anarchic, strange, wonderful, and grotesque. A blasphemous extravaganza of topsy-turvy, where all things are permitted in riotous celebration of mischief.

Danger, mystery, games of chance, exotic animals, the burlesque and the freakish, nothing is forbidden for artists as we don and discard our many masques. Step right up beneath the big tent…

Live music, performances, refreshments, and a stellar art & craft Extravaganza!

6 pm – 9 pm @ 211 SE Madison St.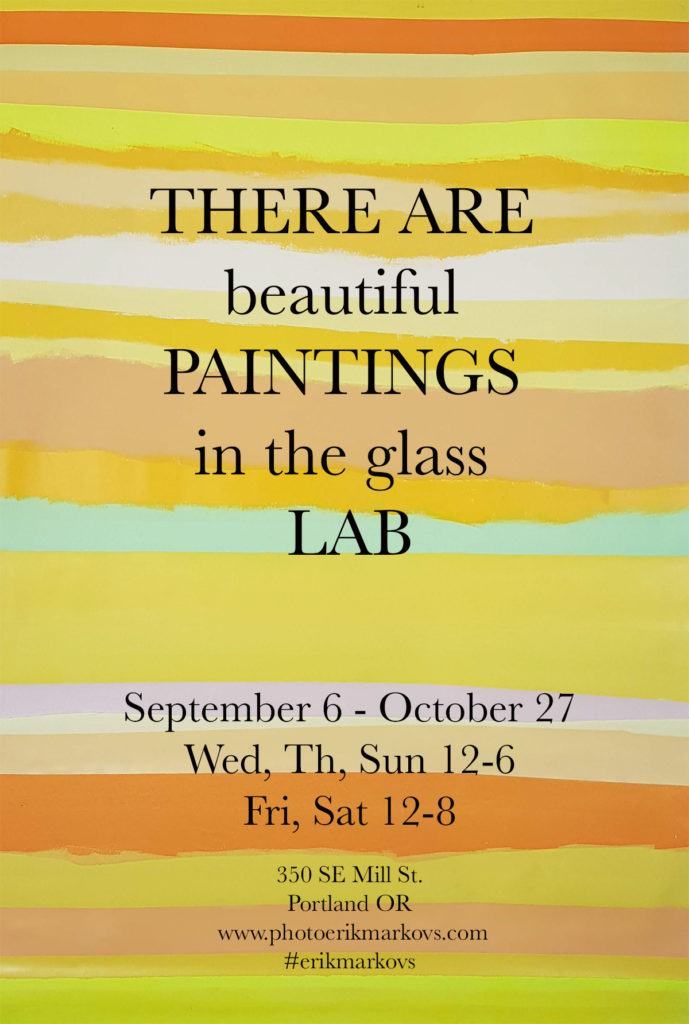 ERIC MARKOV'S POP-UP GALLERY | GLASS LAB
Opening night for Erik Markovs pop-up gallery, paintings and photography will be on display. http://photoerikmarkovs.com/
6 pm – 9 pm @ 350 SE Mill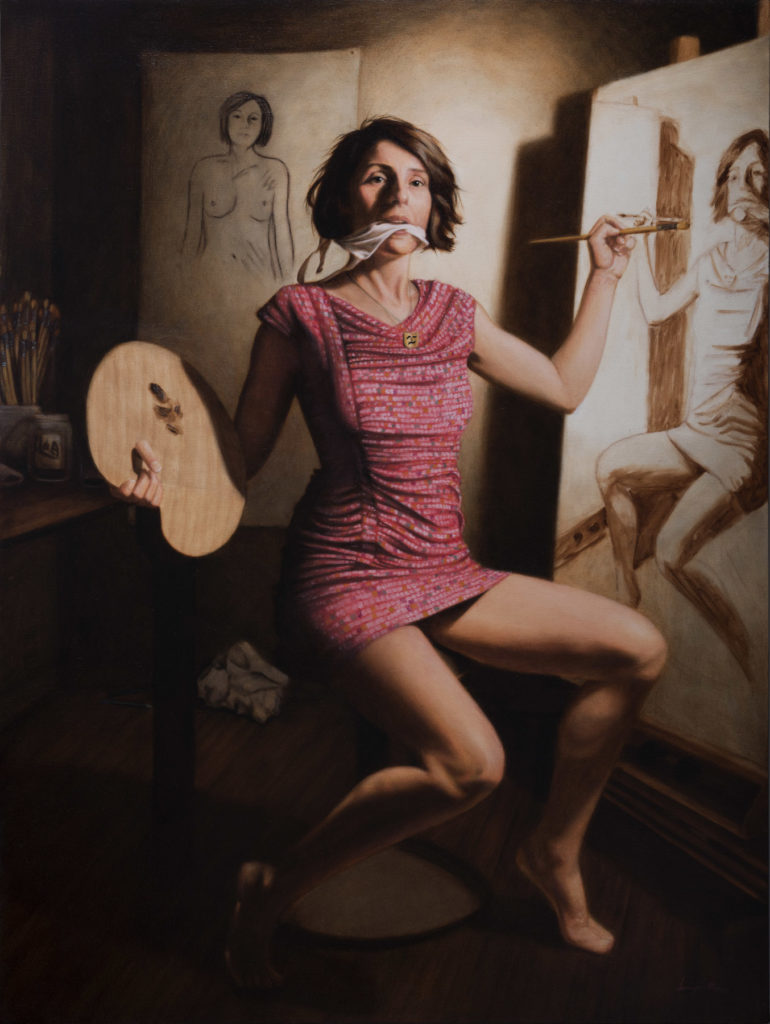 THE ALLEGORIES | WOLFF GALLERY
Wolff Gallery is pleased to present The Allegories, a solo exhibition by narrative painter Jen Brown. In her dramatic yet detailed oil paintings, the artist confronts issues facing our society, including climate change, political divisions, and the role of the artist. Her combination of contemporary themes with a Baroque-inspired aesthetic invites discussion while highlighting Brown's exquisite artistry.
6 pm – 8 pm @ 2804 SE Ankeny Street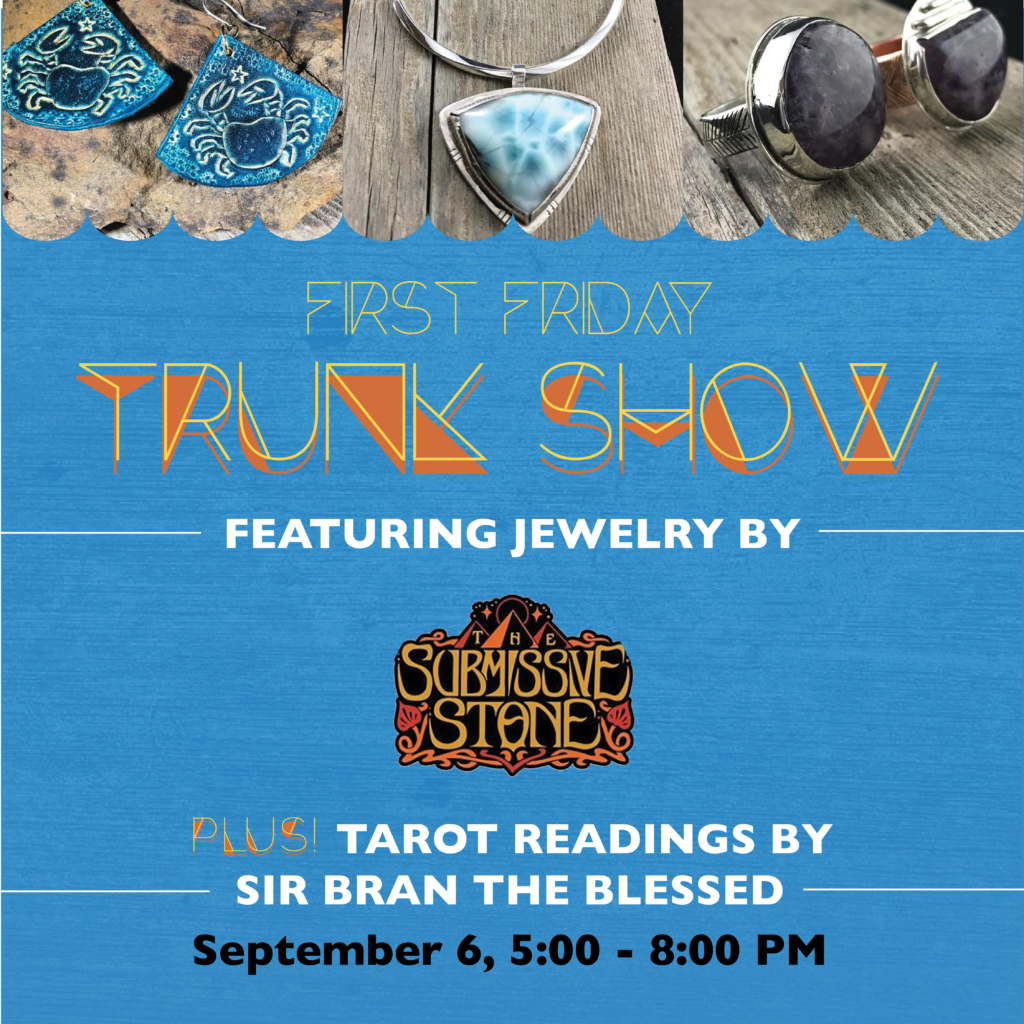 THE TRUNK SHOW | REDUX GALLERY
For our upcoming First Friday, we're proud to feature jewelry studio The Submissive Stone, from Scappoose, OR. Christine & Dana Parker are rock hounds working to create unique pieces of heirloom jewelry from natural and sustainable elements, including copper, leather, sterling silver and more. We particularly love their inlay work, coffin rings, and riveted stones. Joining them for a night of tarot, Sir Bran the Blessed will be hosting drop-in readings. Sir Bran the Blessed reads at Flutter, Psychic Bar, Fernie Brae, Cargo, and Psychic Sisters, and is also the leader of the ZephyrHaus coven. We're pleased to welcome everyone to Redux for what can only be a great and illuminating time!
PLUS! WHILE YOU'RE HERE…
Don't forget, our Skin Deep exhibit, a show featuring the original fine artwork by local Portland tattoo artists, will be up through the end of September!

6 pm – 9 pm @ 3022 E. Burnside St.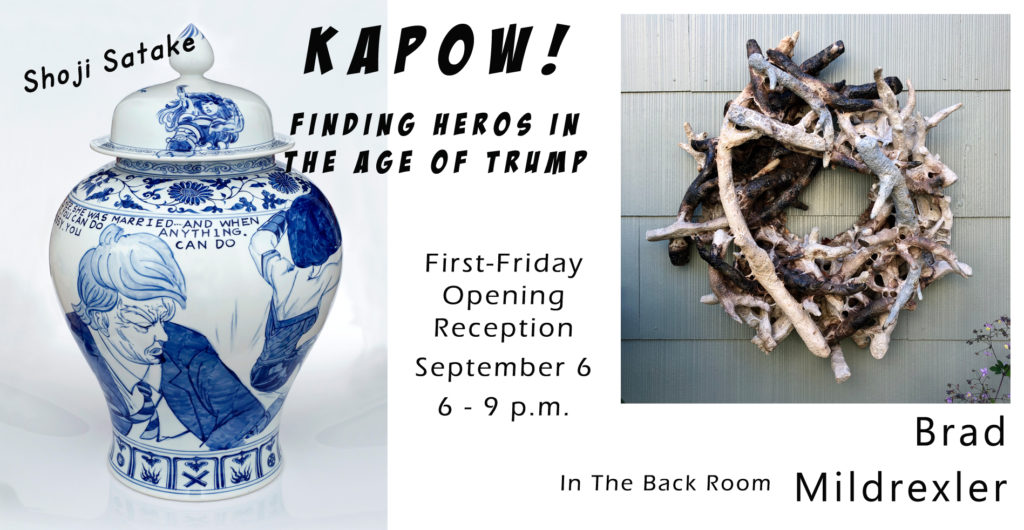 KAPO: FINDING HEROS IN THE AGE OF TRUMP | EUTECTIC GALLERY
Opening reception for Shoji Satake's Ming Dynasty-style blue-and-white vessels and tiles, depicting new heros for old villains.
6 pm – 9 pm @ 1930 NE Oregon St.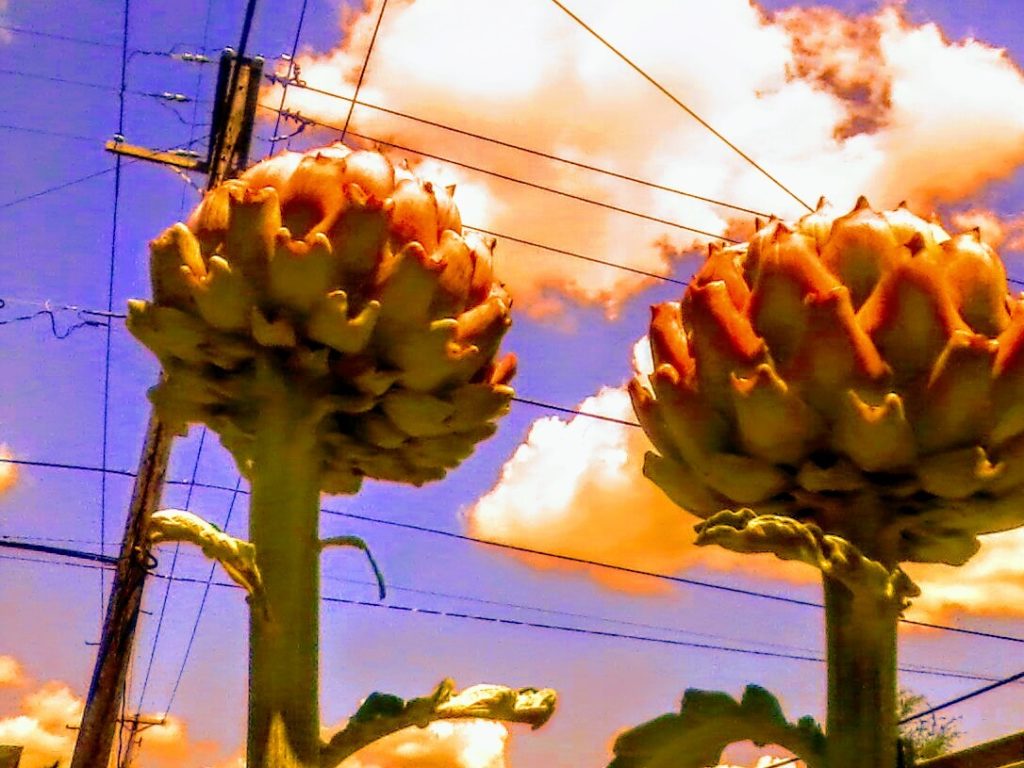 DEBORAH KUPRUNAS | KARUNA CONTEMPLATIVE LIVING
What the eyes of Egeria saw, a photography installation and true tales of an aimless wanderer.

As I was honing my craft as an opera singer in Philadelphia, I modeled for the teachers at the Academy of Fine Arts at their private studios for income. They were quite interested in my process as a vocalist and would ask me questions while they painted, illustrated or sculpted. I traveled a good bit all over my hometown, to NYC, and the mid Atlantic to study and audition, so I had much to tell. They gave me a nickname, Egeria. Not the mystic sacred nun mind you, but one of the lesser known Greek/Roman deities who was an aimless wanderer in nature and good storyteller. I was often posed in classical settings, so this identity stayed with me for as long as I was employed by them.

This is how I have approached what I am exploring with my art. I don't use a proper camera, just my quite out of date cellphone and tablet. I do set aside some time each day to pick a direction and see what I see. Often when I photograph, there is more going on that is not in view of the picture I am taking. I would like to think it is absorbed into the content.

Now you know my not so secret way of creativity and a piece of myself I have not thought about for a long time. This new work focuses on color and mystery in the mundane, which I find especially endearing and whimsical. May these images inspire your own true tales and aimless wanderings.
6:30 pm – 9 pm @ 1725 SE Hawthorne Blvd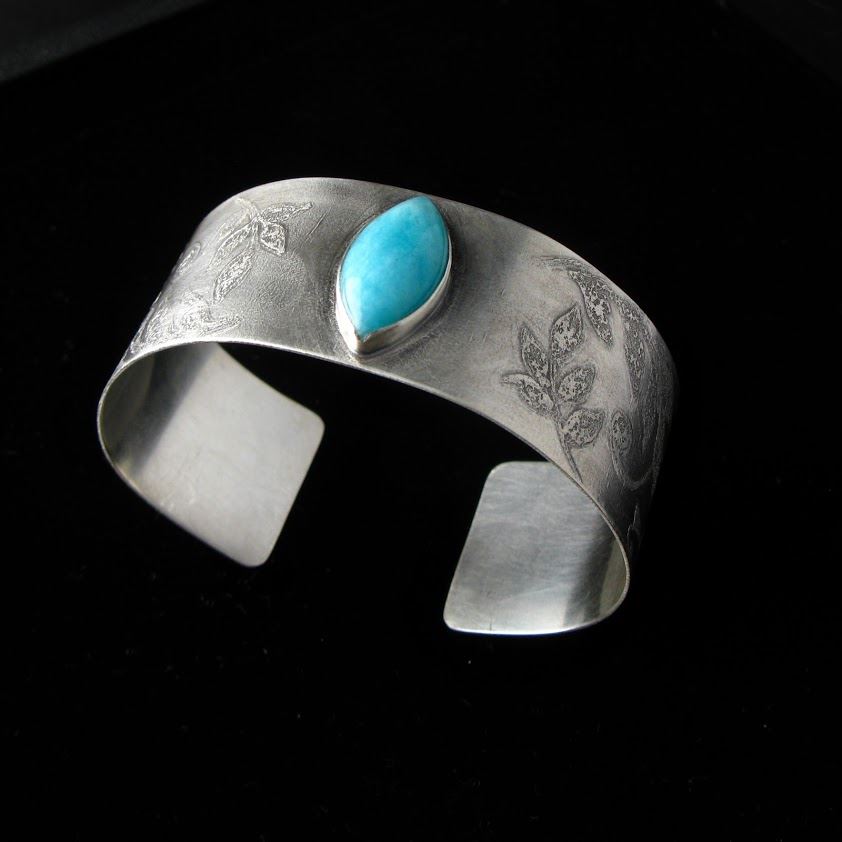 FLESH AND STONE | SIDESTREET ARTS
First Friday Opening Reception for Flesh & Stone: Kathleen Mistry and Brooke Walker-Knoblich … Hobnobbing, reception munchies, artist meet & greet. All are welcome. Must be 21 to consume adult beverages.
6 pm – 9 pm @ 140 SE 28th Ave.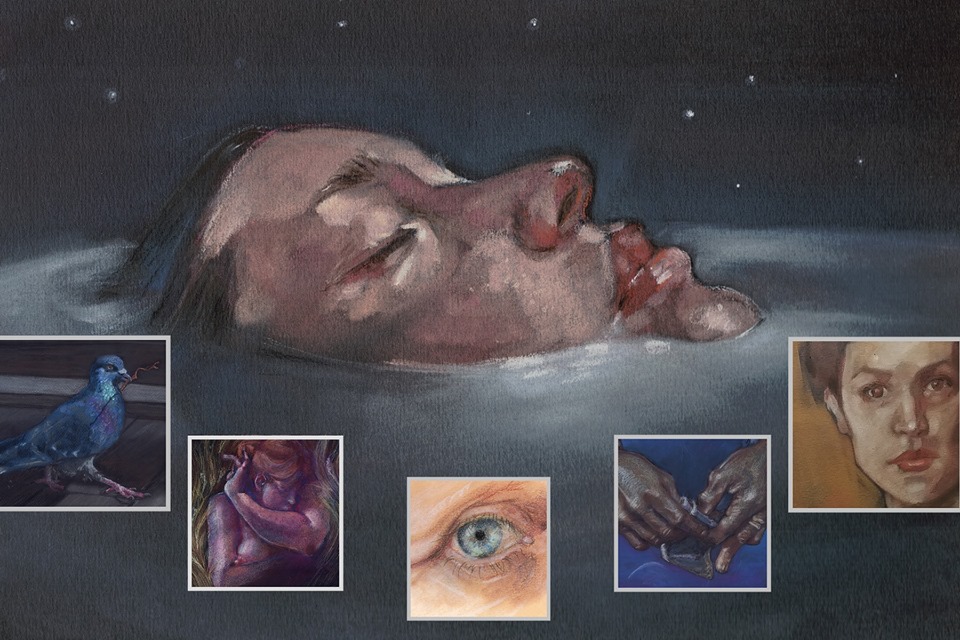 YEAR OF DRAWING: THE FIRST HALF | AFRU GALLERY
The Challenge was to create something everyday for a year…then have a gallery show halfway through to celebrate the progress and get encouragement to keep going.
I have been a professional artist for about 11 years (you may know me for my scientific Numberism drawings as seen at the Portland Saturday Market), but after a while, I noticed that I was spending more time on the business side of art and less time creating it. This challenge is a call back to the sketchbook, to practice rather than produce, to make mistakes and see where creativity takes me. I welcome you to see the first 6 months of artwork from this challenge, to connect with me about my process and to cheer me on to keep going!
6 pm – 12 am @534 SE Oak St.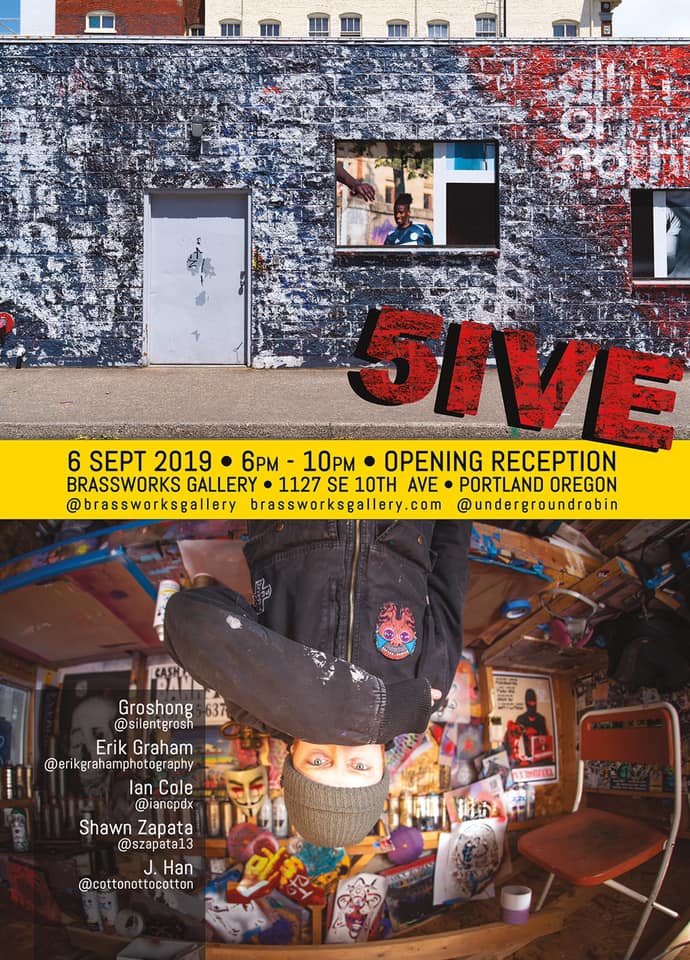 5IVE | BRASSWORKS GALLERY
September's First Friday exhibition at BrassWorks Gallery will feature urban themed imagery from "5ive" Portland based photographers.

Groshong Erickson (@silentgrosh)
Erik Graham (@erikgrahamphotography)
Ian Cole (@iancpdx)
Shawn Zapata (@szapata13)
J. Han (@cottonottocotton)

Curated by UndergroundRobin
6 pm – 9 pm @ 1127 SE 10th Ave.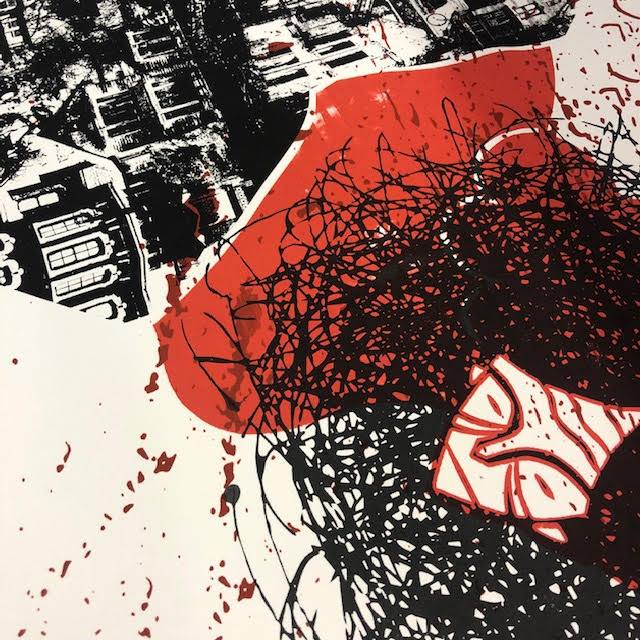 FIRST FRIDAY ARTIST'S RECEPTION | BITE STUDIO
Featuring new prints from Tara Murino-Brault, Charlotte Flory, and Kim Manchester!
6 pm – 10 pm @ 2000 SE 7th Ave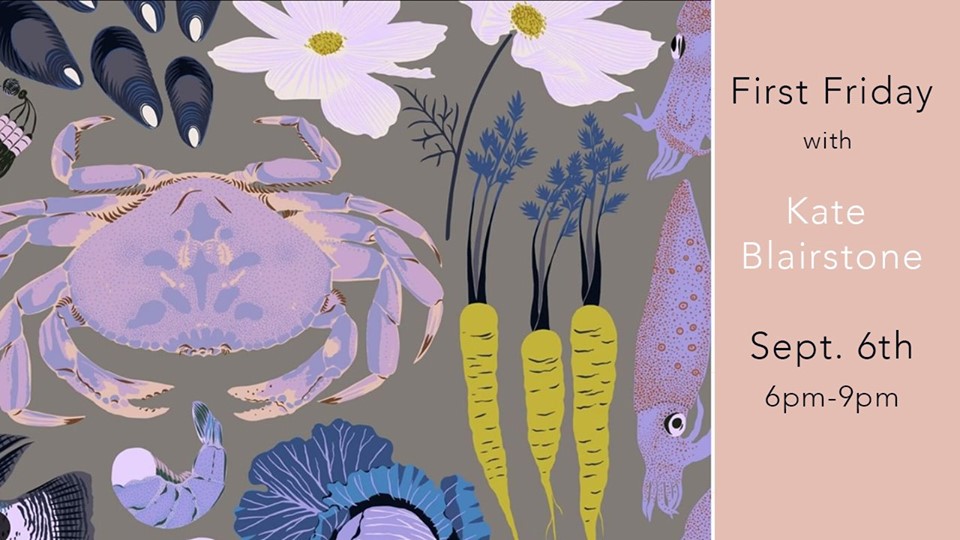 KATE BLAIRSTONE | JAILBREAK STUDIOS
This will be a very spacial First Friday Party you will not want to miss! The fabulous Kate Blairstone will be the very first artists in our brand new expanded gallery and storefront. Same location, so much more space, and this means so much more art!

Join us September 6th from 6pm-9pm to meet the artist, see her expert color pallets, beautiful botanical artwork up close, and celebrate the Soft Opening of the new and much improved Jailbreak Studios.

Artist Bio:

I believe in pattern and color. Not because decoration is beautiful (it is), not because pattern and color are back in fashion (in human history, they never left), but because they have such an ability to create specificity in our memory. To live amongst pattern and color is to remember. To create images based on the world around us is as old as people; it connects us to the places we live and the environments that sustain us. Botanical patterns throughout our history are symbols for the places those plants grow; color a symbol of light, and therefore season. It would be a shame to dismiss pattern and color as merely decorative, and with it the mostly unnamed women who traditionally did this work. It is an act of resistance to embrace color and pattern, to build a visual life around it, to research it and know where it comes from, who made it and why.
6 pm – 9 pm @ 910 SE Taylor St.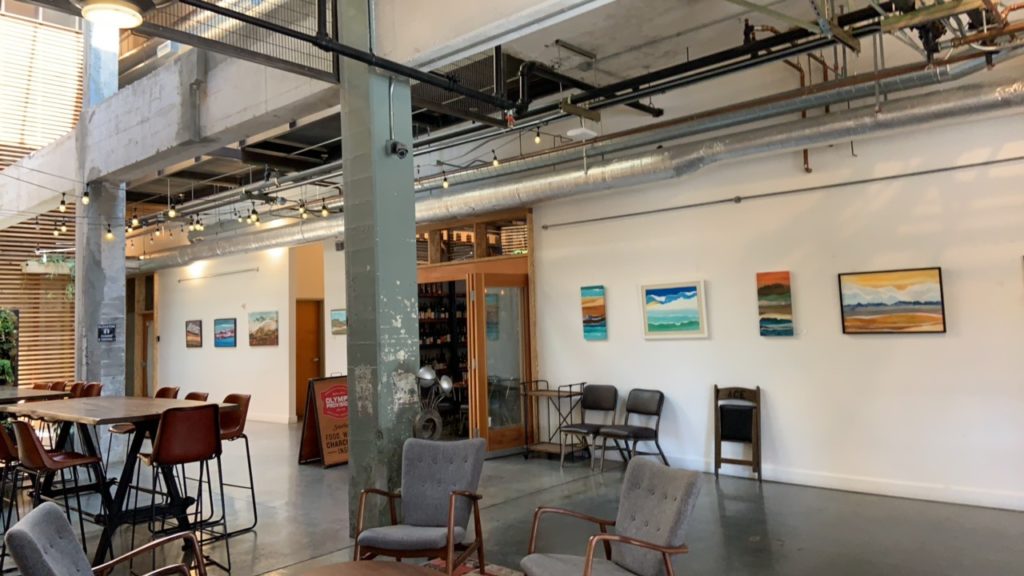 NINA BINDI | OLYMPIC MILLS COMMERCE CENTER
Opening of month long show/ snacks and music. Website: ninabindi@ic.org
5 pm – 8 pm @ 107 SE Washington Street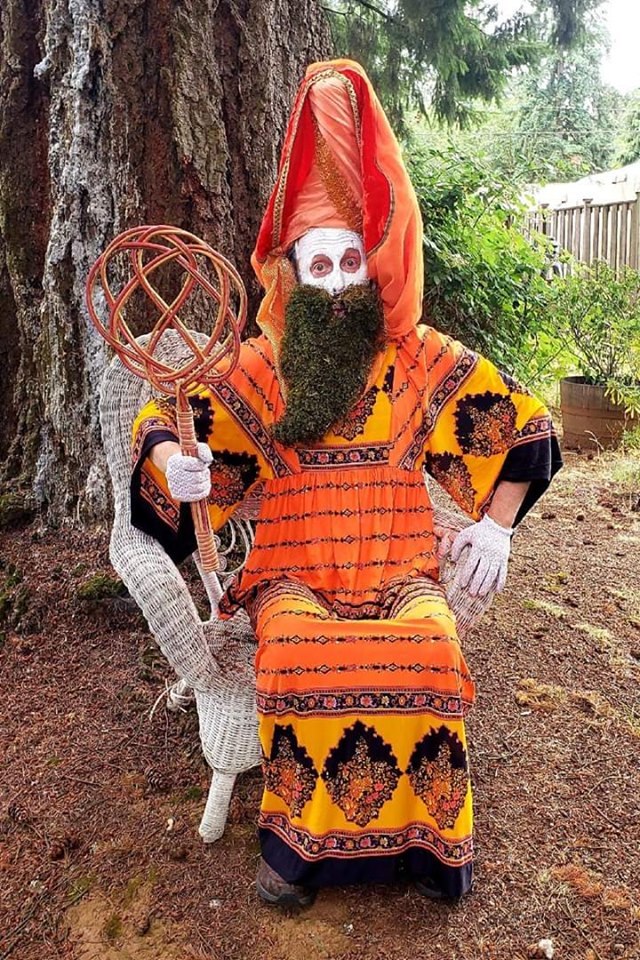 WONDROUS TALES | THE HILL CREATURE OF OREGON
Have you heard the good news? The Hill Creature has opened the Portal! Yes, brothers and sisters, a wondrous being, the Hill Creature, has emerged through a Portal in the Witch's Castle in Forest Park. He is appearing on street corners throughout Oregon sharing astonishing revelations. He will tell of the Dream Cavern and the lands that exist through the Portal. He will tell of the Neverending Carnival Queen, the God of the world he comes from, and her plans to establish her realm here in this world, a realm of eternal love, music, and dancing, where the feasting tables are rich with delights and the roast stoat is eternally falling off the bone. And he will tell how all this connects to the earthly prophet, John Coltrane. Fun for adults and kids. Come share in the good news
6 pm – 9 pm @ 211 SE Madison St.
Contact Us
We do our best to make the list as complete as possible, if you have an event or correction you would like to see listed please send show details to Press@FirstFridayPDX.org or use our easy online event submission form.