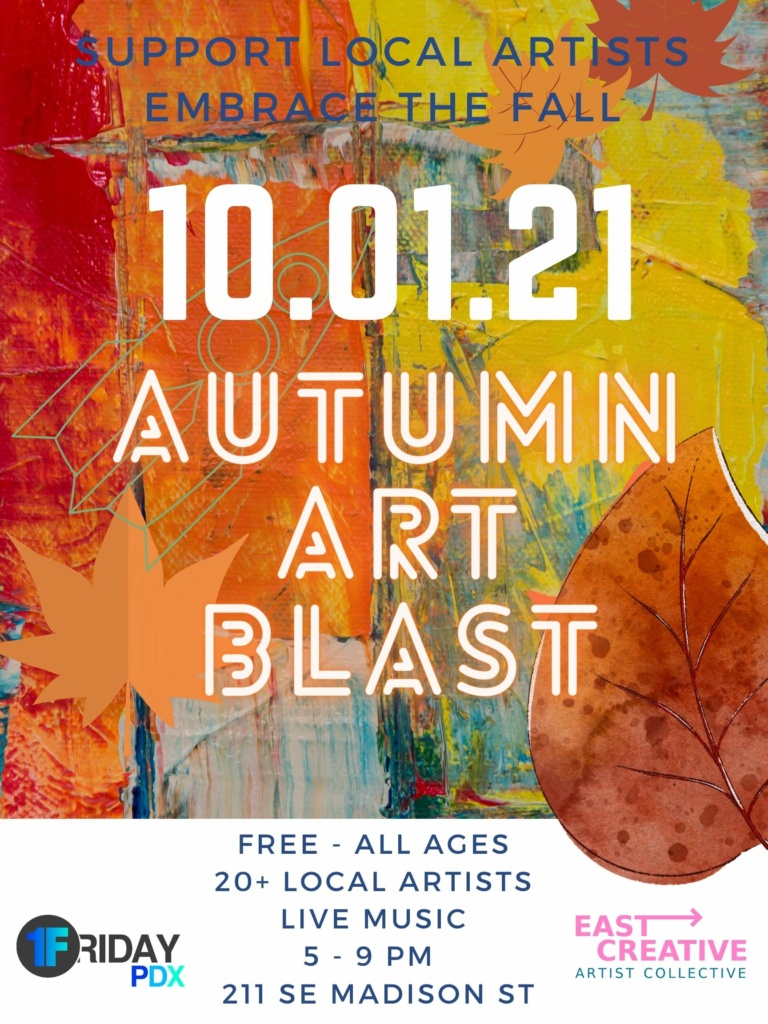 Blast into Fall with East Creative Collective and First Friday PDX. This October, the Autumn Art Blast is taking over two square blocks of the SE industrial district in celebration of art and support of local artists. Featuring more than 20 artists and creators, the Autumn Art Blast will showcase some of the most exciting new art in Portland, with open studios, a street festival, live music and more.
The Autumn Art Blast will take place on October 1st from 5 – 8 PM along SE Madison, between 2nd and 3rd Ave, outside the East Creative building.
Details for participating artists
In support of the Portland art community, submission and entry is free
All artistic mediums are welcome.
Participating artists may setup below the Hawthorne bridge, along SE Madison St. between 4 – 8 pm.
Participants are responsible for providing their own tables, hanging equipment, and any needed electricity.
While the bridge provides some shelter from the elements, some artists may wish to provide additional cover for their work in case of inclement weather.
Sunset will occur around 7 pm., and it will be mostly dark by 8 pm. While we provide string lighting above vendors, artists may wish to bring additional illumination.
Please respect our COVID-19 policy and wear a mask in indoor areas.
How to Register
Fill out and submit the form below along with an image representative of the work you intend to show.
Wait for a conformation email from the First Friday team.
Arrive with enough time to set up and be ready to go by 5:00 PM on First Friday!