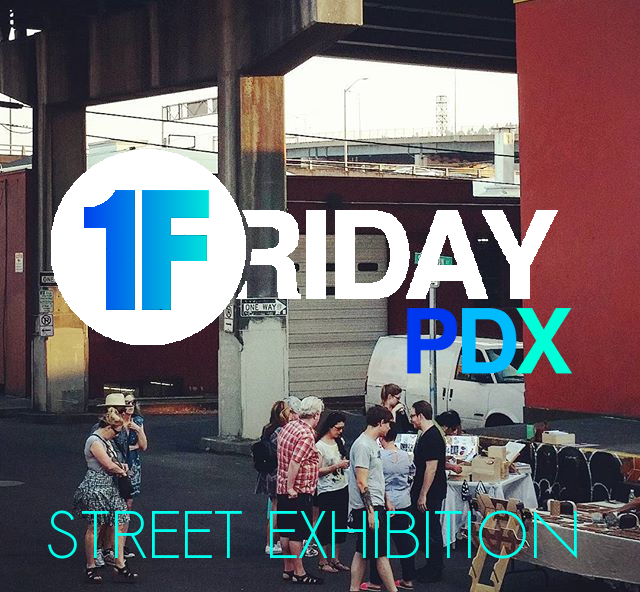 The First Friday Street Exhibition takes place from May to October along SE Madison, between 2nd and 3rd Ave, outside the East Creative building. Open to all local artists and vendors, the street exhibition provides visitors and patrons access to independent Portland artists interested in showcasing their work.
Vendor Details
Vendor fees are $35.00 per month, or $85.00  for the remaining season (August – October),  paid in advance.
Participating artists and vendors will receive a 10′ x 10′ space below the Hawthorne bridge
Participants are responsible for providing their own tables, hanging equipment, and any additional lighting or tents
While the bridge provides some shelter from the elements, some artists may wish to provide additional cover for their work during inclement weather.
Similarly, while we provide string lighting above vendors, artists may wish to bring additional illumination, especially during later months
Although we are always open to new mediums, examples of previously accepted work includes: ceramics, collage, digital art, drawing, jewelry, painting, photography, print work, sculpture, and textile.
How to Apply
Fill out and submit the form below along with 3 images representative of the work you intend to show.
Wait for a conformation email from the First Friday team.
Submit payment details at Firstfridaypdx.org/sepayment after you are approved.
Arrive with enough time to set up and be ready to go by 6:00 PM on First Friday!